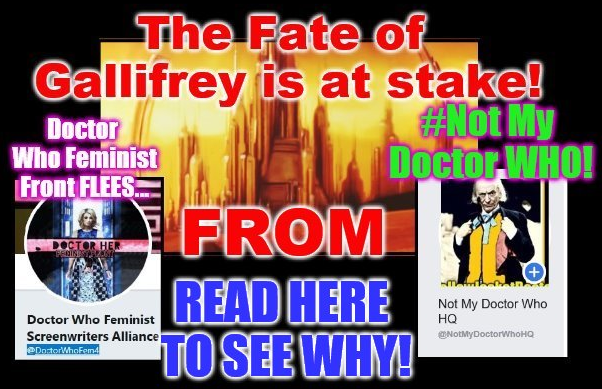 PLEASE RETWEET AND SHARE ANY OR ALL OF THESE AS MUCH AS YOU CAN ON BEHALF OF #NotMyDoctorWHO
https://twitter.com/JohnTheWhite1/status/1141737032722657282
https://twitter.com/JohnTheWhite1/status/1141960866780319744
https://twitter.com/JohnTheWhite1/status/1141963652330901504
https://twitter.com/JohnTheWhite1/status/1141964128623452166
https://twitter.com/JohnTheWhite1/status/1141964533931659264
https://twitter.com/JohnTheWhite1/status/1141966702932086784
https://twitter.com/JohnTheWhite1/status/1141962287332376576
https://twitter.com/JohnTheWhite1/status/1141966255408209920
https://twitter.com/JohnTheWhite1/status/1141972483962281984
https://twitter.com/JohnTheWhite1/status/1141972742473965569
https://twitter.com/JohnTheWhite1/status/1141975296775774208
https://twitter.com/JohnTheWhite1/status/1141974302432145409
https://twitter.com/JohnTheWhite1/status/1141973724024979458
Record of Tweets as they were made by #NotMyDoctorWHO (From @JohnTheWhite1 Twitter)
https://twitter.com/JohnTheWhite1/status/1141737032722657282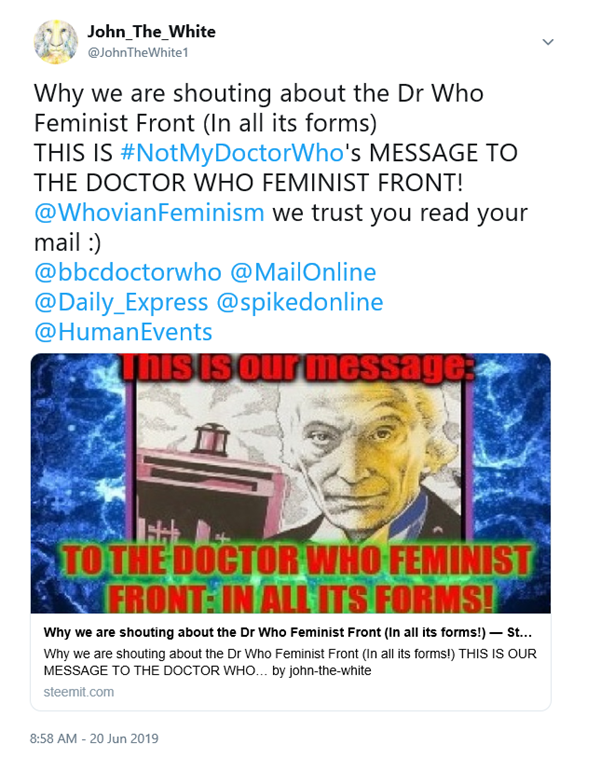 https://steemit.com/doctorwho/@john-the-white/why-we-are-shouting-about-the-dr-who-feminist-front-in-all-its-forms
https://twitter.com/JohnTheWhite1/status/1141960866780319744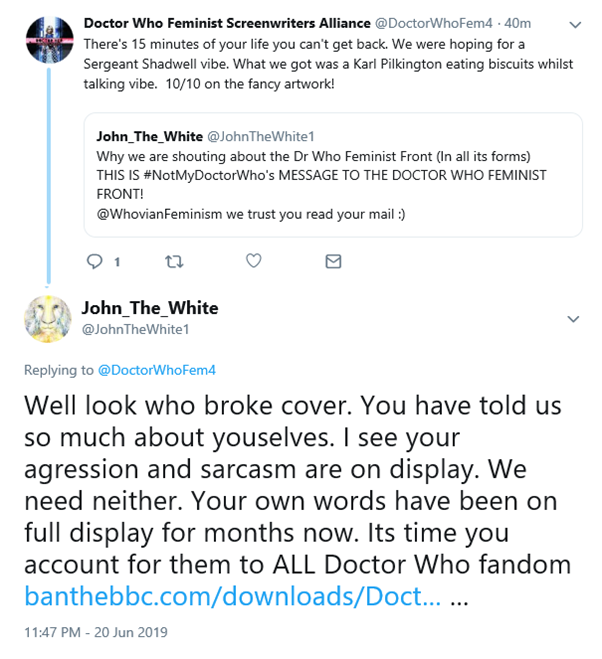 https://banthebbc.com/downloads/DoctorWhoFeministFrontExpose.pdf
https://twitter.com/JohnTheWhite1/status/1141991693312495616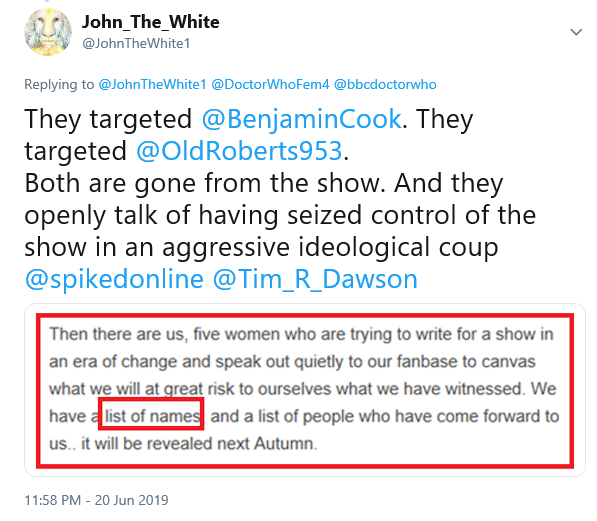 https://twitter.com/JohnTheWhite1/status/1141964128623452166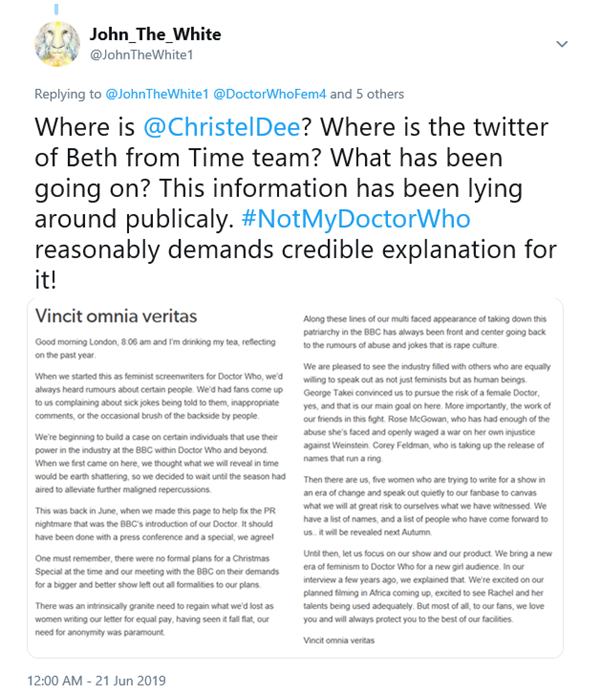 https://twitter.com/JohnTheWhite1/status/1141964533931659264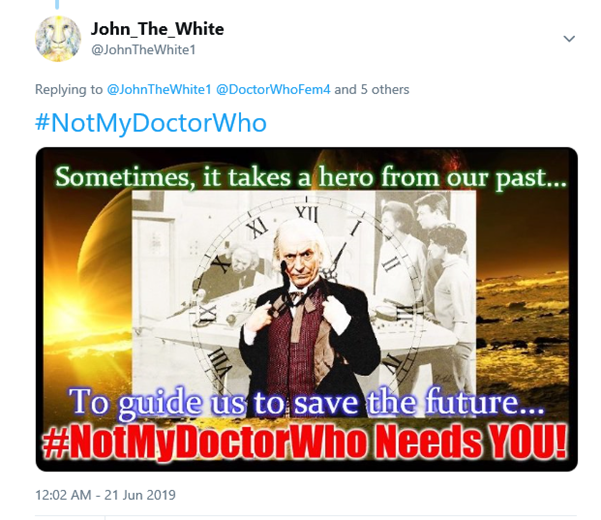 https://twitter.com/JohnTheWhite1/status/1141966702932086784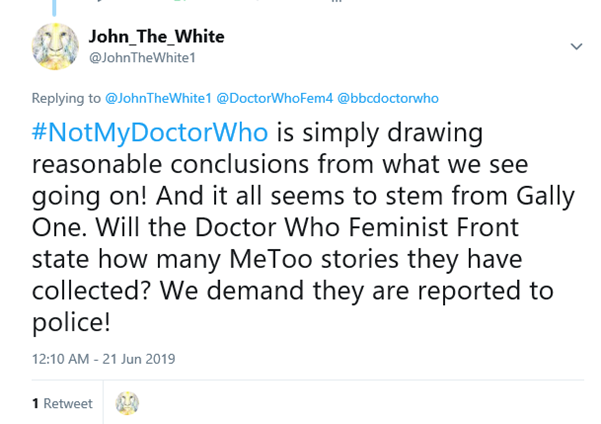 https://twitter.com/JohnTheWhite1/status/1141962287332376576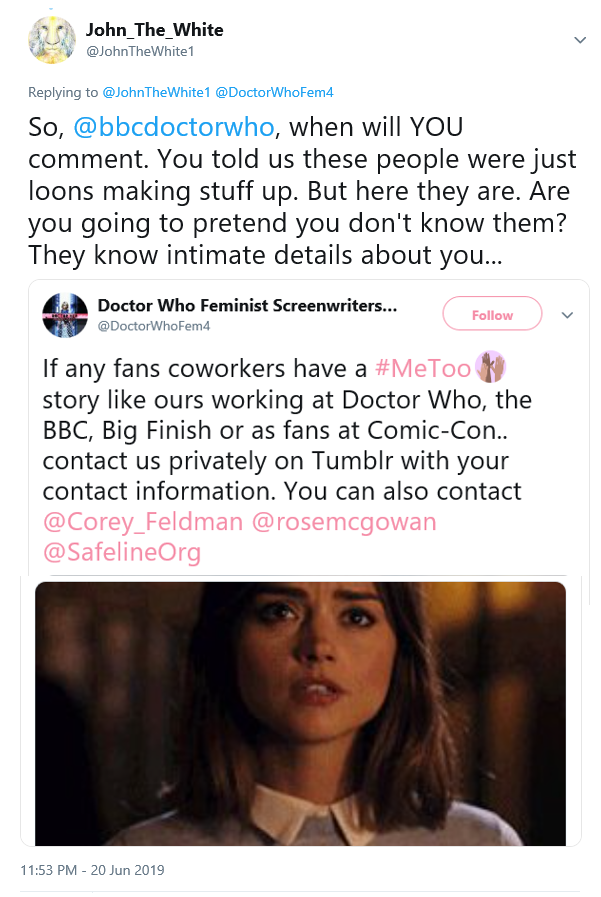 https://twitter.com/JohnTheWhite1/status/1141966255408209920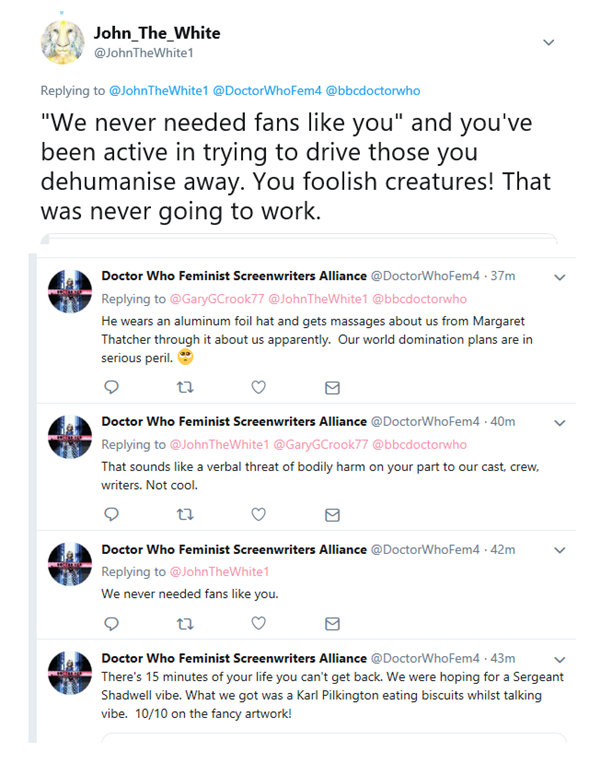 https://twitter.com/JohnTheWhite1/status/1141972483962281984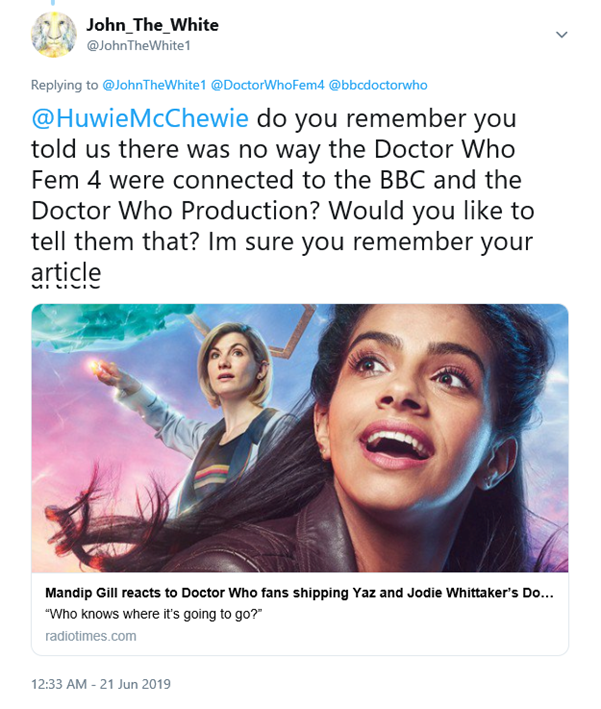 https://www.radiotimes.com/news/2019-02-19/mandip-gill-jodie-whittaker-doctor-who/amp/
https://twitter.com/JohnTheWhite1/status/1141972742473965569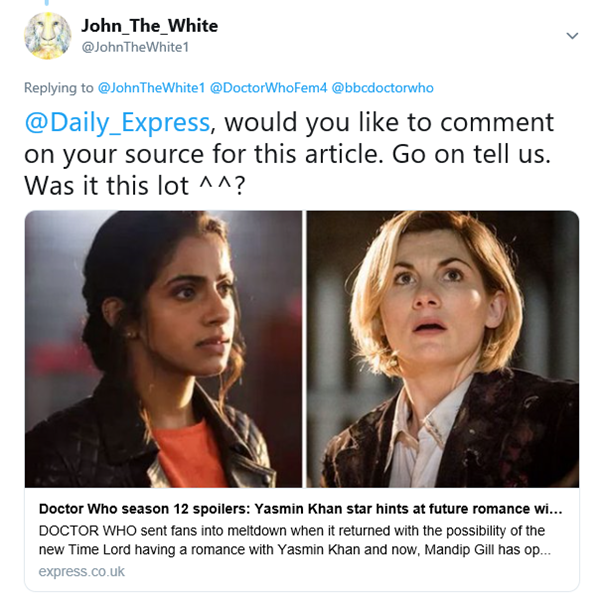 https://www.express.co.uk/showbiz/tv-radio/1089028/Doctor-Who-season-12-spoilers-Yasmin-Khan-relationship-Mandip-Gill-Jodie-Whittaker-BBC
https://twitter.com/JohnTheWhite1/status/1141975296775774208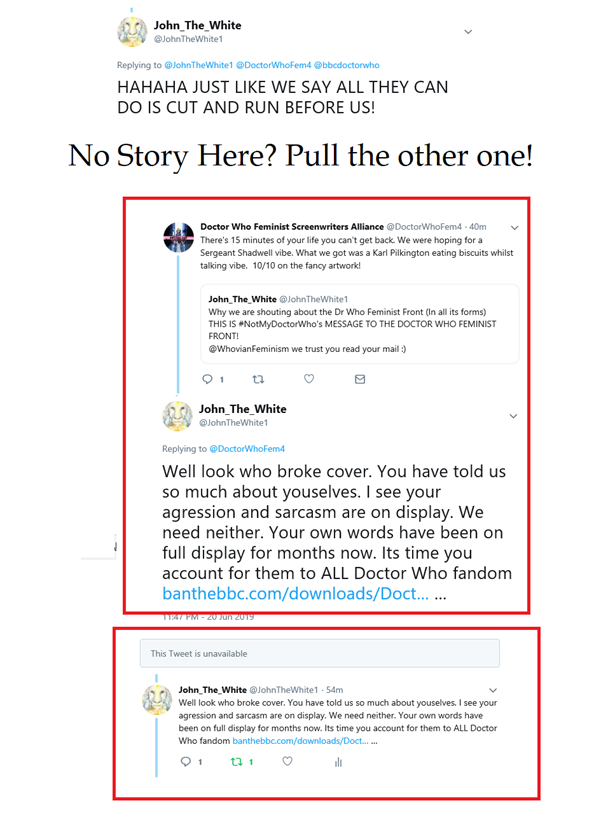 https://twitter.com/JohnTheWhite1/status/1141974302432145409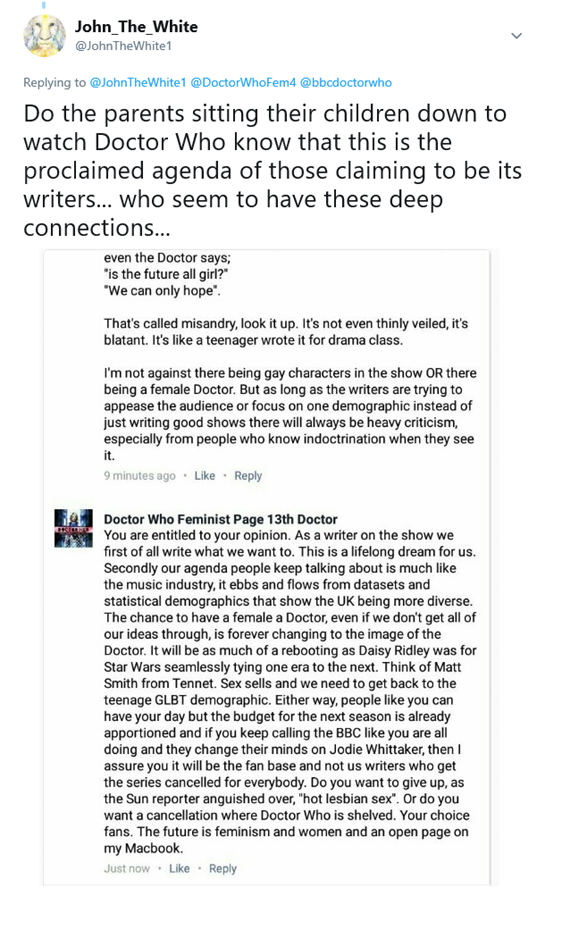 https://twitter.com/JohnTheWhite1/status/1141973724024979458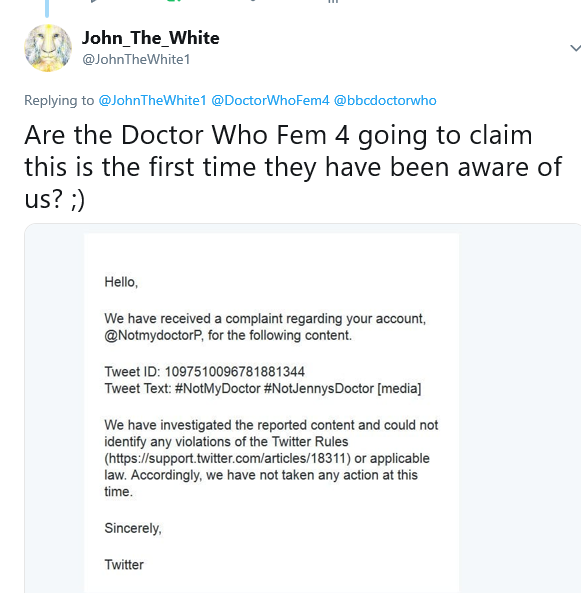 You know, seems like #NotMyDoctorWho is getting somewhere!
---
Well colour me shocked, no-one could have seen this coming!
#NotMyDoctorWho blocked by @DoctorWhoFem4
Was it something we said?
https://twitter.com/JohnTheWhite1/status/1141960866780319744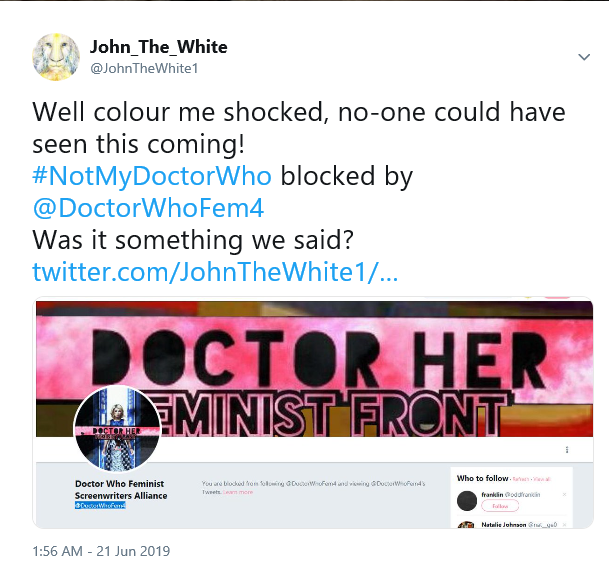 ---
CONCLUSION:
#NotMyDoctorWho called out The Doctor Who Feminist Front on the evening of June 20th 2019. The morning of the next day, they tagged us in THEIR post. Their responses speak for themselves. Then we set out what we want to ask them about and tagged people who we have either already engaged with or who we feel ought to be at least worth a little of their time to take a look at this. Seeing this, Doctor Who Feminist Front DELETED their tweet, too late to hide it though, PRT SCN is our friend, leaving us in control of the replies we made to it and evidencing they tweeted to US.
Our questions are clear, we trust no-one has questions about what our issue is, above all else, we want to know evidence of crimes is not being withheld from the Police. The show itself is another question, its in a sorry state: nonetheless, we DO have ideas!
Before too long perhaps we might share some of them...
These questions, same as #NotMyDoctorWho, are not going away, and we ask you to share and repost this Steemit Article across the internet anywhere you can think of until we get some of the answers! Its farcical that we cannot get concerns addressed by the BBC, the stink is inescapable!
Thankyou.
Our video output: