DLive is back on Steemit!
Dear Steemians,
We are proud and excited to return to the Steemit website where we will announce new events, updates and campaigns for the Steemit community to join.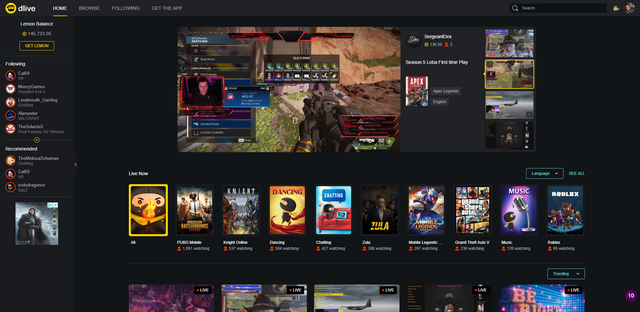 What is DLive?
DLive is a live streaming website that utilizes blockchain technology, on site staking, no platform cuts and a friendly welcoming community ready to help.
Over the past 2 years DLive has seen incredible growth in all areas of the world including:
Turkey
Brazil
United States
United Kingdom
Norway
Supporting Content Creators
We actively host, promote and design events to reward all content creators that take part. Over the past 2 years here are some of campaigns you may have missed:
DLive Happy Hour - Over $10,000 in prizes
Worldwide Apex Tournaments - Over $50,000 in prizes
#StreamOnDLive - Over £10,000 in prizes
Adidas / Acunn FIFA Event
We are also incredibly proud to promote and host Community Inspired events:
MayThe4thOnDLive
DLive Partners Day
Fortnite Events
Overwatch Events
Dead by Daylight Events
On site Donations - Lemons
DLive is proud to offer all creators the ability to instantly monetize their content with Lemon donations without any cuts going to the platform itself.
Lemons can be sent to the streamer in the following pre-set gift options:

Lemon ($0.012)
Ice Cream ($0.12)
Diamond ($1.20)
Ninjaghini ($12.00)
Ninjet ($120.00)
DLive BTT Staking
The BTT Staking feature on DLive is to reward those who stake their BTT tokens to support DLive. The BTT Staking rewards come from the 25% of all donations and subscriptions on DLive every day. BTT Staking is a unique DLive only feature designed to give back to the community by offering incentives by participating in the overall growth of the platform.
For example, if you donate 1000 Lemons to a streamer - they will instantly receive 750 Lemons, and 250 lemons will be distributed to all DLive users who stake. The more BTT you stake, the greater percentage share you will receive.