Hello to all Steemians out there!
I just wanted to share my DIY Greeting card. This my entry for @mermaidvampire DIY Greeting Card Contest. Sorry if it took me awhile to finish this. The man I love is my inspiration while doing this <3. I used to submit my own crafts from recycled materials when I was still in High School as my project because I couldn't afford to buy art materials way back then, so I only used what is available at home.
So here is my finished product...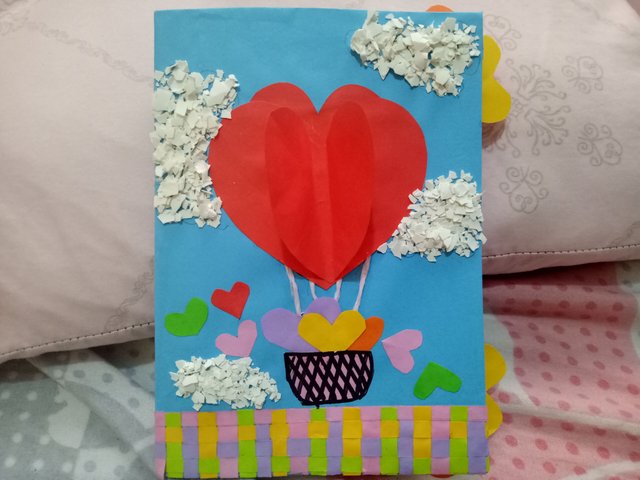 Here's what's inside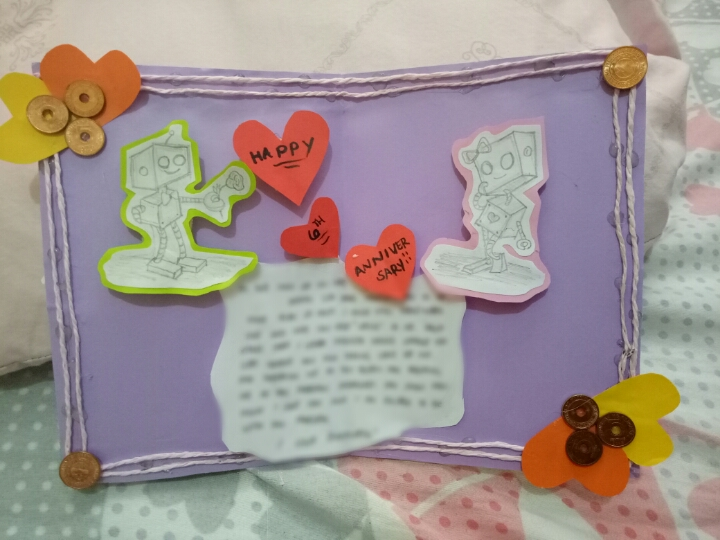 How did I do it?
Here are the materials that I used and the steps process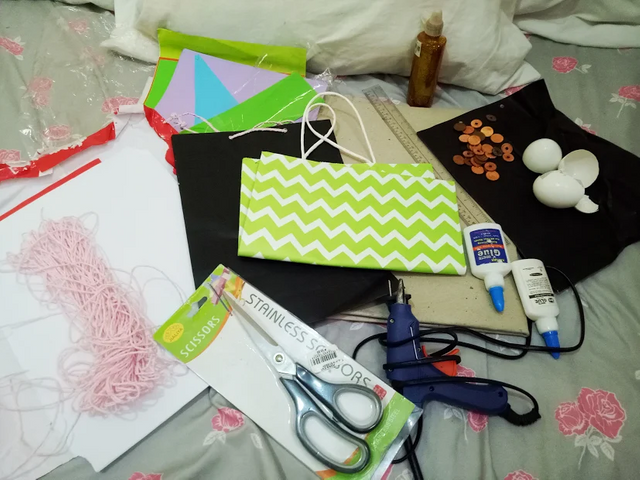 Materials:
Chip board
colored paper and bond paper
glue and glue gun
crushed eggshells
paper yarn
5 cents coins
spare foam
ruler
pencil
scissor
marker pen
talent in drawing (the most difficult skills I used in this card) hahaha
Instructions:
For the outside phase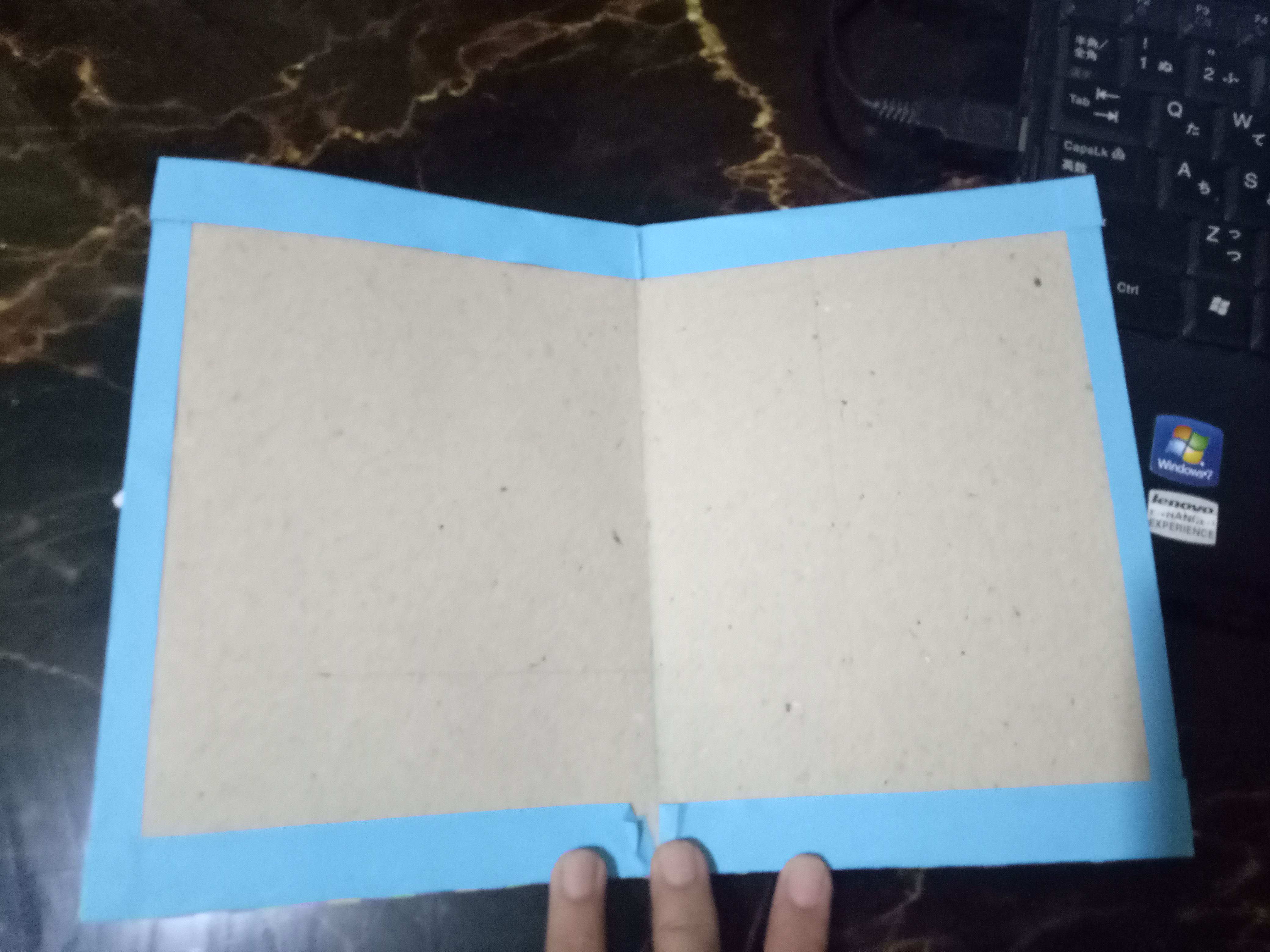 Cut a chipboard with 10 x 14 inches size then fold it in the middle
Get a piece of colored paper and cover the chipboard on both sides using a glue.
Using a different colored paper, cut a 3 pieces big heart shape and 9 pieces small heart shapes.
Put the 3 pieces big heart shapes together and paste it into the outside part of your card.
Cut a short size paper yarn and paste it under the big heart.
Using a marker pen draw a small basket under the paper yarns to create a hot air balloon.
Paste 3 small hearts on top of the basket and the rest beside the basket.
Form clouds using the crushed eggshells and let the glue dry (make sure to wash the eggshell first and dry it well so it won't attract ants. haha)
While waiting, cut a colored paper into strips, create a checkered design and paste it on the lower part of the card.
For the inside phase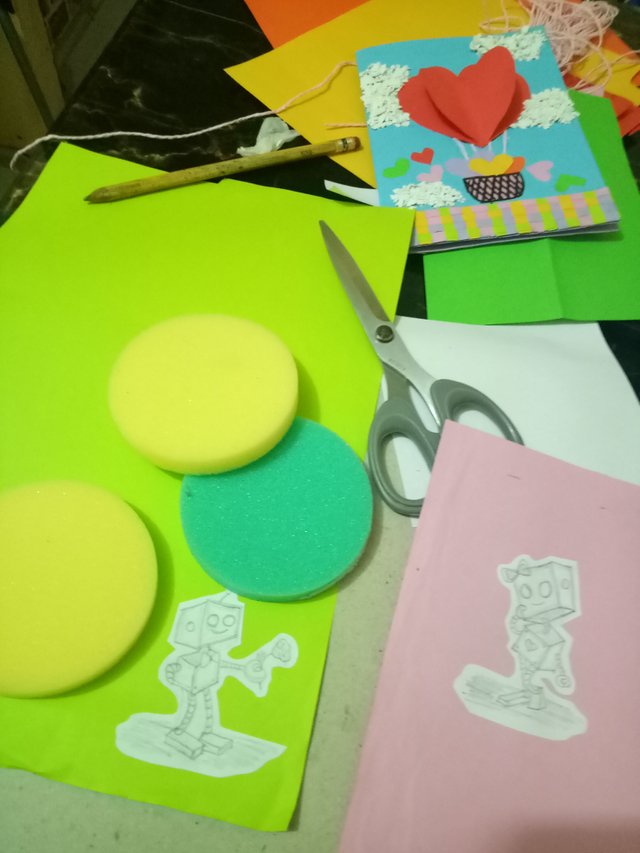 On a piece of bond paper draw a sweet lover (I was actually planning to put a picture here, but I'm afraid that I might violate the rule, so I just draw boxes there. haha)
Cut your drawing and paste it on a colored paper to make an outline.
Cut 3 small heart shapes
Cut a foam and paste it behind your drawings and the hearts to make embossed effects. (I used my spare dishwashing paste foam) hahaha
On the corner of the card paste the paper yarns, heart shape cutouts and 5 cents coins using a glue gun to add additional looks
On a piece of paper write your message and paste it below and you're done!
FYI! I did not spend even a single cents to create this card. All the materials I used are all from our basement.
I chose to create this card for my fiance because we will be celebrating our 6th year anniversary tomorrow (March 21, 2018) and I will give this card as my gift to him. I used to give him DIY gifts. In fact, giving DIY gifts to someone is my way of showing gratitude and affections. My fiance loves getting DIY gifts from me, he really appreciates all my efforts. I love him for being simple and appreciative in every single thing I do for him.
---
---
Kindly continue supporting @surpassinggoogle who has been very helpful. Vote him as witness by going to https://steemit.com/~witnesses
Thank you for dropping by