---
We are in an amazing season of travel going all over the country and spending time with friends as we go. We are currently hanging out in Las Vegas at the Steem Creators headquarters with @larrymorrison. What an amazing guy. Our first night here, I was really inspired by a conversation we were having about living in abundance, which is a word that keeps popping up for us.
Through our talk Larry shared a philosophy he has for life. If you want certain things in your life...health...wealth...love...abundance...imagine what that would feel like, and live like that.
If you had all of those things, or even just one, how would you feel? Happier? Less stressed? Excited for the future? It's all perception. The best part is that you are able to start living in a place of joy and thankfulness. Then that translates over to your decision making. If I feel overworked or stressed I often make poor decisions because I'm making them out of a place of desperation or survival. But if I already feel like I'm successful, that everything was going to work out, my choices would be based on an entirely different mindset.
I took this picture of a sign he has posted in his office.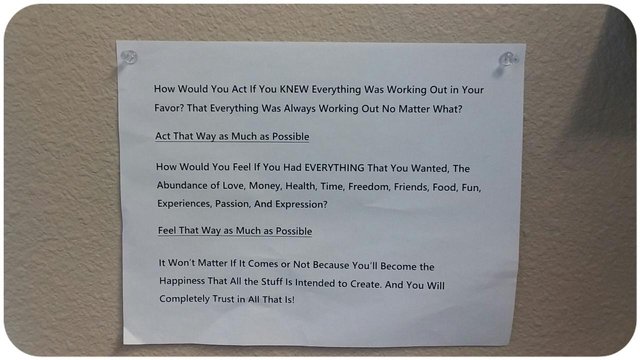 It was so inpsiring! I want to feel like I'm winning everyday, and I can because it's all about my perspective on my own life. If I choose to feel like my life is a struggle because I don't have what I want then my life is going to reflect that. It's incredibly hard to make things come into fruition and reach goals if you are wollering in negative emotions.
So, I hope this inspires everyone as much as it has inspired me!