Lang ist's her. Hab ich euch schon gefehlt? Oder habt ihr die Ruhe genossen. Egal wie, ihr habt mir auch gefehlt. Wieso war ich so lange abwesend. Weil ich für euch gearbeitet habe. Jede Menge. Und hier ist das Resultat
Die Märchen Bibliothek
Unsere Gang of Steemians Geschichte soll richtig groß raus kommen. Das geht nur, wenn wir, und unsere Werke, leichter zu finden sind. Steem ist toll. Aber sich durch alle Posts durchzuklicken, um die Geschichte zu lesen, nervt. Genauso schrecklich ist der ellenlange Footer mit Inhaltsverzeichnis, der jeden Post versaut. Daher habe ich in den letzten Tagen eine kleine Webseite zusammengeproggt. Sie enthält unsere Geschichte, sowie auch die Charakterdarstellung. Und ein Wiki für Autoren und Nerds gibt es auch noch.
Ich präsentiere euch
http://steemwald.tüften.de
Rechts und links auf der Seite befinden sich Pfeile, um das Buch zu wechseln. Bei Mobilgeräten könnt ihr auch schmieren. Ein Klick auf's Buch, öffnet es.
Die Identität ist futsch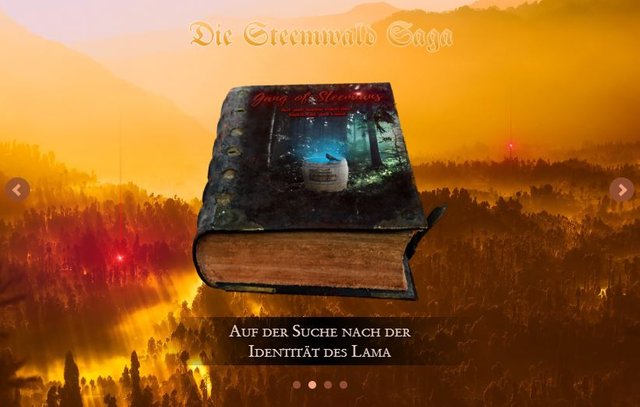 Dieses wundervolle Buch enthält alle bisher veröffentlichten Teile der "Gang of Steemians". Neue Teile werden nach Ablauf der 7 Tages Frist im Steem, von mir hinzugefügt. (Falls ich es verpenne, bitte klingeln).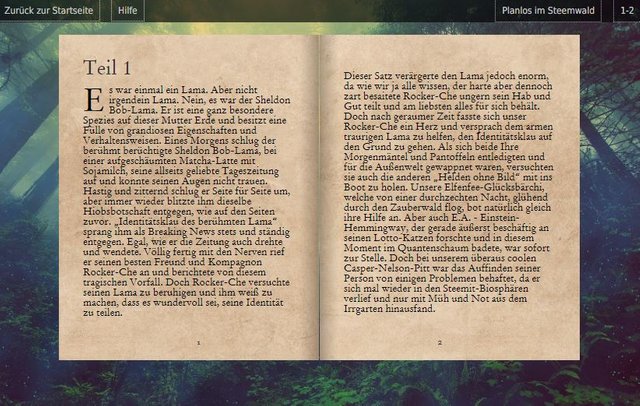 Um das Märchenbuch zu öffnen, müsst ihr auf den rechten Rand des Covers klicken. Blättern geht genauso. Bei einigen Mobilgeräten ist Schmieren auch eine Option. Allerdings nur im Breitbild Format. Also quer legen, das Teil. Oben rechts im Bild gibt es noch einen Seiten- und Kapitelauswahl. Bilder lassen sich per Klick vergrössern.
Die Gang
Es hilft einem recht wenig, die Geschichte zu lesen, ohne die Charaktere zu kennen. Da auch diese Informationen im Steem verteilt sind, war ein zweites Buch nötig.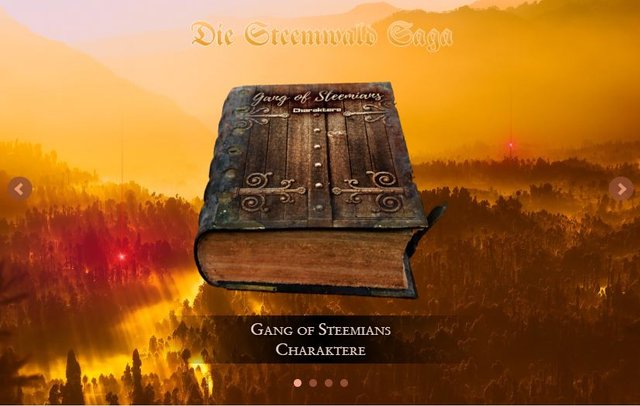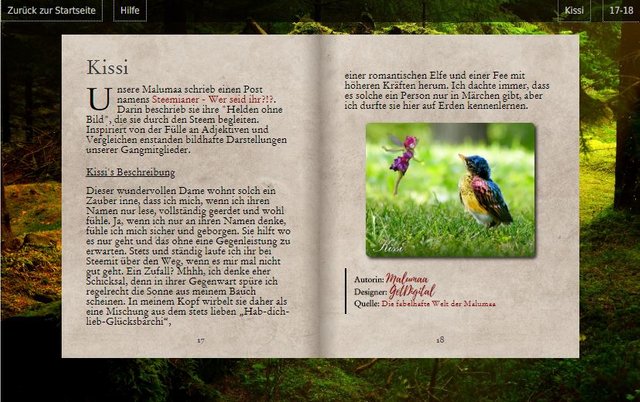 Ein Wiki für alle
Um eine Geschichte, wie die unsrige voranzutreiben, ohne dass sie willkürlich wuchert, oder unlogische Ereignisse auftreten, müssen die Autoren koordiniert arbeiten. Das geht am besten mit einem Wiki. Und auch dieses Buch findet ihr nun im Steemwald, oder direkt unter dem Link http://wiki.steemwald.tüften.de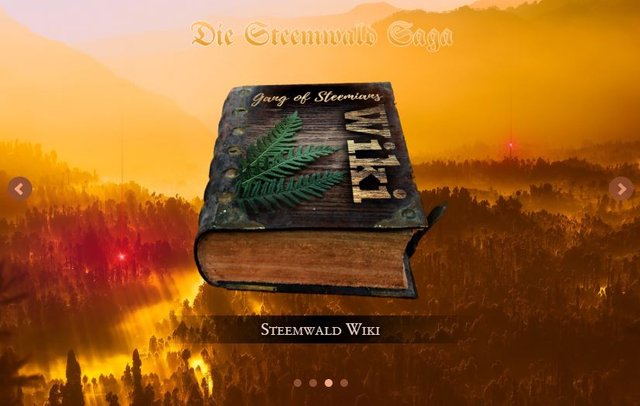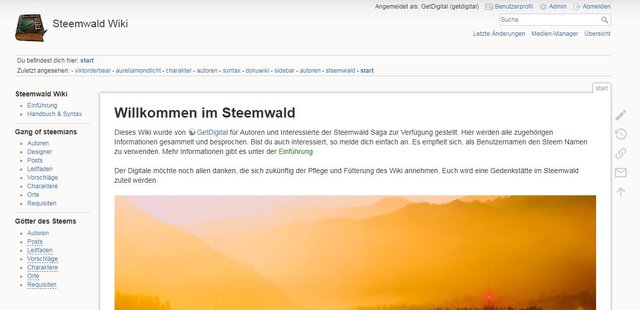 Jeder kann sich hier registrieren und Einträge hinzufügen oder ändern. Administratoren sind @Meins0815 und @GetDigital. Sollte euch die Struktur, die ich dem Wiki verpasst habe, nicht passen, so ist das kein Problem. Ändert sie. Wenn ihr Hilfe braucht, klingelt. Bis dahin, schnuppert mal rein.
Die Götter des Steems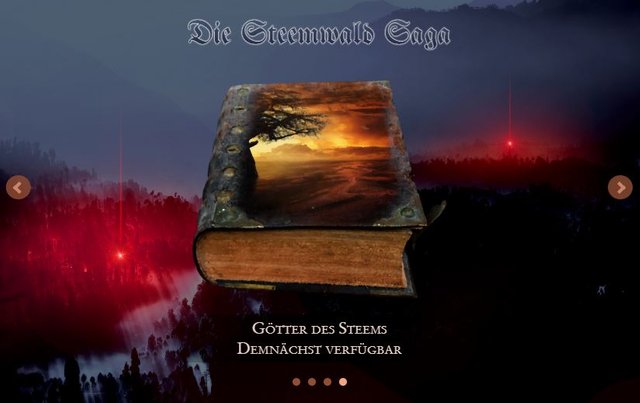 Heiser Biene und mir fehlt die Zeit, uns regelmäßig um die Gang zu kümmern. Das habt ihr die letzten 2 Wochen ja gemerkt. Daher werden wir in einem intimen Duo einen Ableger der Steemwald Saga in unserer Geschwindigkeit verfassen. Es handelt sich hierbei um die Geschichte des Big Bang des Steems, und der daran beteiligten Götter. Den ersten Teil unserer Göttersage widmen wir dem Aufbau des Steems. Dies wird auch erklären, wie Viktor gedenkt den Steem zu vernichten. (Biene und ich arbeiten jedoch noch an der Geschichte, da sie noch nicht ganz schlüssig ist). Nachher halten wir uns aus dem Gang Plot raus und geben euch die Möglichkeit, schnell und grausam, das Böse zu bekämpfen (Denn ich bremse euch grad aus). Natürlich werde ich immer noch Bilder zu der Gang designen ;-)
Ich hoffe, meine Arbeit findet Verwendung für die Gang. Ich wünsche euch viel Spass damit. Sollten fragen und Wünsche offen sein, kommentiert sie rein. Jetzt hab ich wieder Zeit für den Steem.

Nachricht an @MarkusMichael:
Mein Matrix sieht im übrigen so aus