Introduction to the diverse world of DeFi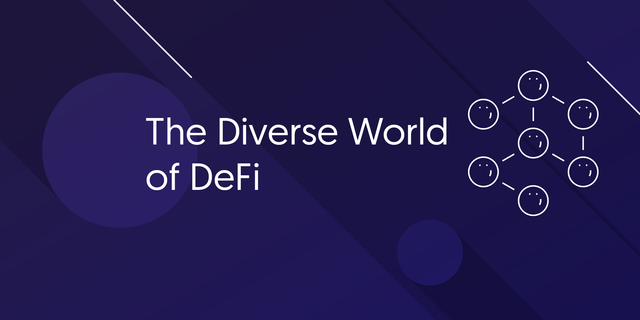 Crypto trends come and go more times than China has changed its stance on blockchain. DeFi is now the most recent popular trend, but is it going to amount to anything useful? We think so.
We've seen many flavours of the month in the past, going back to the early days of the Bitcoin forks, where a whole batch of new coins forking from BTC calling themselves the new bitcoin - trying to take away momentum from the original Bitcoin. Then came the ICO craze which played a major role in the 2017 bull market and then pretty much died in 2019.
Amongst the 2017 bull run and then the subsequent 2018 crypto winter, was the bid to become the next Ethereum. A whole wave of potential smart contract platforms emerged and created a mass wave of speculation of who can do it better than Ethereum with Buzzwords like '1 million transactions per second' commonly used. Last year was the year of the IEO. A new token launching format which saw a lot of interest initially but then soon died down quickly.
There are so many more trends that have come and gone, but they all failed for a reason. That reason is utility. Among the thousands of projects that have launched, most of them provide very little usability. There is nothing for the investor to hold on to apart from empty promises and failed targets.
Why DeFi will not be a short-lived fad
This is not the case in the DeFi sector where a long list of products exists and are fully functioning. It's not loads of projects aiming to do the same thing either. All the DeFi projects out there compliment each other and can be used simultaneously as part of your trading strategy. And more and more people are getting into DeFi everyday, as you can see by checking out how much ETH is currently locked in various DeFi applications.
You now can open tokenised CDP's, take out loans or lend out your assets, create arbitrage opportunities, hedge your position with tokenised assets such as gold or silver, take a position on prediction markets, get paid or pay contract workers in a streaming fashion, and the list goes on.
In a recent Cointelegraph interview, Campbell R. Harvey the creator of the yield curve highlighted how disruptive the future of crypto can be:
"When I look at the cryptocurrencies as a whole, I'm much more optimistic about the future of crypto. I see the possibility that all assets are going to be tokenised. It is a completely different world where I got a wallet, I got some Bitcoin in my wallet, I got some Ethereum in my wallet, I got some stablecoins, I got some gold! I got some securities like a piece of IBM stock, that's tokenised! I go and pay for my groceries and I can choose from my wallet, say I want to pay in gold. I can actually do that."
Tokenised assets are already available today, if you go to Synthetix you can purchase tokenised assets like gold and silver, and with more assets becoming available like TESLA and AAPL, you can see that the value in the DeFi space has a lot more potential coming into fruition this year.
For a quick overview of some of the most promising projects in the DeFi space today, read on here