EN
Before I start writing the post, I just need to say my heart is bleeding while writing this. I was with her almost a year...daily. Several times a day. And suddenly..she's just gone..
She helped me, I helped her
That's the way we used to live...I needed a help to get to the University, work, grocery store or whatever..
and she was always there for me
...and then, she sometimes needed my help as well. Flat tire, grease up the chain, change brakes. I was always there for her as well...Nice example is e.g.
HERE
.
This time, flat tire it was.
SK
>
Predtym nez zacnem so samotnym postom, chcem povedat, ze moje srdce krvaca popri tom co toto pisem. Bol som s nou kazdy den. Viackrat do dna..a teraz je proste prec..
One pomohla mne, ja zas jej
Tak sme fungovali...Ja som sa potreboval dostat do skoly, roboty alebo obchodu a
ona ma tam vzdy rada odviezla
..No a niekedy bol rad na mne a musel som nieco spravit pre nu. Defekt, naolejovat retaz, vymenit brzdy. Vzdy som tam pre nu bol...Pekny priklad je napriklad
TU
.
Tentokrat to bol znova defekt.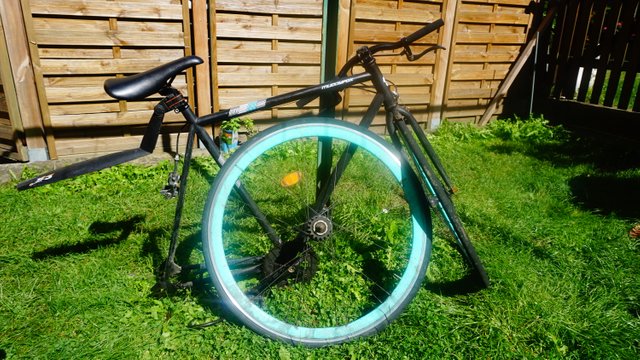 Then I've somehow managed to get the tire off with 2 kitchen spoons :D Don't tell my flatmates tho!
Nejak sa mi podarilo dat z kolesa dole plast pomocou 2 kuchynskych lyziciek. Nevravte to ale spolubyvajucim!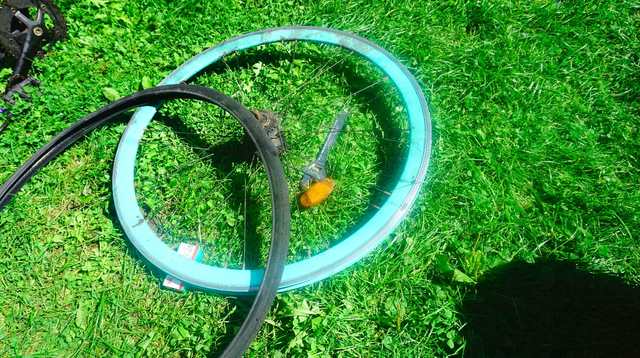 And theen - it was water time! Let's find that stupid hole which is making Saphire's life miserable!
No a potom - bol cas na vodu! Podme najst du hlupu diery, ktora zmenila Saphirin zivot na nocnu moru.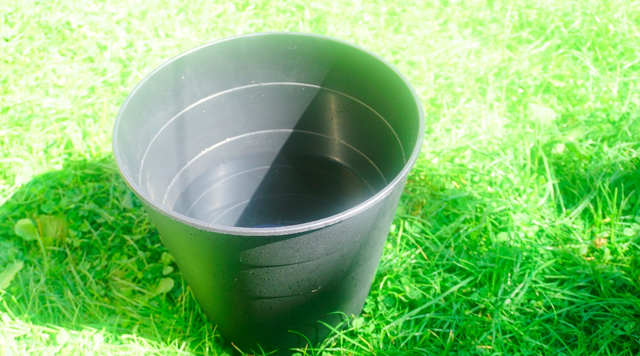 But..I wasn't able to find the hole, so I decided problem is 100% in the bucket and I need a bigger one :D Logic, guys, use it!! :D
Ale...proste som tu dieru nevedel najst! A tak som sa rozhodol, ze problem je isto vo vedre a potrebujem vacsie :D Predsa logika! :D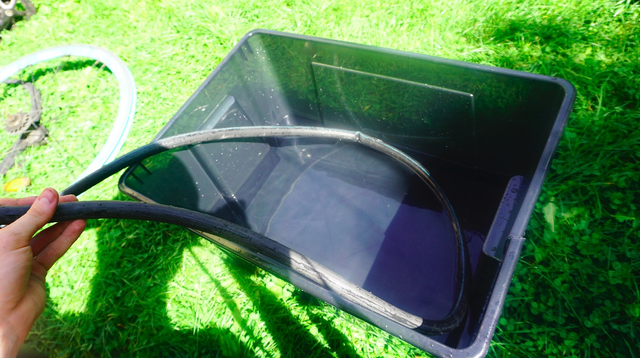 I know what you think...well, doubt me or not, with new bucket I found the hole! Let's show her who's the boss!
Ano, viem co si myslite...no mozte sa zo mna smiat kolko chcete, vo vacsom vedre som dieru nasiel :D Pome na nu!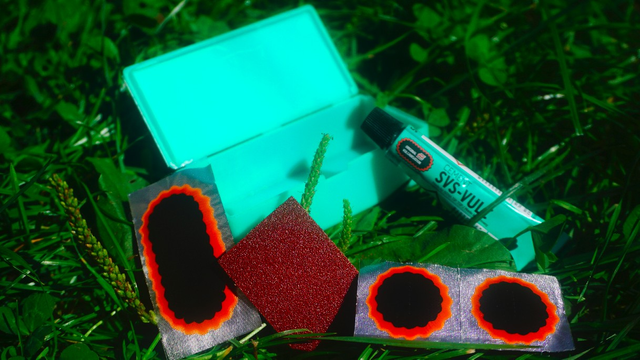 Little bit here, little bit there, glue, little bit here little bit there, patch...hold...wait...hold..wait...under the water again...and?? Wohooo no more tiny bubbles coming out of Saphire's tire! :)
I choose you, Latinoo!
Well now the hard part was upon me. Put it all back together.
I was never able to do it myself, so I didn't even try and called for a help to my beloved Spanish flatmate, "uncle" Nacho. His stats:
68 kilograms of pure musclemass
more than 20 fixed flattires experience
I knew with this guy I was safe!
Trosku sem, trosku tam, lepidlo, trosku sem trosku tam, zaplata...drzat...cakat...drzat..cakat...a znova pod vodu...a? Wohooo ziadne bublinky a diera je zaplatana!
Vyberam si teba, Latinoo!
No teraz prisla ta najtazsia cast. Vsetko to dat naspat.
Nikdy som ten sprosty plat nevedel nasadit, a tak som rovno poprosil stryka Nacha o pomoc. Jeho statistiky:
68 kilogramov cistej svalovej hmoty
Viac nez 20 zaplatanych defektov
Vedel som, ze s nim je to v klude!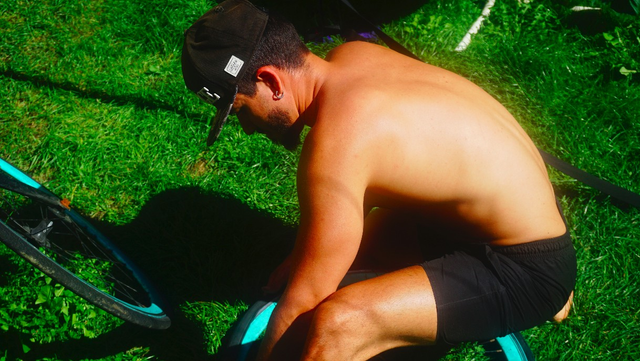 Aaaand that's kinda it...Saphire was ready to go again! ...but....Several days later, some mofos have stolen her over night.
My reaction
What was kinda interesting that morning as I've found out was my reaction. My heart didn't even beat one extra time.
No anger, no furious feelings, nothing.
I just continued straight to the bus stop....why? I dunno myself but I have 3 possible scenarios:
I'm a freaking talented next Buddha and Zen is my middle name
My ongoing morning meditation venture is getting some results!! ( check CALM.COM
I was kinda ready to find Saphire missing one day as bikes are being stolen in Innsbruck more often than bread being bough...This one was my 3rd one already!
Last words to Saphire
"Dear Saphire, I miss you so much. But I know you're not a bitch and won't do any good to your new owner. I hope you'll stuck your front wheel into the tram rail like you did once to me and that motherfucker will have both his wrists broken! Like I had :) Love u!"
A bolo vybavene...Saphire bola znovu pripravena na dalsie nase spolocne dobrodruzstva!...az na to, ze ju par dni na to nejakyhad ukradol.
Moja reakcia
Co bolo zaujimave, bola moja ranna reakcia, ked som zistil, ze Saphire je fuc. Tep sa mi ani len nezvysil..
ziaden hnev, ziadne nadavky, nic.
Proste som len pokracoval na autobusovu zastavku...Preco? Neviem ani sam, no mam 3 teorie:
Som nadchadzajuci Buddha a moje stredne meno je Zen
Moj uz mesiac prebiehajuci pokus s rannou meditacou funguje!! ( pozrite CALM.COM)
Vpodstate som trosku na tento den cakal, kedze bajky sa v Innsbrucku kradnu viac nez sa kupuje chleba. Za tri roky, to bol uz moj treti!
Posledne slova pre Saphire :/
"Mila Saphire, chybas mi...Ja vsak viem, ze nie si ziadna prelietavka a tvojmu novemu majitelovi das riadne do nosa. Dufam, ze rovnako ako si to spravila mne, strcis svoje predne koleso do elektrickovej drahy a ten had si dolame zapestie. Rovnako ako som si vtedy aj ja :) Lubim ta!"

You can find my latest posts here: