I don't often write about my personal experiences in life because, well, there's not that much to talk about really, and there's so much of interest going on in other people's lifes, and it becomes especially interesting when we zoom out and try to make sense of how we operate in groups. At least that's what I think; there's something personal for ya ;-)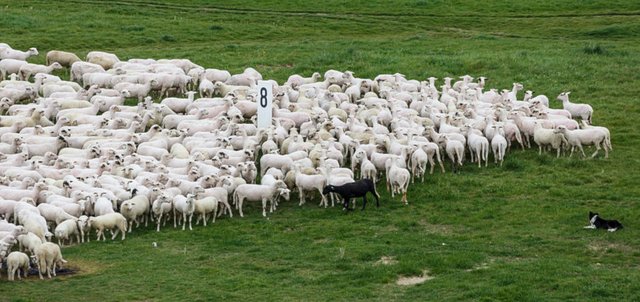 source: Wikimedia Commons
Sometimes though, something happens in life that has an immediate link to the worldview I developed for myself by zooming out and listening to a plethora of other people and their worldviews. A couple of days ago I had such an "umbrella-experience" at work, and I'd like to share it with you for two main reasons: 1) I need to get this of my chest, and 2) I think it's relevant to what's happening in the entire world with regards to poverty, inequality, environmental destruction and so on. I work at a large corporation's technical help-desk; 12 years ago I started this job and in the job interview I stated truthfully that I love helping people, but that I don't want to sell them anything. It was a peculiar interview, looking back, because I really went on a tangent as to why I don't like sales, why I don't believe in the "voluntary exchange" and the resulting "win-win" scenario that lies at the root of our economic system. There's no such thing as "voluntary engagement" in a system that presupposes scarcity and the NEED for all individuals to compete over these supposedly scarce resources. Not engaging means death. Or living a hermit's life somewhere in the jungle or on an uninhabited island. There's no free choice there. The proof is all around us; most people I know don't like their job, haven't studied for their job, count down the days until the next weekend or vacation, believe they don't get payed what they're worth, and I could go on. They all engage in this so called voluntary trade of time and energy for money to survive and to meet the standards imposed on them by social pressure. And when I say "social", that's to be viewed in the perspective of the "consumer" for we are a consumer society.
Just like in the interview, I have to restrain myself to stay on topic; I was hired immediately because it was clear that I genuinely wanted to help people, with no other agenda of wanting to rise on the ladder of this for profit business, and there were, 12 years ago, no plans to introduce sales targets in this part of the company; the help-desk is the help-desk, and the sales-desk is the sales-desk. This lasted for ten years. Two years ago the sales-targets were finally introduced, and now we all have to sell subscriptions, mobile phones and anything else the corporation provides its customers. I'm more than a half century old now, so simply quitting the job and get another one isn't that easy, and regardless; all help-desks have been infected with the sales-virus by now... But this is so wrong, and I'm not one to keep my mouth shut, as you all might know by now, when I see wrongdoing in the world. Selling from a sales-desk, the hard-sell, is something else; that's okay, every business has to survive in this system, so that's okay by me, as long as we fool ourselves that we need this system, or that this is "the best we can do". But selling from a help-desk is fundamentally different.
You see, when the sales-desk calls unsuspecting citizens to try and sell them a product, the citizen in question knows full well what the intent of the sales-agent is. The roles are well defined, and most of these calls end in a few seconds because of this; most individuals know not to listen to the used cars salesman, and take their time looking for a good car, maybe even bring a friend who knows a thing or two about cars. But when a customer has a problem and calls me, I have a natural position of authority; I am supposed to be the one with the technological know-how to rescue the customer from an evening without internet, telephone or television. There's this unspoken agreement that what comes out of my mouth is for the customer's benefit. And we're trained extra to emphasize this this relationship of trust and dependency; when I have shown to be on the customer's side by solving a technical problem with them, they'll be much more likely to really listen when I suggest to them that their enjoyment of the product would increase if they added this or that, or if they purchased some extra bandwidth, or a more up-to-date mobile. I explained all of this and more the day the sales-targets were introduced... And I didn't lose my job, so yes, I still complied. And sales from the help-desk has proven a big success. For the corporation that is; our wages are still as low as they always were, and since we're not an official sales-desk, the incentives are very modest; mostly gift-certificates, team-dinners, that sort of stuff.
So, a few days ago a new sales proposition was introduced in our team, and we were given new instructions about how to frame the conversations with customers as to maximize sales-opportunities. This time it wasn't me, but a colleague mentioned that customers would get LESS than in the previous proposition, they would pay more for less. Also we have a new target; when previously we just had to sell a certain number of products, now we also have to focus on "High Value" sales, so we reach our targets only if our sales are worth a minimum number of Euro's. On top of that, the new proposition incentivizes customers to purchase equipment they don't really need, just to get a specific feature they wouldn't have gotten if they hadn't purchased the superfluous equipment, with all the bad environmental results thereof. My colleague brilliantly put all this forward, and it's the reaction he got from the floor manager that broke my silence. The manager said to my colleague that with an attitude like that, he should consider if this is really the right job for him. Words that amounted to: "we work for a commercial for profit company that pays all our salaries, and as long as that's the case, we sell their stuff the way they want us to, with such a save-the-world attitude we will never hit our sales-target as a team!" I couldn't let that slide without saying something, so a raised my voice (only slightly I believe) and said: "but maybe we'll save the world with that attitude", meaning that maybe, just maybe, the survival of the planet should be prioritized over the survival of the corporation, or our jobs for that matter...
Well, all he said was "if you want to save the world, go do that somewhere else"... I'm sure there's thousands of such small conversations in thousands of companies each day all over this world. And I'm sure they all end the same way; we all shut up and go back to work, acting like the narrow minded sheep we are... Everyone on all levels of society is just fighting for survival individually, and we all lose sight of how destructive this imposed scarcity mindset really is. This will not work, it has never worked; when will we ever learn..? Thanks for staying and reading this snippet of my daily life, dear reader.
---
Thanks so much for visiting my blog and reading my posts dear reader, I appreciate that a lot :-) If you like my content, please consider leaving a comment, upvote or resteem. I'll be back here tomorrow and sincerely hope you'll join me. Until then, keep steeming!

Recent articles you might be interested in:





Thanks for stopping by and reading. If you really liked this content, if you disagree (or if you do agree), please leave a comment. Of course, upvotes, follows, resteems are all greatly appreciated, but nothing brings me and you more growth than sharing our ideas. It's what Steemit is made for!





I am a proud helpinaut! @Helpie is looking for new members! Helpie has been growing nicely and we are always on the lookout for new valuable members. We are very supportive and community oriented. If you would like to be scouted for @helpie , please drop a comment on THIS POST or contact @paintingangels on discord at paintingangels(serena)#3668.




Just for Full Disclosure, I'm invested in these crypto-currencies:

Bitcoin | Litecoin | EOS | OmiseGo | FunFair | KIN | Pillar | DENT | Polymath | XDCE | 0x | Decred | Ethereum | Carmel | XYO





@helpie is a WITNESS now! So please help @helpie help you by voting for us here!