I really don't have too much to say about today's topic, as I believe the title says it all. Throughout human history, for as long as we've left a record of our presence on this planet, be it in paintings, writing or, more recently, video recordings, we've seen things fly through our skies that defy explanation...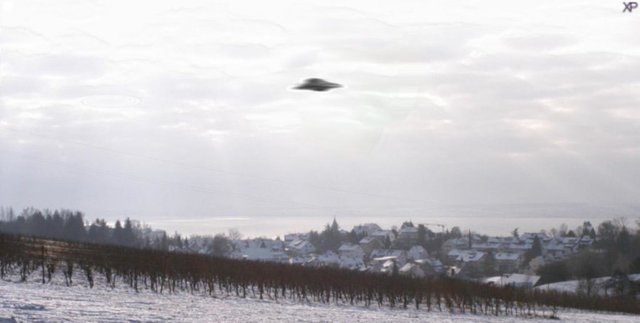 source: Wikipedia
If you read my posts regularly, you'll already know that I have a special interest in the as of yet unexplained phenomena; Unidentified Flying Objects have been on my radar since my teenage years. When most of my friends and family didn't believe any of the stories, I always had an open mind. Also, I developed my own rule about these things; the "Michael Jackson Rule". I figured that, with all the rumors coming out about this absolute mega-star, at least SOME of them had to be true, especially the ones that kept coming back. The rule says: even if 90% of the rumors ultimately prove to be false, the remaining 10% are enough to safely conclude that the man has lost it, that he's not entirely sane...
Same with UFO's; the sightings and records throughout our history are too numerous, they keep coming back too often, for there not to be a nugget of truth at the center of it. Of all the hundreds of millions of reports, the numerous mass-sightings, the videos that can't be explained away through (amateurish) editing and special effects...; it can't ALL be false, the witnesses can't ALL be nut-jobs or hallucinating. I'm glad to say that public opinion on these flying enigma's is slowly changing. That's because we now have credible video recordings AND we have witnesses who have professions that require them to be accurate in their observations and the reporting thereof, like police, firefighters and the military.
The video I would like you all very much to see, if you haven't already, is the Joe Rogan podcast of 05-10-2019, in which he has a long conversation with Cmdr. David Fravor of the U.S. Navy about his UFO-encounter in 2004. I believe it's the most detailed witness account I've ever seen in this format, and his story is as amazing as it is convincing. We don't know for sure if this are aliens, but we do know they have propulsion techniques that we humans don't have, as they move in ways that can't be explained by the techniques we do have. I'll leave it here; just watch the interview please, and I hope you'll be as inspired by it as I was...
Joe Rogan Experience #1361 - Cmdr. David Fravor & Jeremy Corbell
---
Thanks so much for visiting my blog and reading my posts dear reader, I appreciate that a lot :-) If you like my content, please consider leaving a comment, upvote or resteem. I'll be back here tomorrow and sincerely hope you'll join me. Until then, keep steeming!

Recent articles you might be interested in:





Thanks for stopping by and reading. If you really liked this content, if you disagree (or if you do agree), please leave a comment. Of course, upvotes, follows, resteems are all greatly appreciated, but nothing brings me and you more growth than sharing our ideas. It's what Steemit is made for!





I am a proud helpinaut! @Helpie is looking for new members! Helpie has been growing nicely and we are always on the lookout for new valuable members. We are very supportive and community oriented. If you would like to be scouted for @helpie , please drop a comment on THIS POST or contact @paintingangels on discord at paintingangels(serena)#3668.




Just for Full Disclosure, I'm invested in these crypto-currencies:

Bitcoin | Litecoin | EOS | OmiseGo | FunFair | KIN | Pillar | DENT | Polymath | XDCE | 0x | Decred | Ethereum | Carmel | XYO





@helpie is a WITNESS now! So please help @helpie help you by voting for us here!