That's exactly right: he's Good, he's Old, and he's Bernie too. Why do I, a Dutchman living in The Netherlands, feel the need to praise a man running to be the Democrat's candidate in the next presidential elections in far away America?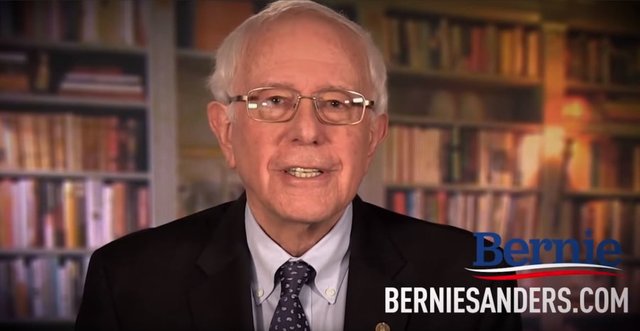 source: YouTube
The answer is that I think the next presidential election in America may be the most important in a long time, not only for America, but for the world. The world is in crisis, its human population stands on the verge of being destroyed under the weight of its own history. When we left feudalism behind, it was because of the enlightened realization that it was just wrong for the King to hold so much power and wealth for himself and his cronies. It was understood that, for each individual in our societies to be truly free, or as free as possible, there would have to be a much more egalitarian distribution of both wealth and power. So we rolled out the guillotines, beheaded some exemplary monarchs, shouted "liberté, egalité et fraternité" in the French Revolution, and above all embraced the idea of the free exchange of goods and services in the free market economy, and all sorts of direct and representative democracies.
In reality however, feudalism was never abolished, merely transformed in such a clever way most of us still haven't figured out the trick that was pulled on us. Those who have taken the trouble of acquainting themselves with the works of Adam Smith know that capitalism is just another way to create and above all maintain existing power structures; the existence of two distinct classes, and the ever growing inequality between them are not unfortunate bugs, but intended features of this free market system. This is at the core of the system, and I'm sorry to have to say this, but this problem will not disappear by the removal of the banks' power or the mere introduction of "honest money", like cryptocurrencies aim to do. The solution to this problem is not a "truly free" market. On the contrary. Smith's invisible hand is mentioned only once or twice in The Wealth Of Nations, and it doesn't exist. Smith was a proponent of the class-divisions of his own time and his theories made damn sure that was would never be jeopardized.
But... Smith also didn't intend for every aspect of human life to become a commodity for trade. He did not intend things that don't have to be commoditized, like the air or the water, or... politics to become part of the market. And that's what we've allowed the new aristocracy to do; decades of neoliberalism, creating a globalized neoliberal economy, has taken what little power was redistributed to the working class, and given it back to "old money" and the "nouveau riche". It's important to understand that there is no true left in American politics; the "new world" has its own political spectrum, where Democrats are the left and Republicans the right, but compared to the political spectrum in the "old world", Democrats are slightly right of the center, and Republicans are pretty far to the right. This means that both parties in America prioritize capitalism and free markets above anything else. Even when "freeing" markets by deregulation and tax-cuts, is to the detriment of the general population. "Hyperconsumerism" is a word of our times exclusively and is a direct result of the complete and total acceptance of the neoliberal ideology; the supremacy of the free market economy, the individual and material wealth. Watch Bernie rage against that ideology and Alan Greenspan in 2003, and notice the "I" in front of his name; he was an Independent because he KNEW both Republicans and Democrats were corporate shills:
That Time Bernie Eviscerated Fed Chair Alan Greenspan (Ayn Rand Devotee)
All this has done, is make the rich richer, the poor poorer, destruction of the commons, destruction of the environment and accelerated climate change. And now, for the first time in decades, America has a candidate that can be called "left", even when placed on the political spectrum of the "old world". If you know anything about how the capitalist propaganda machine works, you know that a man like Bernie Sanders will be opposed and misrepresented at any opportunity by the mainstream media, but also by all the independent media that still buy in to the red-scare nonsense propaganda against anything that reeks of redistributing income, the old "tax is theft" line. Tax is not theft, it's merely the admission that there's something called "shared space", "shared responsibility" and "shared destination". The admission that it is not possible, by any reasonable means, for one person to create wealth equivalent to multiple billions of dollars. The rich owe a good part of their wealth to the community in which they were granted that wealth. It's that simple, and that's Bernie's simple yet powerful message; it's not just me, it's US.
His message is being lost however, because of the media's relentless campaign against him. He criticizes the media regularly and in their face, reminding them how they're controlled by their owners and advertisers. He says straight into their cameras that of course they will oppose his universal healthcare program and that anyone who wants to know why only has to wait for the commercials following the news-program he's currently educating; he points out that many of these commercials will be for medicines produced by big pharma. The pharmaceutical Industrial Complex PAYS for their jobs, so no support for Bernie... When Sanders announces his wealth tax program, the media say that he piggybacks on Elisabeth Warren's plans, when the truth is the exact opposite: Bernie's campaigning for such a tax for as long as he's in politics. Warren will most likely become the Democrat's candidate if the media will again be successful in shutting down Bernie's campaign, or if the Democrats themselves will deny him the nomination like they did in 2016. Note how Bernie's criticisms of the media differ completely from Trump's criticisms; Bernie's are realistic and true, Trump just criticizes everything he doesn't like.
I truly hope for Americans and the rest of the world that Bernie makes it this time. If he makes it, he'll be 80 years old when he takes the office at the White House. I hope he does, and that he leaves when he's 88 years old. He's the only true left wing candidate and the only one that is willing to make serious work of repairing some of the damage done by capitalism on steroids. For all these reasons and more, I'd like to share with you the best political ad I've ever seen. It shows perfectly, by a perfect use of juxtaposition, how Bernie is mischaracterized by the mainstream media, and what his true goals are. Please watch it, and please share it as much as you can. Also, go to the video on YouTube and leave a like and a comment (and maybe a like on my comment, the one by zyx), even subscribe to the channel; everything to jack up its ranking in the search-algorithms. And ignore the rest of the Democrats for now, none of them is even remotely like Sanders, not even Warren; Bernie wasn't an independent for so long without good reason. Both the Democrats and the Republicans are corporate shills; Bernie clearly is not, that's why they'll do anything to stop him. Don't let them!
Rising Up | Bernie 2020
---
Thanks so much for visiting my blog and reading my posts dear reader, I appreciate that a lot :-) If you like my content, please consider leaving a comment, upvote or resteem. I'll be back here tomorrow and sincerely hope you'll join me. Until then, keep steeming!

Recent articles you might be interested in:





Thanks for stopping by and reading. If you really liked this content, if you disagree (or if you do agree), please leave a comment. Of course, upvotes, follows, resteems are all greatly appreciated, but nothing brings me and you more growth than sharing our ideas. It's what Steemit is made for!





I am a proud helpinaut! @Helpie is looking for new members! Helpie has been growing nicely and we are always on the lookout for new valuable members. We are very supportive and community oriented. If you would like to be scouted for @helpie , please drop a comment on THIS POST or contact @paintingangels on discord at paintingangels(serena)#3668.




Just for Full Disclosure, I'm invested in these crypto-currencies:

Bitcoin | Litecoin | EOS | OmiseGo | FunFair | KIN | Pillar | DENT | Polymath | XDCE | 0x | Decred | Ethereum | Carmel | XYO





@helpie is a WITNESS now! So please help @helpie help you by voting for us here!