How Are My Efforts of Cryptotrading With Steem Going
Back on Dec. 24th, I posted What a Litte Steem Will Do, which was a quick look at how my Dipping My Toe Into Cryptotrading was going, which started about November 26th, with my first deposits of STEEM and Steem Based Dollars (SBD).
While I have been getting good returns on my trades on individual coins, I was beginning to wonder if I was really making any progress. So, I decided to check my deposits and trades more closely to figure out what the best way to track my overall progress, because the dollar value might be misleading. I only say this, because when I first put some STEEM/SBD into the game, it was at a lower price than when I put more in and then that price has dropped since that peak.
What is the best measure?
While measuring value in dollars (USD) is useful, because it is the real world currency and what you buy things in, it really doesn't help with cryptocurrencies. As anyone who has been in the crypto world for more than a day knows that values of crypto change a lot. You could be up more than 100% in one day and that coin could be back down 50% from where it started 3 days later. The best way to judge is by comparing it to a leading coin and that would be BitCoin (BTC). While Ethereum(ETH) would also be a good comparison, I haven't done any trading in Ethereum paired coins. And, BitCoin is the leading coin for turning crypto into fiat dollar, which is still real world money.
How much BitCoin (BTC) have I added?
So, let's get started determining how much BitCoin I started trading with. I took some money out of my PayPal account that was just collecting dust and bought LiND, which I converted into BTC, which is my only real money deposit which was 0.00290000 BTC. The other deposits into Bittrex are either STEEM or SBD.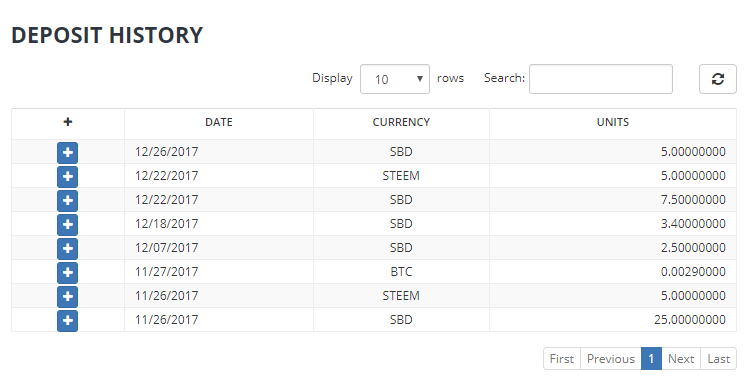 In order to trade on Binance, I took BitCoin(BTC) that I either built up or converted from STEEM or SBD and transferred it from Bittrex.


So, those aren't actually withdrawals but just movement to another exchange for buying coins I couldn't buy on Bittrex.
Starting Value: 0.01545719 BTC
Now that I have a starting point, it makes it easy to see where I am now...err sort of.
As long as I don't have all the coin in BitCoin, the value of my account will still go up and down with the price of BitCoin and each of the individual coins.
So, let's get where I am at when I took the screen shots.
Bittrex - 0.05564117 BTC

Binance - 0.03021735 BTC

Current Value: 0.07040133 BTC
355.460% Increase in 42 days
It doesn't seem as exciting when I think about my percentage gains when I do the trades, but I guess I am making some real progress.
On November 26th, 2017, the price of BitCoin (BTC) was USD$9,316.00. That would make my initial USD dollar depost worth $27.0164. Which seems more than what I put in, but it is a good starting point for future information.
If I look at my only real cash investment being that, since Steem is free crypto, then comparing the current value of USD$1,421.01, that makes a 5,159.805% increase of my real world investment.
If I look at the STEEM/SBD as a $1 value, because that is what our Rewards looks like. Unless you use Steem.Supply, you won't know the real price of your Reward. Of course, the real value won't be known until you turn it into real world cash. Anyway, this would make my Steem dollar investment $53.40. Add that to my real world dollar investment, then I started with USD$80.4164. That would make for a 1,667.065% in 42 days, which feels a lot better.
On to more buying on the dip and selling on the peak.
---
Let the positive energy sing!

More Power to the Minnows!!


Trading on Bittrex and Binance
HODLin'
Stellar Lumen(XLM) -- Cordana(ADA) -- Digibyte(DGB)