Checking in on My Coin Balances
In late November, I decided to stop sitting on the fence and try to get a little money into the cryptocurrency trading game.
It has been 27 days since I posted my article, Dipping My Toe Into Cryptotrading.
Luckily, part of my strategy of depositing STEEM and Steem Dollars(SBD) has helped add to my tiny initial cash investment. And that cash investment was just to see if I could buy BitCoin using PayPal.
I am currently only in Bittrex and Binance. There are some exchanges that USA citizens can't even get into and there are exchanges that I don't want to even go to the web page. That also goes with some coins.
All of my conversions of STEEM and SBD or my deposit of BTC have first gone into Bittrex. Then, I have moved some BTC to Binance for trading over there.
My Deposits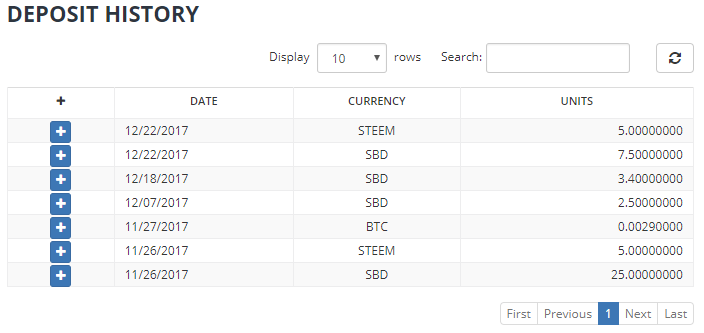 As you can see, I have converted 10 STEEM and 38.4 SBD. And as I said, I took about $20-25out of my PayPal and took the long road to convert it into BTC. So, let's say, I have deposited about $75 so far. Of course, due to ups and downs in the cryptocurrency market, the STEEM and the SBD have been worth more and I'm not sure I can figure out all the calculations of how much I have put in based on the information given in the deposit history. I hope to figure out that later. But, since Steem is basically free to me, I feel like I have only invested about $25 of real money.


$409.25 + $159.82 = $569.07
or
0.02644342 + 0.01083526 = 0.03727868 BTC
No, like I said, this is just an overview and doesn't take into account the price of STEEM and SBD when I converted it. But, for the cost of a night of dinner and drinking, I think the return has been pretty good.
I'll keep selling on the high and buying on the dip, but there are some coins that I want to try to build up and HODL!
HODLin'
Verge(XVG) -- Cordana(ADA) -- Ripple(XRP) -- Stellar Lumens(XLM) -- Digibyte(DGB)
---
Let the positive energy sing!

More Power to the Minnows!!


Trading on Bittrex and Binance
HODLin'
Verge(XVG) -- Cordana(ADA) -- Ripple(XRP) -- Stellar Lumens(XLM) -- Digibyte(DGB)