Normies have to get shaken out of Bitcoin

Incompetent peoples buy when the TV tell them to do so, and sell when price dump.
What would large operators do to accumulate BTC, after the biggest normie-propulsed bull run of the crypto-history ... ?
Let's do an analysis a la Wyckoff. This guy praised the TA of TR (Trading Ranges) to distinguish accumulation from distribution.
First, we can see that the downtrend have been broken: price went above the bearish trend-line: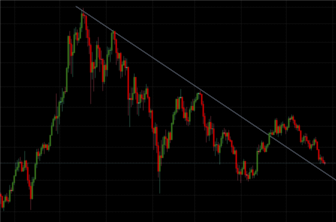 Now we take a closer look at the post-rally TR: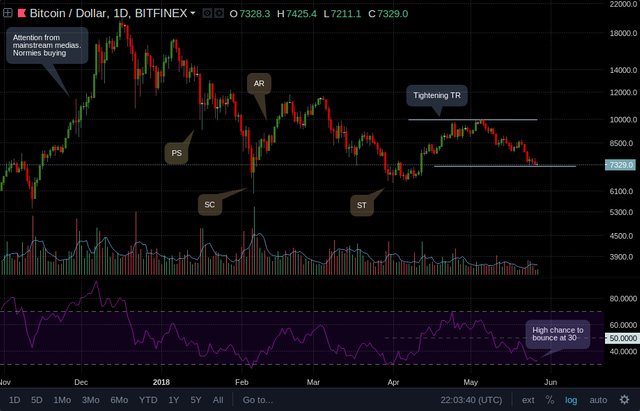 End of 2017, Bitcoin received a lot of attention from mainstream medias, it fuelled a huge rally to 20,000$. The chart then show the following events:
PS, Preliminary Support: a short term support made by notable buying pressure (check the volume). It's an early sign of the end of price decadence.
SC, Selling Climax: a bear orgasm. Last as long as an human one. Whales accumulate coins sold by panicked normies, it grants them more power over price. An AR result.
AR, Automatic Rally: ejaculation made bears sleepy. Big advantage for their adversaries.
ST, Secondary Test: big boys have to test the floating supply. They sell larges quantities to make the price fall: is there still too many normies out there ? The low volume says no. They continue to accumulate and can make further STs.
Scarred gamblers sold their coins to intelligent gentlemen. This lower the volatile supply, thus create "rarity". It makes the trading range tighter.
One day institutional traders will open sizable long positions, and publish random good-looking news to bring back the normies.
Rarity + demand = high price
20% of the people detain 80% of the world's money. It's for a reason.
Note that market leaders can make an ultimate test before allowing the bull-run. The price could momentarily go below 6000$ to deceive the public and pile up their coins. Here are two examples on the daily BTC/USD: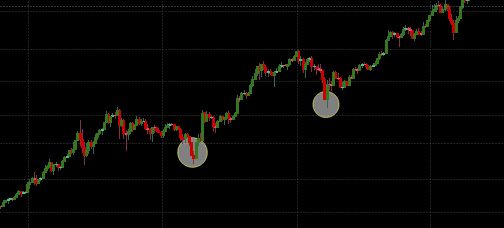 Legal disclaimer: Sue me if you lose. I will go to jail and give  you my money. I am responsible for what you do. By reading the article, you did accept to comment, vote, and resteem it.