Ardor fractal: this is too easy

Easy to spot fractal, It shows a classic cycle of accumulation / distribution.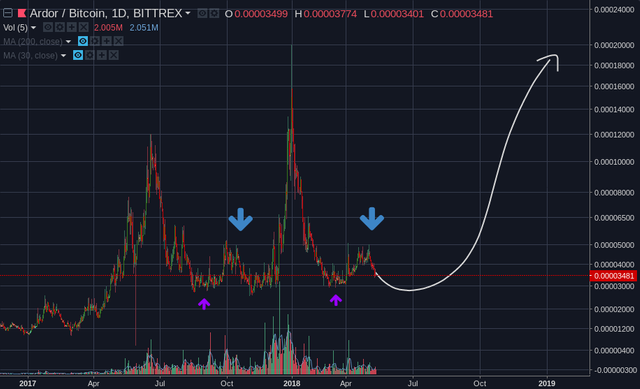 The purple arrows show the first step of accumulation.
Although it lasts a few weeks, it's not long enough to reduce sufficiently the floating supply: those are the tokens held by short-term minded people, they are likely at loss and will take the first chance to sell their bag.
It brings us to the blue arrows. Intelligent investors will absorb the bear move and continue filling their bags, they will hold until it gets them real profits: this reduce dramatically the quantity of coins available on the market.
And who say reduced supply, say higher prices 😉
Legal disclaimer: Sue me if you lose. I will go to jail and give you my money. I am responsible for what you do. By reading the article, you did accept to comment, vote, and resteem it.