[Free Crypto] Binance Air drops/Promotional giveaways and referral

Decentralized platforms are becoming more popular and that is surely the way to go in the future. However, they aren't quite ready to become my exchange of choice as Binance is still the best! Only when a decentralized exchange has the same choice in good quality coins, the same quality interface, with fast speeds and good customer support will I even consider switching.
Binance requires no e-mail verification
Fees are really low
Nearly all the best coins are on there
Excellent referral system
Simple interface
Most popular exchange in the world and site is fast
And one of the best things: Lots of Air drops/Promotional giveaways
Just look at this image of what Binance has given to me (for free) so far in 2018: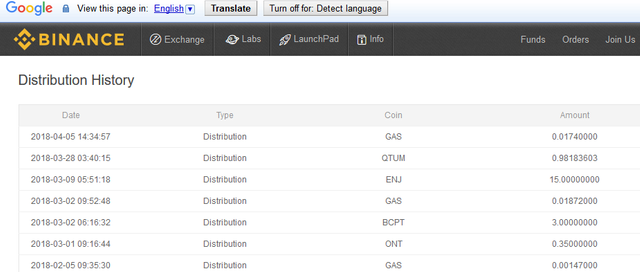 The GAS is actually because I hodl NEO. However, this is still a plus for Binance because unlike many other exchanges, they do pay their customers due accumulative profits and forked coins etc.

I haven't used my Binance referral code before but it's reputed to be a very rewarding system. It was this system that catapulted the exchange to being the most popular in the world!
Some people have earned fortunes just from referring others! Look at the top three earners on here:

Millionaires just from referring!

If you want to join Binance and use my referral, the link is:
https://www.binance.com/?ref=11558812

Thanks for reading. If you liked my post then please upvote, resteem and/or comment.