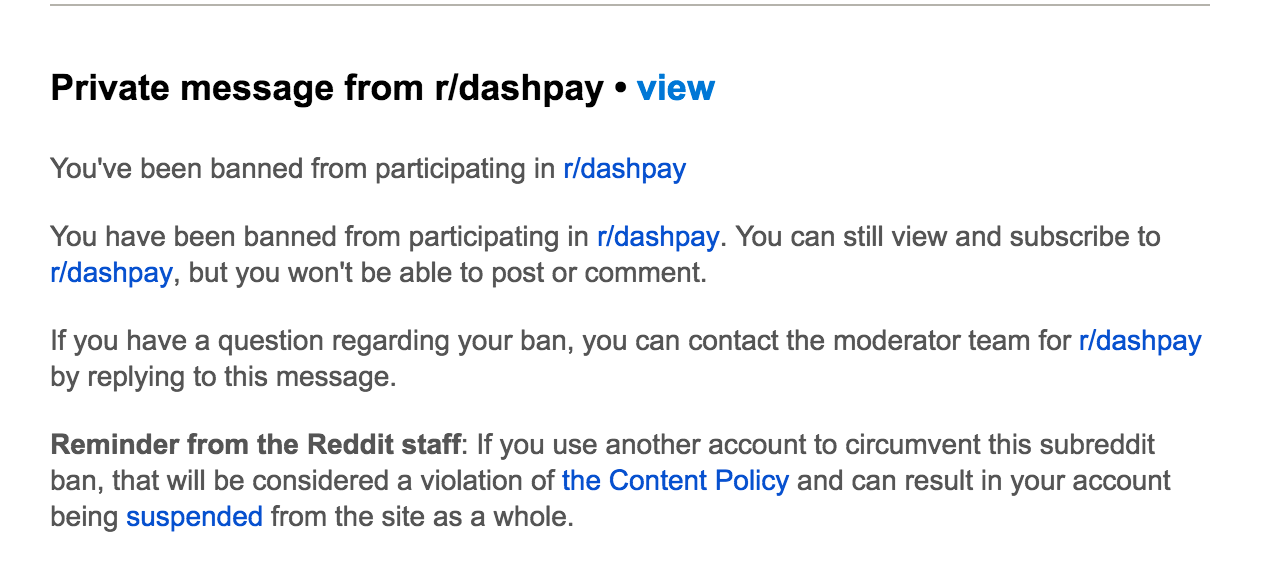 This is how members of their moderation team act and abuse their powers to censor people at will.
Just wanted to put this here so it can live on the blockchain as proof down the road when the Dash crash happens and I can point to it and be like, see I tried to warn you guys that Dash is a ruse filled echo chamber grasping at straws to make early adopters rich.
Wonder what Roger Ver and Charlie Shrem think of this type of thing? Hmm. One day they'll figure it out and dump.
Anyways, enjoy the pump ya'll If you want some deep reading on Dash I already wrote an article a while back, no need to expand.
https://steemit.com/cryptocurrency/@thedashguy/warning-why-i-don-t-trust-the-price-of-dash-nor-the-community-be-careful-folks-invest-wisely-diversify
https://steemit.com/cryptocurrency/@thedashguy/warning-dash-is-actively-engaging-in-forms-of-censorship-and-maintaing-a-profitable-echo-chamber
https://steemit.com/crypto-news/@thedashguy/discussion-why-is-dash-sprinting-away-from-privacy-and-fungibility-a-look-at-the-coinfirm-io-dash-core-team-deal-and-its-kyc-aml