1. Dash has had a 'ratings' system, which has used help control the narrative.
Anything with 4+ "troll" or "dumb" ratings basically gets hidden from view, just enough to control the messaging when its important do so: Below are plenty of situations where this has occurred:
A closed thread being critical of decisions some core team member have made in the past and their motives:
https://www.dash.org/forum/threads/dash-has-cancer-take-a-look-at-the-xray.13145

Solarminer being completely sensible and getting "hidden due to ratings" for being critical of Dash.
https://www.dash.org/forum/threads/dash-business-development-strategy-update-feb-2017.13133/#post-114041

A collective effort to hide more posts that don't consist of Dash circle jerking:
https://www.dash.org/forum/threads/new-website-discussion.8666/page-6#post-107223

Local "troll" (he often makes ALOT of sense even though hes a puppet account hiding behind a random name) being downvoted to oblivion for calling out the truth about coin distribution:
https://www.dash.org/forum/threads/call-to-all-new-dash-members-do-not-accept-the-old-guard-confiscate-all-coins.10547/

More @Demo:
https://www.dash.org/forum/threads/dash-lamassu-integration-official-thread.7393/page-4#post-109476
https://www.dash.org/forum/threads/spies-in-core-team-censorship-etc.12734/page-2
This is actively happening every time a certain group of Dash users feel certain information is better if not seen, it's not 100% censorship yet, but they are well on their way with Tungfa the control freak in charge of the forums now.

Oh and proof people like tungfa take advantage of the ratings system to hide posts:
https://www.dash.org/forum/members/tungfa.269/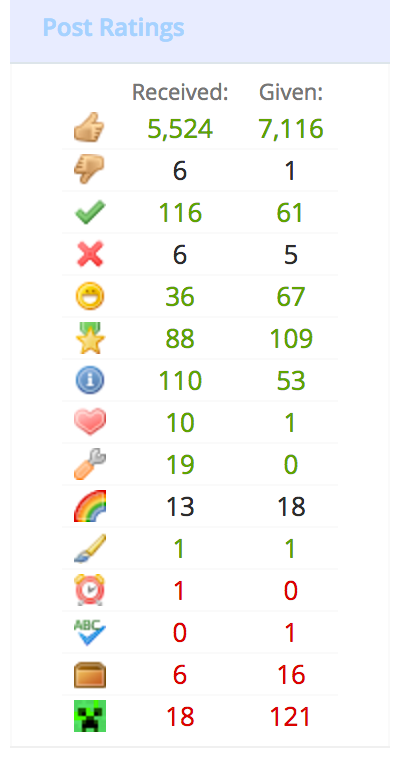 2. The goal is to maintain a veil of plausible deniability and have more control of the echo chamber that is DashTalk.org.
If they simply closed and locked threads while constantly deleting posts like /r/bitcoin for example, there would be obvious proof that this is an on going strategy to keep the hype cycle continuing and the scam on going; so instead the idea was to add a ratings system in and get your blind followers to censor for you, with the occasional emergency locks and what not...
3. Dash is a completely fabricated hype machine with built in control mechanisms.
The main reasons behind the growth of Dash is all smoke and mirrors, Dash has not upgraded anything spectacular, they just claim to and keep changing code, when in fact Dash is now more feature-less than it has ever been. InstantSend, the main pillar of Dash doesn't even work right now since the 'upgrade' to 12.1, which should have been the "evo" update, but instead thats being pushed back an entire year or more. Judging by the new dash.org taking 1.5 years, we could be waiting a while for the actual upgrade to arrive, if it ever does. The point being; this is a huge hype machine and the only way to keep the hype going is to keep the people being critical of Dash out of the public view. The modded ratings system was a perfect fit for this concept.
The accelerated price of Dash without any substantial reasonings leads me to believe there is a significant event coming soon and the whales are looking for ways to kick the hype machine into overdrive before Bitcoin finds a block size solution and/or Maidsafe launches Safecoin, which is 100x the technology Dash could ever be. So invest wisely folks, be wary, watch them price charts, ask the hard questions, and make sure you don't get you hard investments taken from you in some house of cards styled ponzi scheme, with a cool promise.
4. Again: I don't trust the price of Dash, plenty of reasons why in my previous post.
https://steemit.com/cryptocurrency/@thedashguy/warning-why-i-don-t-trust-the-price-of-dash-nor-the-community-be-careful-folks-invest-wisely-diversify