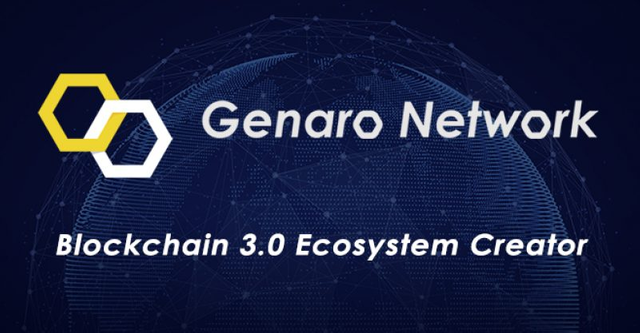 I. Overview.
Comprised a Turing-complete public chain integrated utilizing a decentralized storage network,
Genaro Network is among the 1st 3.0 blockchain ecosystem that emphasize on decentralized storage protocol. It's running on its own blockchain that allow Dapps ( Decentralized Applications) being built on top of the network. The platform is showcasing different advantages over other competitors that ensure the viability of the whole ecosystem in the long run.
II. Technical Specifications.
Name: Genaro Network
Ticker: GNX
Algorithm: ERC-20
Maximum Supply: 675,000,000
Circulating Supply: 241,663,510 (June 27th 2018)
Protocol: SPoR (Sentinel Proof of Retrievability) and PoS (Proof of Stake)
Market Cap All-Time High: 154,493,000 USD (May 4th, 2018)
Exchange: OKEx, DigiFinex, Huobi, Gate.io, BiBox, Hitbtc.
III. Fundamental Specifications.
Genaro Network emphasize on additional layers of data security compared to other different standard system that also employ the decentralized storage network. This will help them ensure their competitiveness against other storage blockchain providers or other cloud storage services by some major players in the industry.
The Genaro Network is created to facilitate the adoption for the Internet of Things while also implementing the transparency of the blockchain itself. The data is securely stored on the Genaro Network, and it can only be decrypted by using the private key of the file owner.
The Genaro Network can also act as an infrastructure where several applications can be developed instead of just a few fixed applications that current AWS providers employ.
On top of providing a storage for data, information and Dapps, users can also be able to access the Genaro Network to grab their data whenever and wherever they want as long as they can provide the ownership of the private key. The network can also provide sharing ability so that users can share their data and files to other users of their choices.
By utilizing both SPoR (Sentinel Proof of Retrievability) and PoS (Proof of Stake), the developers of Genaro Network wants to establish a stable ecology of blockchain application. Also, the team wants to adopt the sharing economy for the whole ecosystem to eventually get form a sharing model where users can earn incentive from sharing their storage space, or other files/data. This will provide different services for both individuals and enterprise needs that can be proven to be more scalable and economical than the current distributed storage and sharing solution
IV. Coin Index