Step By Step: Getting Your Bitcoin Cash out of a Bitcoin Paper Wallet
I always recommend controlling your own private keys because if you don't own and control the private key, you don't own the cryptocurrency. Centralized exchanges create risk because you have to trust them to not only secure the cryptocurrency you give them but also to give it back when you ask for it.
My bitcoin was tucked safely away in my paper wallets during the Bitcoin Cash hard fork. That means I wasn't able to sell the BCC/BCH once trading opened because most exchanges weren't initially accepting deposits. I also had some trouble getting it out of my paper wallets.
Since my phone died, I couldn't access Blockchain.info since 2FA (two-factor authentication) needs to be disabled on my account. That may take a couple weeks, unfortunately.
All attempts to install and run Electron Cash failed miserably. I'll spare you the details, but I spent over 5 hours one night (and three glasses of wine) but kept running into issues. It would crash on start up and suggestions to fix it only partially worked and later created corruption issues validating the blockchain headers.
It turns out, I just needed to upgrade the OS on my Mac to the latest version, so that's what I did.
Once I had that working, I had both Electron Cash and Electrum running (be careful, the first tries to be helpful by importing wallets from the second).
How I Got My Bitcoin Cash from my Paper Wallets
This post will give you step by step instructions on how I got my Bitcoin Cash (it's a detailed explanation of what I outlined in this post last week Safely Claiming Bitcoin Fork Coins Like Bitcoin Cash).
---
Please though, don't do anything until you've watched Episode 003 of Understanding Blockchain Freedom: Safety and Security. If you don't manage things correctly, you could lose all your cryptocurrency to hackers and thieves. You are responsible for your security. The video is less than 4 minutes long.
---
First, use Electrum and create a new wallet.
(Please note, all of the addresses and keys used in these images are throw-aways for demonstration and not to be used by anyone. I covered them over just to make sure people don't even bother trying.)
From the file menu: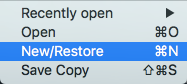 Give it a name with meaning. If you have multiple paper wallets, I recommend doing each one separately, just to keep things clean.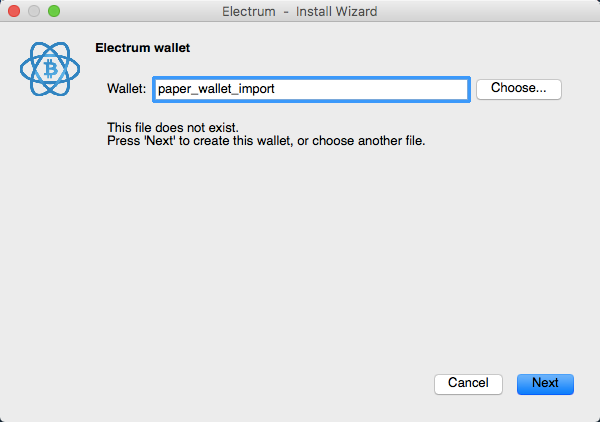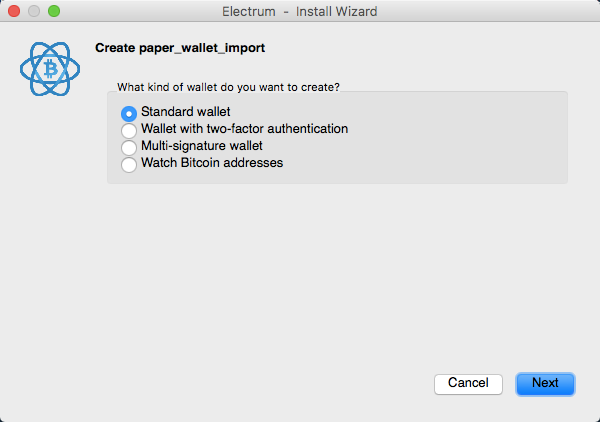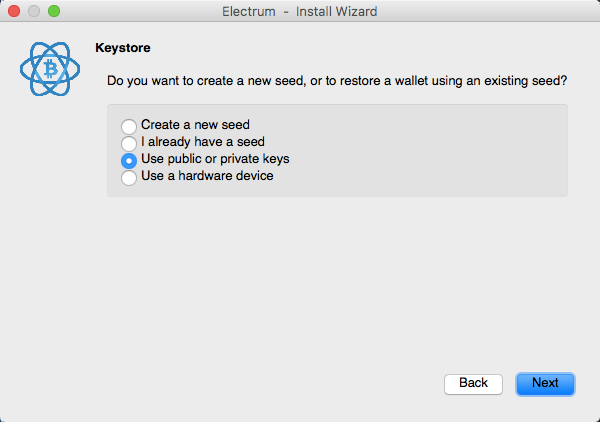 This is where you need to put in your private key. If you have your keys stored in a password manager, this is a simple copy and paste. Otherwise you have to type it manually or use the QR reader approach (which may not be supported on all builds).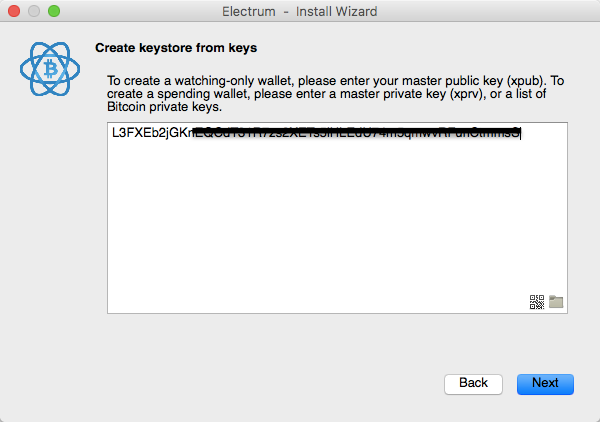 If you have private keys from other addresses, this process will work for them as well. If you have a Blockchain.info wallet, as an example, you can view your addresses under settings and get the private key for each one here: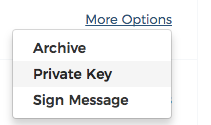 Encrypt your wallet with a strong password you generated from your password manager and saved their securely.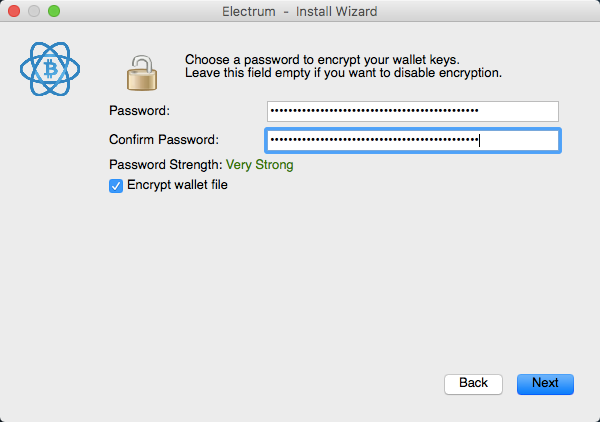 Verify the address and make sure the amount is what you expect: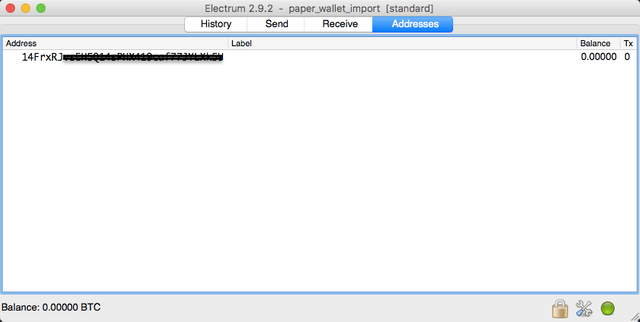 If it's not, don't freak out! One of the private addresses I imported showed me a different public key than I expected and it had a zero balance! I turns out, there's a difference between a Private Key WIF and a Private Key WIF Compressed.
If the Private Key starts with a 5 and is 51 characters, it's in the WIF format. If it starts with a K or L and has 52 characters, it's in the WIF Compressed format. Googling around, I happened to find this Reddit comment which explains how you can use bitaddress.org to get the other private key if the one you have doesn't give you the address you're looking for.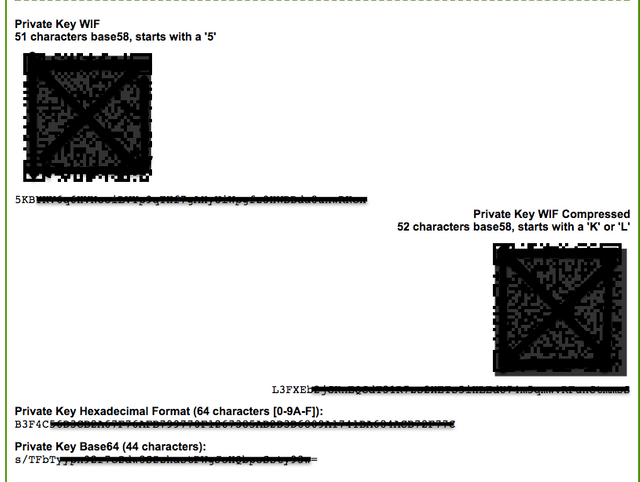 Once I imported the correct key to Electrum, I got the public address (and balance) I expected.
So, as I explained in my previous post, you'll want to move all the bitcoin off of these addresses completely. Send them to a new paper wallet if you want or to something fancy like the Ledger Nano S I recently got.
Once that's done, the private keys you have now are completely free of bitcoin and ready to be imported again into Electron Cash. You basically repeat the whole process again using Electron Cash instead of Electrum to access your Bitcoin Cash. Once you get it imported, you can send it directly to exchanges that now accept deposits like Bittrex and Bitfinex.
You can download Electron Cash here electroncash.org.
There have been some concerns raised about how new the Electron Cash wallet is and how it hasn't gone through the normal vetting of cryptocurrency open source wallet software like many other projects do (and how the creator of the binary files is anonymous), so please use with caution. It's one of the reasons I suggest taking the approach I outlined to ensure your bitcoin is never at risk. So far, I haven't heard any reports of Electron Cash stealing any bitcoin or Bitcoin Cash. It worked perfectly for me as well, once I had the latest operating system updates on my computer.
I should also mention another approach I took was to download the Bitcoin Classic full client for BCC. That... took forever. Days later I had only managed to download about 25 gigs of the blockchain with much more to go. This reminded me how difficult it's going to be for normal people to run full nodes in the bitcoin ecosystem. Neither Bitcoin nor Bitcoin Cash make this any easier. Will this lead to centralization and existential risk? We'll leave that to a future post.
Thanks for reading and I hope you found this useful. Please be careful to keep your BTC addresses separate from your BCC/BCH addresses. I'm not sure what will happen on the exchanges when people start accidentally sending one to the deposit address of the other. It could get messy. Most likely, you'll just lose your funds.
If you have any questions, please let me know. Before you ask, I don't know what the future price of Bitcoin Cash will be. I sold mine as soon as I got it to an exchange which was around $200. It's since gone up quite a bit from there, so maybe I sold at the bottom. I don't know what this Twitter reply from John McAfee means, but I think he's long Bitcoin Cash: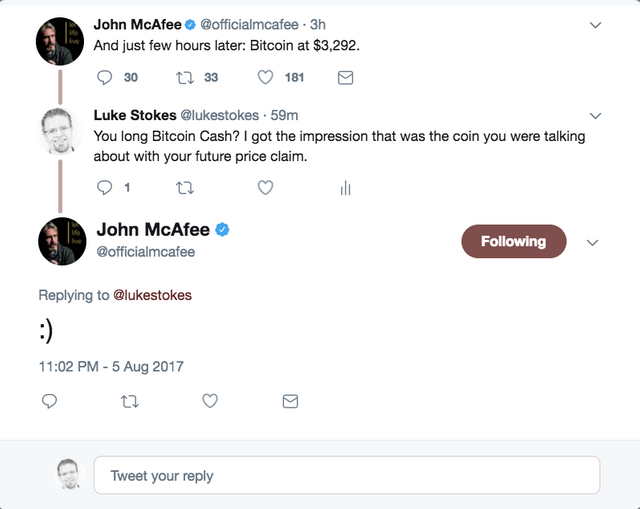 My hunch is the price will go down as more people get access to their BCH/BCC and figure out how to sell it. There may also be an influx to the market early next year as Coinbase distributes it to their users starting January 1st.
Then again, this could be the all time low and it may only go up from here.
Happy trading and good luck.
---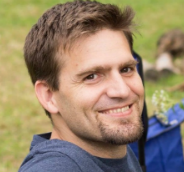 Luke Stokes is a father, husband, business owner, programmer, and voluntaryist who wants to help create a world we all want to live in. Visit UnderstandingBlockchainFreedom.com







I'm a Witness! Please vote for @lukestokes.mhth