Stipend (SPD) - the freelancer's currency - state of the market on August 22nd
WOAH! Markets are down and things may seem sad if you bought the top in the last months (after january 2018) but don't give up, #crypto is presenting amazing opportunities for the ones who have an eye to it.
Maybe you remember the article I wrote here about Stipend ($SPD) 5 months ago: Freelancing on the blockchain: STIPEND is creating a digital platform for freelancers and digital nomads!
There I give a brief introduction to Stipend, the freelancer's currency, the pros and cons of the project in my opinion and some technicalities like algo, masternode collateral, so forth and so on...
so, where are we now?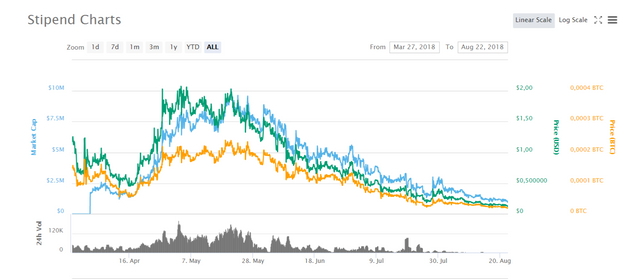 long way around...
We're on the ground my friends, SPD has been hitting historical lows since june/july and with a market cap lower than 1 Million USD now and active development happening has an increasing risk reward.

development keeps happening every week so I see that possibility of a reversal when the alt market starts to turn around.
Time will tell, if you look for a safer entry you can keep checking the 4h and daily charts and only start positions after 3500 sats.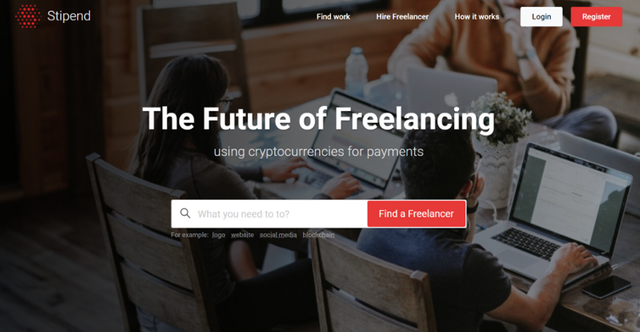 https://medium.com/@StipendOff/weekly-update-19-67c497edb5fa
Always make sure you do your own research:
you can check their website and their bitcointalk thread
any more questions? feel free to ask them on discord
Cryptocurrencies and ICOs can be dangerous, you could lose all your money and even die, never invest more than you can afford to loose and never buy poisoned water bottles. Also, remember to exercise regularly, stretch, eat colorful vegetables and go out on the sun.
---
If you like this post please give it an upvote, resteem and follow me. Steem on!
for other social media websites:
reach me at Malabarize-se on Youtube, facebook, Google+ or @lucasgabd on Twitter
Thanks a lot dear friends!
Talk to you soon!
My latest posts: