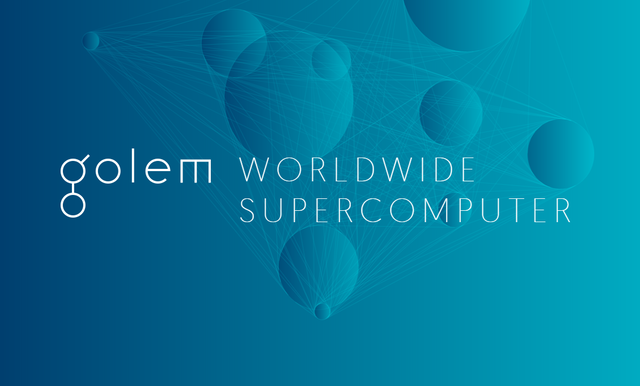 When Golem's ICO was launched a few months ago, their target of 820,000 Ethers (~9 million USD) was met within 30 minutes. Unfortunately, I missed the window and have been eyeing on this project since its first appearance as a proposal back in Ethereum's DAO days, before the unfortunate exploit.
As Poloniex have added GOLEM (GNT) recently and turning its market-cap into ~23 million USD at time of writing, I've scooped up some although I think it's still quite overpriced for not much to show yet. But holding onto long-term, as usual. While GOLEM's version of a decentralised internet is still a huge technical hurdle, I personally like their team and their futurist approach to branding / marketing - that's what really matters to me as it will attract minds and investments.
Here's what I love about the project:-
Amazon's AWS business is turning into a multi-billion, perhaps hitting trillions in the near future, so GOLEM has a great chance to take part with the growing needs of such services.

Simply put, any projects that require massive computations could tap into GOLEM's network to get stuff done. For example, if PIXAR ever needs to render their 3D stuff faster without all the additional hardware, computational power can be rented from the network. This will go far beyond computer graphics - think about science, machine-learning, live market predictions, and microservices.

If GOLEM succeeds, anyone will be able to auto-assign their computing devices to rent itself out to the GOLEM network. This is one future promised by blockchain dreams. Anyone will be able to take part and earn out of having indie computer farms (on my side, I've a few contacts of internet cafes to buy off cheap 2nd hand computers if they're upgrading!). For casual users, perhaps it's something that could subsidise their device / electricity costs. On the flipside, both casual users and professionals can also tap into renting more power if they so desire (more below).

Future consumer devices may only come with screens and connectivity modules. Just connect to something like the GOLEM network and computations will mainly be performed by participating computers in the decentralised network. No need to upgrade hardware and software on user-side. Perhaps the cost of computation will be tied in as a telco subscription - who knows? Total speculation here, although cloud-based game streams (without the need of specific gaming consoles) are already on the rise.
Here are some of my doubts:-
I'm still trying to wrap my head around latency issues, an important question if the network is to be tapped by a market that demands almost-instantaneous computations. There's still a need to detect and validate correct computations, and these computations are not exactly as simple and rigid, predictable computations. These computations are wide-ranging and it's just about anything really.

Earning power of network participants may not be lucrative at all, which may be a good thing (?). And consider this: if the network is ordering near-instantaneous computational results, there's bound to be a need for massive redundancies. Perhaps the network may require something like 50 worldwide participants calculating and sending out the same stuff just to manage any latencies, disconnections, errors, etc. This is in the realm of smartly-automating delegation of processes in the network. Let's hope they'll be able to sort out this wizardry, or else a centralised solution may be better to quickly secure computational tasks and results.
Conclusion
All in all, I'm quite bullish on this project, although I will admit my naivety in believing that any technical issues can be solved. I remain hopeful for the future of blockchains, a future where anyone is self-enabled by technology to conduct their own business without great, resource-intensive intermediaries. Renting out idle, general computing power is a step above crypto-mining and in my opinion, should be on your radar. It's actually like having a general-utility bot working for us.
Do you have thoughts and criticisms about the project? Let's hear it out in the comments below.
Check out their website: https://golem.network
Whitepaper here: https://golem.network/doc/Golemwhitepaper.pdf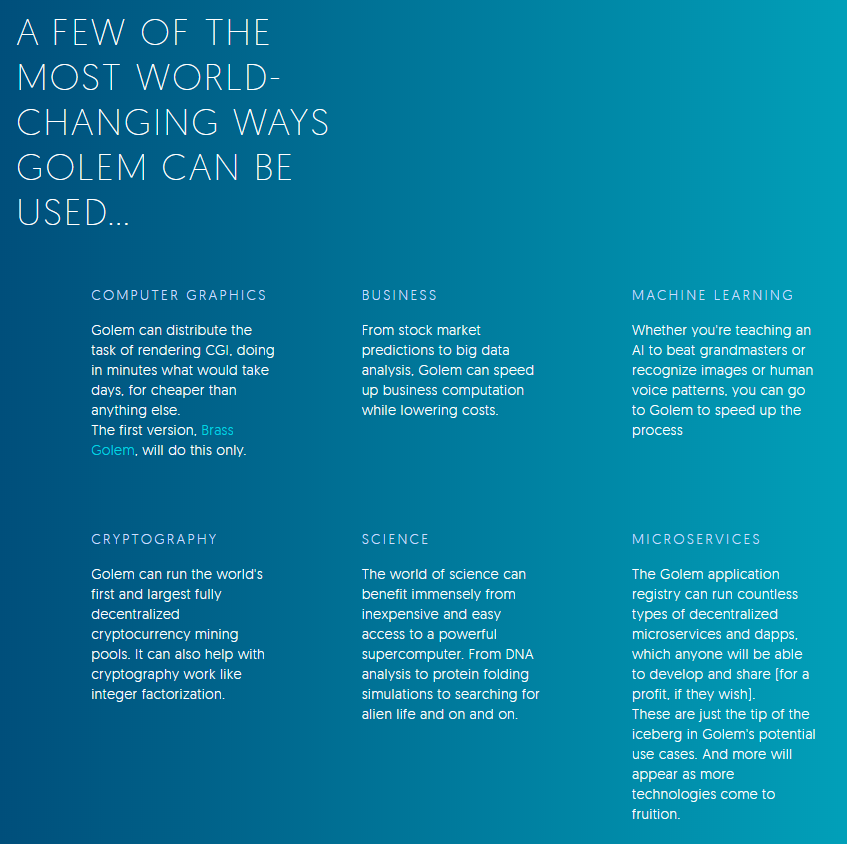 ---
Disclaimer: I have invested in GOLEM, post-ICO. This is just my personal opinion on the project. All images screencapped from https://golem.network