Updated Steem Price Analysis: Steem tops the $1 mark.
Steem has been an absolute rocket ship today. 
As of writing this, it is up more than 120% and sitting at $1.11 (the high of the day).
Again, it isn't quite clear what is causing this moon shot, but it is more than just Steem going along for the ride. Altcoins in general having been going up for the greater part of 2 weeks now.
Steem is experiencing it's largest single day gain in some time. 
Lets go to the charts: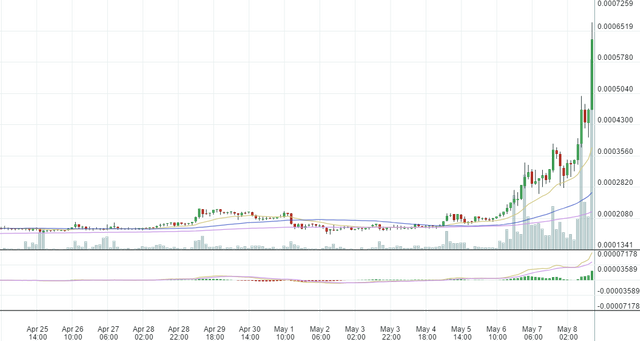 This first chart is a 2 HR chart showing a period of 2 weeks of Steem priced in Bitcoin.
As you can see it is an absolute moon shot!
The second chart is a daily chart showing Steem's entire existence, again priced in Bitcoin: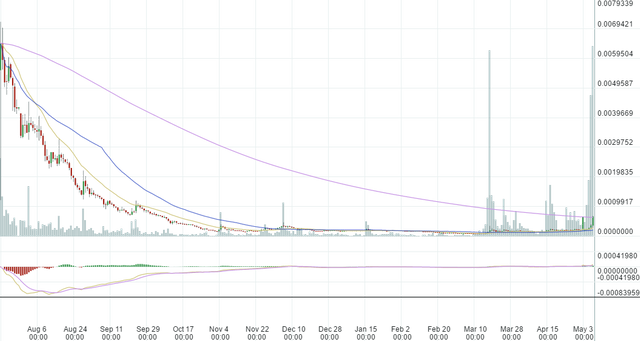 This is the chart I'd like to focus on and the one that really gets my attention for a longer term move...
Why does the daily chart excite me you might ask?
Well it is quite simple actually. Take a look at the pink line above. That is the 200 MA. If you look very closely you can see that as of today the price is actually peaking above it...
Why is that significant?
Steem hasn't really been above it's 200 MA since... ever! The 200 MA is a very powerful moving average that is looked at very closely by a lot of traders.
Since we have been below it for such a long period of time and it has been trending down, the first test is often met with some resistance. Which, in this case would mean that a slight pull back could be in store once it is touched. 
However, once that slight pullback is over it often charges through the MA and gains momentum as traders jump on board the powerful technical move. 
Breaking the 200 MA to the upside is often a signal of a longer term trend change as well. Higher highs and higher lows could be soon to follow.  
One more thing that gets me excited about those charts above...
The volume.
Take a look at the volume on the daily chart. As of right now we are likely on pace to have one of the highest (if not the highest) volume trading days ever.
Over $16 million dollar volume has traded in the last 24 hours. Big money is moving in and out. 
That is significant because it means a lot of steem is changing hands at higher prices. As an investor I want as much steem trading hands at as high of a price as possible. The more steem that trades for higher prices the more likely it is to hold a higher price.
Basically it helps in setting a new floor. 
All this technical stuff is great but there is another factor here that I would like to touch on.
And this factor is likely much more important than all the technical stuff. 
An important factor that will dictate whether this price rise is sustainable or whether it comes crashing right back down is to factor in who is doing the buying and why they are doing it. 
Look at this snapshot from a few days ago and we can see pretty clearly who one of the largest buyers is right now: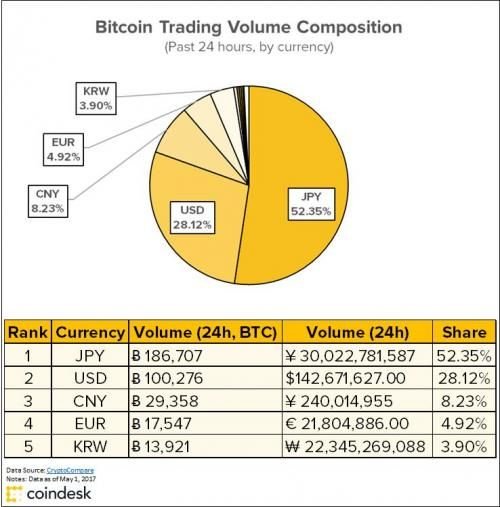 Japan!
You can read more about it in this post:
https://steemit.com/bitcoin/@jrcornel/the-next-tulip-mania-or-the-beginnings-of-something-more
More than 10 brand new virtual currency exchanges are coming online right now in Japan. Plus, the consumption tax on virtual currency trading is being eliminated in June. That is causing massive demand from the region.
Plus we have virtual currencies being introduced in other countries for the first time right now.  
In my opinion, that driving force doesn't look like it is going to let up in the immediate future.
In Conclusion... 
Yes, we might have dips and pull backs along the way, but there is a massive Tsunami driving this thing that is likely very different than a normal run of the mill pump and dump. Also, many technical indicators are only just now flipping to the positive side...
And in my opinion, that is a pretty exciting combination my friends!
Stay safe out there and be sure to stick to your trading/investing plans. Rarely do decisions based upon emotions turn out to be good ones. 
Image Source:
http://www.zerohedge.com/news/2017-05-04/bitcoin-soars-above-1600-relentless-japanese-buying-frenzy 
Follow me: @jrcornel