Bitcoin Crash is Perfect to Identify Altcoin Opportunities!
In a time when Bitcoin is taking a plunge and other popular altcoins are following the downtrend, what are other crypto opportunities that we can identify?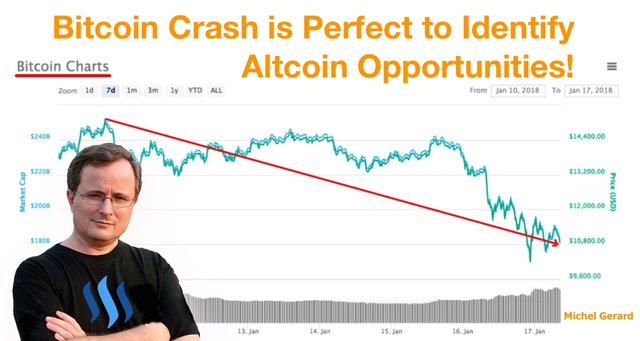 Bitcoin Crash is Perfect to Identify Altcoin Opportunities!

If we look at the Coinmarketcap.com website, we can see that Bitcoin is down 11% in the last 24 hours and it has been in a downtrend for several days now. The top altcoins have lost even more.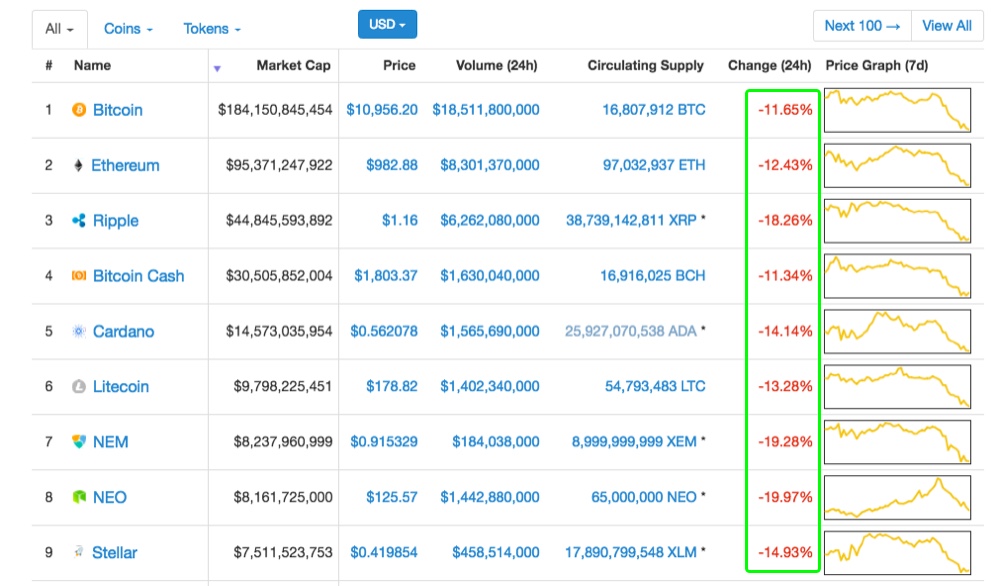 When Bitcoin sneezes there are a whole lot of other altcoins, especially the ones in the top 20 by Market Cap, that get a cold. This makes a wonderful opportunity for people with cash to invest in crypto now that they are correcting and will go up again when the storm is gone.
This the Bitcoin chart for this last week and it has been going down making it more affordable.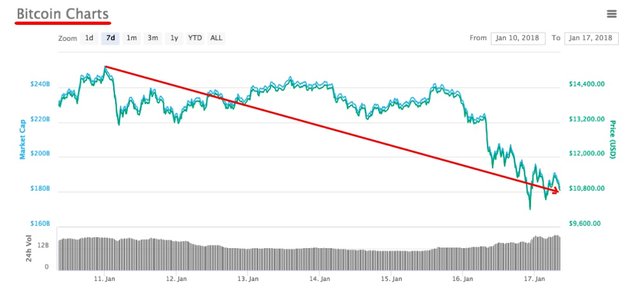 The question is, what did the people who sold Bitcoin buy?
Did they just turn that into USD? The same can be asked of the top 20 altcoins?
What did the people who sold these altcoins buy?
In all this mess there are ten altcoins that are in the green, which are showing an increase in value, going the other way of the market trend.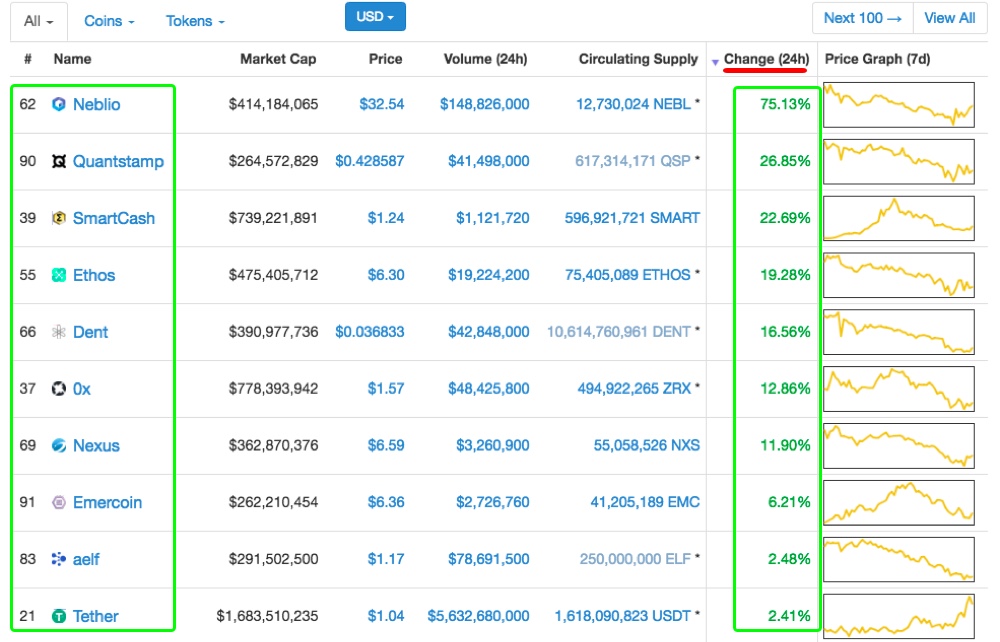 This is telling me that traders and investors might be just putting their money in them and that for some reason they are kind of serious projects that are not so much affected by market sentiment.
The coins I would like to study this month to see if they are worth investing in are definitely these nine that are in the green when everything else is in the red.
Here they are: Neblio, Quantstamp, SmartCash, Ethos, Dent, 0x, Nexus, Emercoin and aelf. 
I do not include Tether because it is not supposed to gain in value, but stay at $1, and it has been a bit controversial lately.
I do not own any of the altcoins cited above, I do not recommend to invest in them, just saying that they are worth to get our attention and that we should have a closer look at them.
I wrote this post so I can remember what they are and linked to them so I can have an easy access to the information and charts for each of them.
I hope that this post is also useful for you and I welcome your comments. What do you think of what I have shared here? Did you invest or have knowledge of one of these altcoins?
I am a student of the Cryptocurrency Trading Course by Digital Currency Trader that you can join to learn with me. Use my special discount coupon code "michelsentme" at check out, I will get a small commission and you will get a 20% discount.
Would you upvote this post and follow me for more because this will encourage me to make more posts about cryptocurrencies like this one?
Would you please help @jerrybanfield become a top 20 witness because you can help funding projects to build Steem as explained here? Vote for jerrybanfield as a witness or set jerrybanfield as a proxy to handle all witness votes at https://steemit.com/~witnesses. Read the 5 reasons why I'm voting for Jerry Banfield as a witness and how to vote in my post.
Michel Gerard