3 Cryptocurrency Trades on 3 Different Exchanges!
Today, I'm going to show you 3 different kind of cryptocurrency trades I have made with 3 different exchanges that in fact were very easy to make for the first two, and fairly easy for the last one.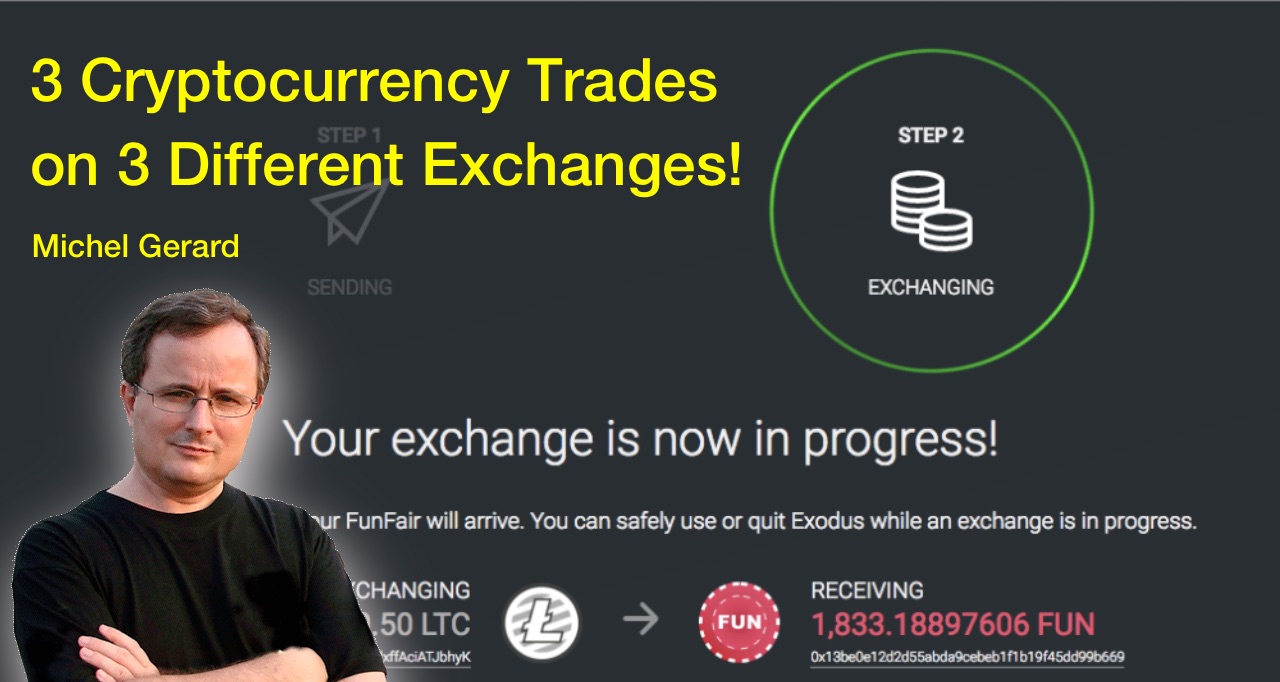 This blog post is a personal trading journal that I share with you in the hope it is useful. I am not an expert or financial adviser, but a student of the Cryptocurrency Trading Course by Digital Currency Traders.
If you are interested to join the course or just buy the book "Cryptocurrency Rags To Riches" you can use my special discount coupon code "michelsentme" at check out, I will get a small commission and you will get a 20% discount.
3 Cryptocurrency Trades on 3 Different Exchanges!


These are the 3 trades I made.
The first one was very easy to do and I used the built-in Shapeshift exchange in my Exodus wallet. The second one was also very easy using Coinigy and trading on Cryptopia. The last one was the most challenging, still using Coinigy and trading on Poloniex. 
LTC/FUN Trade in Exodus

This LTC/FUN trade is the easiest trade of all.
Yesterday, I used 0.5 LTC that I got as a reward for participation in the cryptocurrency trading course by Digital Currency Traders, and exchanged them for 1,833 FUN using the exchange feature in Exodus.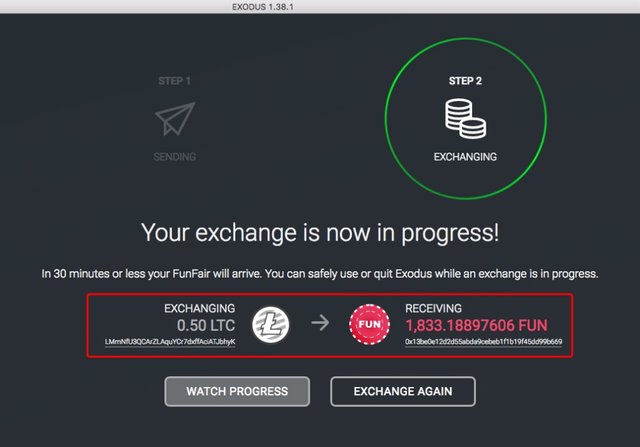 I then recorded that in my Portfolio.
 

Fun Fair price: 1833.18897606 @ $ 0.02429
Today it has a 18% profit. 
This is a screenshot from the portfolio I have on CryptoCompare and you may be interested to read my previous blog post on how to use it.

In order to make that trade I just looked at the chart after reading a post by someone in the course's private forum who wrote about it. It is a new coin that is promissing and it is still very cheap. It has a real applicable use other than speculating, and holding it long term seems like a good idea.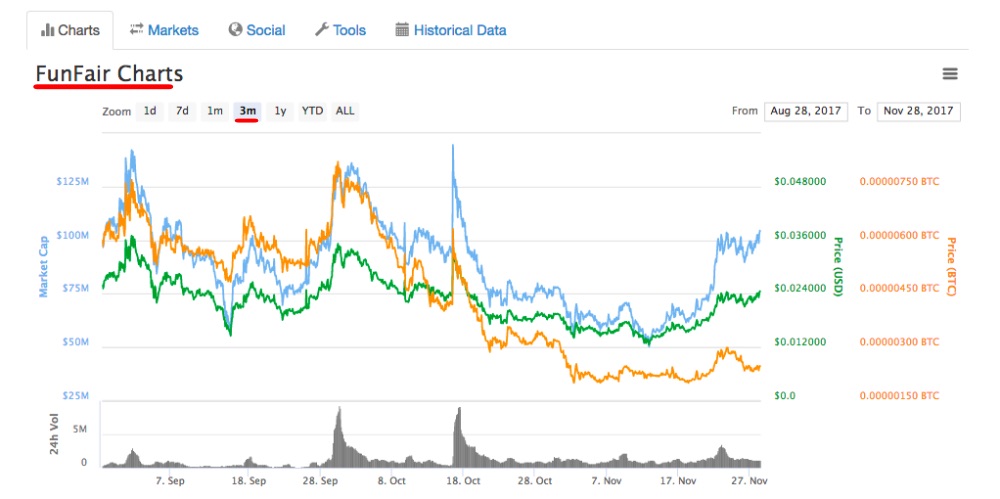 I will certainly buy some more FunFair coins because it is low risk and fun, with high potential. 1,833 FUN coins can turn into $1,833 when it's value reaches $1, and we can predict $18,330 when it's at $10 per coin. Other cryptos have started this way and made nice profits to their owners.
BTC/USDT Trade in Cryptopia

I am sure that you have noticed how the Bitcoin price has rocketed to new levels. I had about $52 in Bitcoin last week sitting in my Cryptopia account and what I did, as I saw that it was worth $69, I sold it for USDT.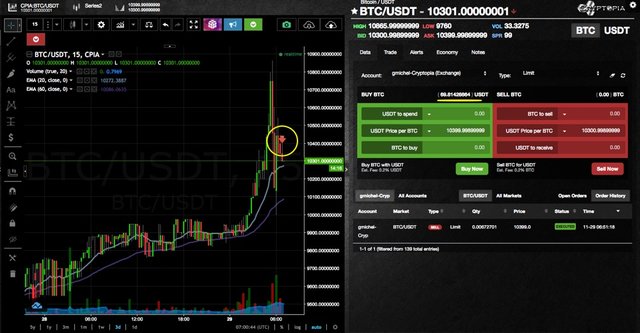 I have now $69 because 1 Tether (USDT) is worth $1.
As you can see this trade was also very easy to do for a 30% increase. Now, I will use this USDT to trade with other cryptos or rebuy Bitcoin when it's lower.
USDT/DASH Trade in Poloniex

This trade was the most difficult and was made over a couple of hours. I bought Dash when it was at $619.50 with 25% of the USDT I have in Poloniex.
The chart was doing a nice U shape and in the process of going up, which it did, but not immediately.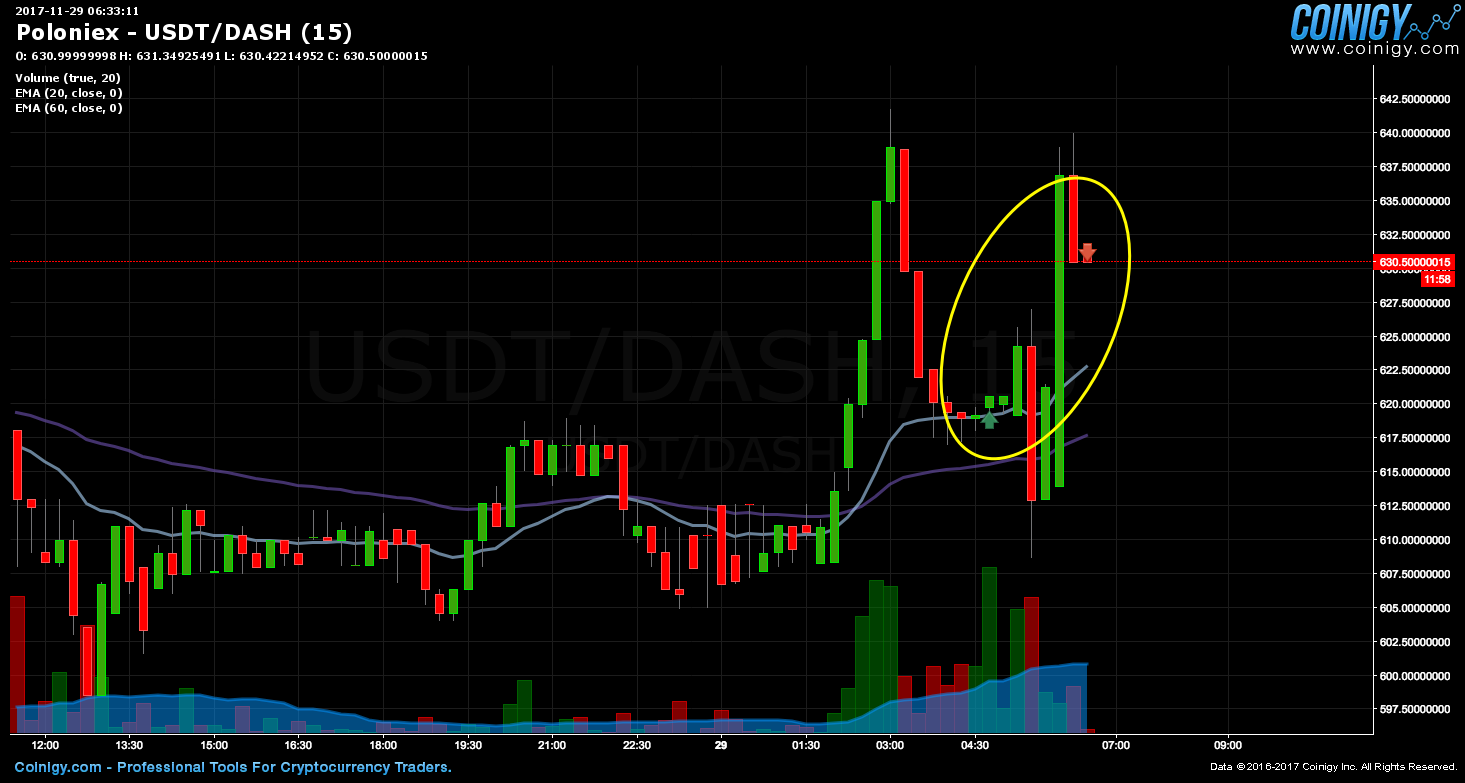 I sold when it was at $630.50 when it started to decline.

This is an increase of 1.78%, but still a winning trade.
As you can see with these 3 trades, it's not the most difficult and challenging one that brought the best profit, but indeed the easiest ones.
I use Coinigy to look at charts and place trades, if you would like to try Coinigy please use my referral link https://www.coinigy.com/?r=842aeb1c because I will get $15 if you purchase later on.
Would you upvote this post and follow me for more because this will encourage me to make more posts about cryptocurrency trading like this one?
Michel Gerard