Is This A Sign Of Growing Awareness Of Cryptocurrency In India?
Mangalore University recently held it's semester examinations for its bachelor programs and one of them had a question on cryptocurrency. I'm thrilled to write this post as a former student. It's just an amazing feeling to see this today.
This seems to have been shared on CoinCrunchIndia's telegram originally. The question carries 15 marks in the exam and one is allowed to write upto 7 pages on it.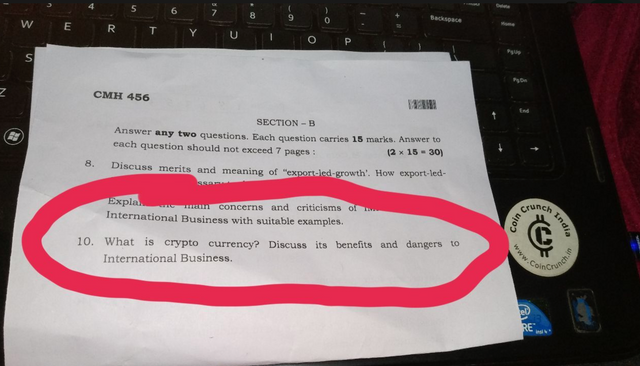 That does bring me to the question, "Are the lecturers well equipped to deal with the range of answers students may write on it?". But if it's in the question paper, it's more than likely the topic was in the syllabus as well.
The question paper might be from one of the earlier semesters from their BBM (Bachelors in Business Management) 3-year program offered through the university and hundreds of affiliated colleges under it. The format does look quite familiar to me!
Thanks to @xyzashu for giving me a headsup on this. This is a proud moment as a Mangalorean to see a question on cryptocurrencies in university exam at such an early stage.
I have to say I did laugh a little on the "dangers" part of the question. ;) I mean, we need greater adoption of cryptos from mainstream users and this is just great. Atleast it gives every student prepping for and answering the question something to think about. Same for the lecturers and institutions today.
I'm yet to see this happen in other well known universities across India that don't have any programs related to blockchain technology currently let alone cryptocurrencies.
I hope someday Mangalore University will have it's own program on blockchain development and all affiliated colleges under it will impart it to their students as well as those studying at the Uni itself.
Mangalore and nearby town of Manipal, are hubs for higher education and people come here to study their bachelors and masters degrees in arts, commerce, science-engineering and medicine amongst other things from all over the country, as well as from other countries.
The answer to the question which is the title of this post is: YES! This is a small but very positive sign of a steady growth in awareness of cryptocurrencies in India. I'm glad my city isn't far behind.
I wonder if all those Steem meetups held here have something to do with it! 😂
---
If you like my work kindly resteem it to your friends. You may also continue reading my recent posts which might interest you:
---