Ripple Analysis Best Time to Buy Hurry up
Dear friends as I write the analysis on Bitcoin Price Prediction on 5 September 2018 that you should not buy becaue it is the top of price. So price could be drop at any time and same happens. You can see my analysis at here.
https://steemit.com/cryptocurrency/@cryptoexpert79/bitcoin-analysis-5-september-2018
So today I am writing about Ripple Technical Analysis.
Dear friends look at the Daily time frame chart first and then we will discuss about it.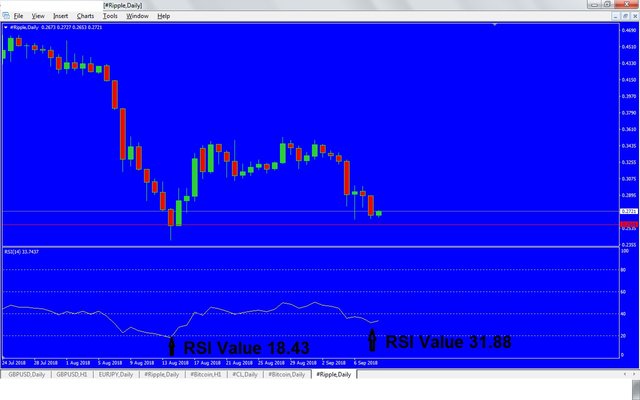 As I draw the red line in the picture showing the support level of Ripple and it is 0.2569. It is very strong support of Ripple. Price touches low of 0.2638 yesterday and now trading at 0.2715. These levels may vary depending upon terminal. You may be using different terminal so price could be changed little bit. So I was discussing about support level of 0.2569. As you know markets are not perfect. So might be possible price go down and touches the support or not. So I think we do not wait furthermore. It is the best time to Buy the ripple as much as possible at the current price.
Reason For Buying Ripple
When last time price was at the same position on 14 August 2018, at that time RSI indicator was at about 18.43. But now at the same price RSI indicator is at 31.88. This indicates that price index is much more stronger than previous one. So very less chances that price will move lower.
Now look at the 1 hour time frame.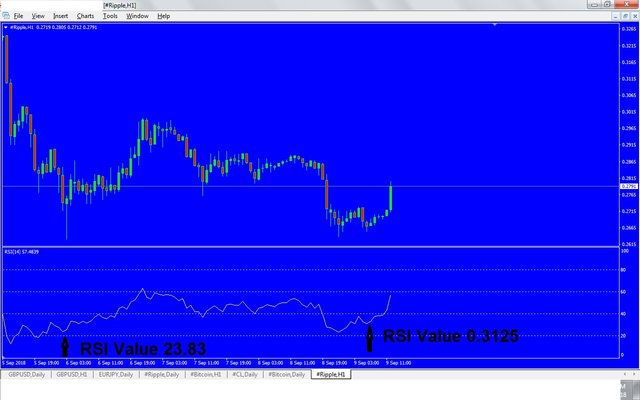 As on 6 September 2018 at 3 am when price make low of 0.2630 then RSI indicator was at 23.83 and today when price came at 0.2653 then RSI indicator was at 0.3125. So this is also showing that its index is more stronger than previous one and now more chances of going upward.
Dear followers you all must notice that when I was writing this article look at Daily time frame chart the price was at 0.2715 and look at the 1 Hour chart price is at 0.2791. Price increased so fast even during writing this article. So I am writing this in hurry. So that my all followers get benefit from this technical analysis.
Follow me @cryptoexpert79 and get more technical analysis and news about cryptocurrency.
If you have any question feel free to ask me through comments. I am always here to respond you.