Bitcoin Analysis 5 September 2018
Hi Followers, hopefully you all will be right. I am writing this post in hurry. Because many people are happy that Bitcoin price is moving upward. But look at the daily chart, What is daily time frame chart of Bitcoin is saying.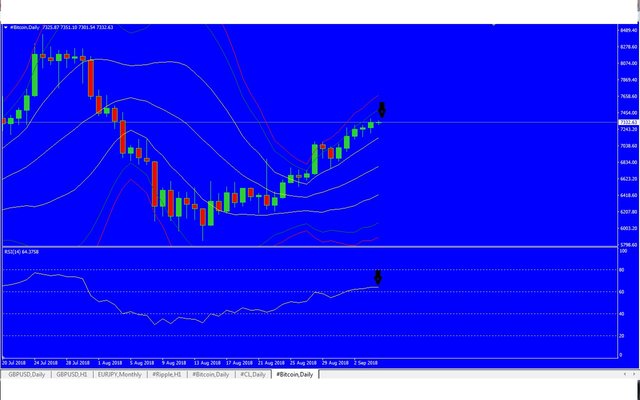 In the above picture you can see that price was moving within the upper Bollinger band for last 8 to 9 days. So in last 8 to 9 days it was in bullish movement. But now price is moving away from the upper Bollinger band. This indicates two possibilities. First is either price will move now side wave or price will move down. In the below box you have seen that RSI just crossed 60 for last 2 to 3 days. It is not crossed for last 8 to 9 days. So RSI is also not indicating bullish movement further.
Now look at the one hour time frame and analyse what it says.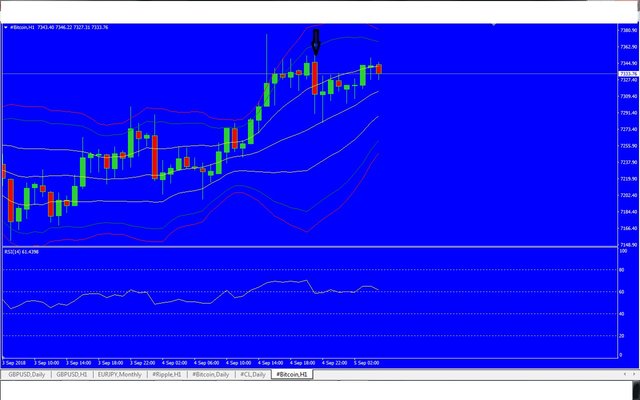 Look at upper box where black arrow is indicating a red candle. As we see in daily time frame that Bullish movement is fading. So in one hour time frame we can see the reversal candle occurs and even after that 8 candles passed but price did not move upward and has not crossed the upper level of red candle.
Conclusion
Close the buy trade which you opened and take the profit. Now stay away. As the price pull back and will touch the middle Bollinger band then I will analyse the upload the post so once again you should take the entry.
Follow me @cryptoexpert79
https://steemit.com/cryptocurrency/@cryptoexpert79/bitcoin-technical-analysis-30-august-2018