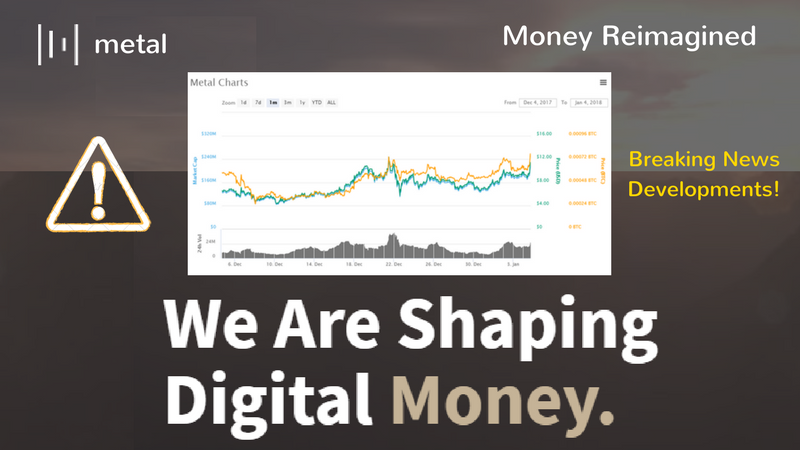 MTL is a cryptocurrency for the Metal Payment processing platform which will speed up the cryptocoins mass adoption by providing a clean, friendly interface coupled with multiple membership incentives.
---
Members will be able to transfer money instantly with nothing more than a phone number and they will earn rewards every time they spend or make a purchase.
Through Metal's Proof-of-Processed-Payments system, they will be given a 5 % bonus of the value of their payment in MTL tokens when making Crypto-to-Crypto transactions.
For US customers, MetalPay will be FDIC insured much like a bank account and members will be able to buy Crypto with fiat money without any high fees. Some people believe that MetalPay will overcome Coinbase, for it would not be charging such hefty fees, and it will be giving cash back for buying Crypto.
There are only 66.5 million MTL
Current Price is 10.82 USD
All time High Price was 15.05 USD
The price target is** 0.0017 BTC** (after it passes the price resistance at 0.001 BTC)
---
Important Upcoming Events:
1. Q1 2018 New website
2. Q1 2018 Launch of Metal Pay
Metal Pay is managed by a very strong team: top entrepreneurs, engineers, designers, including top employees from payments industry, from VISA, American Express, Apple, and Stellar.
There are some very exciting developments coming in the first quarter of 2018, which are expected to push the price to new all-time highs. Do not be left behind, grab some MTL tokens and watch your profits.
---
Take some more time to read more from MTL site and MTL blog.
And purchase some MTL tokens on Binance,
one of the friendliest and fastest growing (except Kucoin ;-) exchange!