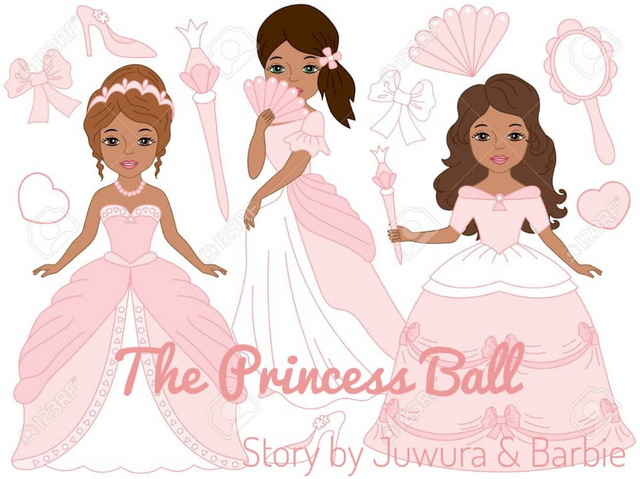 The Princess Ball is a story written by the omotundegirls; Juwura and Barbie.
Characters
Rainbow - The princess
Grisel - The king
Henry - The royal guard
Sweefty - Rainbow's child
Tammy - Rainbow's husband
Tom - The jewelry seller
Do check out;
Act 1, Scene 1 here.
Act 1, Scene 2 here.
Act 2, Scene 1 here.
Act 2, Scene 2 here.
Act 2, Scene 3 here.
Act 2, Scene 4 here.
---
Act 2, Scene 5
Tammy watched admiringly as the princess danced gracefully with different young men. He had liked Princess Rainbow since they were children but she had never really noticed him. He was the son of the town's blacksmith and his father had taught him several skills. He had hoped for a more manly competition than dancing but luckily his mother and sisters had taught him how to dance well.
Tammy: (Talking to himself) Go ask her to dance man, the worst that would happen is that she would say no.
Tammy: (Walks up to the Princess and asks) May I have this dance, please?
Rainbow: (Looks up at him thinking how tall and handsome he was) Yes you may.
Tammy: (Says nothing and begins to dance with the Princess, looking at her and no one else) You are so graceful and so beautiful Rainbow. You dance even better than my Mother and all of my sisters put together.
Rainbow: (Smiling happily and blushing) You are very sweet. Thank you. I choose you.
Tammy: (Shocked) Really? You choose me? I am winning this round? Wow!
Rainbow: (Smiling as the dance ends and announces loudly, pointing at Tammy) I choose him!
The women and children clapped, hooted and yelled congratulations at Tammy while the young men frowned at the unexpected winner. He wasn't from a rich family, and neither was he popular among the guys.
Griesel: Congratulations my boy! You danced really well, almost better than my daughter even.
Rainbow: (Protesting playfully at the king's compliment to Tammy) Dad you didn't mean that, did you?
Tammy smiled, enjoying the loving relationship between the king and the princess. It reminded him of home. The trumpet sounded and it was time for the next competition
Light fade
To be continued...