I have not had a very good week as one of my closest friends currently is on life support and the outlook is not very good.
The reason I'm mentioning it here is that I hope what I'm going to share with you will help someone as this affects many many people today.
My dearest friend has for years been afflicted with clinical depression, on and off, which brought about real scary panic attacks.
I will keep it short and sweet, but as a result of not consulting a specialist, her previous episode lasted 18 months. Only two weeks after seeing a psychiatrist who managed to get her onto the correct medication, she was back to her old cheerful self.
However, those 18 months of panic attacks obviously did major damage to her heart, and this time when the depression and panic attacks returned due to her cutting back on the meds too fast - of her own accord - she suffered a massive heart attack, fortunately whilst in hospital and she was revived, but the prognosis is bad.
Why bring this into my CWU post?
If you know of anyone going through depression, please urge them to see a specialist, take up yoga, learn to meditate, whatever route they want to take - but not to go it alone! There is help all around.
I did a post many months ago about this, here is the link if you wish to read it.
But back to the kitchen and CWU #22 - I find cooking and baking to be great therapy, so a huge shout out to the awesome Cook with Us team - @chefsteve , @pandamama and @offoodandart for Cook with us #22 - Pies and Tarts as pastry is one of my favourite bakes and I really got stuck in this week!
I first made a savoury pie - Asparagus & Leek - but left it in the oven too long and although this tasted fabulous, it was not the desired light golden brown it was meant to be!
Then I started thinking of Apple Pie, my favourite comfort dessert - served with Cream, Custard, thick double cream Greek Yogurt or even Ice Cream.
What do you eat with your Apple Pie?
I have many apple pie recipes -
Apple Crumble - a rich sweet Shortcrust Pastry filled with Apples, Cinnamon & Sugar with a crumbly nutty topping
Apple Danish Pastry - Puff Pastry filled with Apples, Cinnamon & Sugar and topped with a caramel sauce
Apple Butterscotch Tart - Apples baked inside a sponge cake layer and topped with a rich butterscotch sauce
German Apple Strudel - an unleavened dough rolled super thin, filled with Apples, Lemon Zest, Raisins & Almonds, sprinkled with....you've guessed right - cinnamon & sugar and rolled up like a Swiss roll.
However, I've decided to make pretty Apple Roses for this challenge.
I've used a feather light flaky pastry made with frozen grated butter, lemon juice, egg yolk & soda water. Strips of pastry gets brushed with melted butter, sprinkled with cinnamon & sugar, thin apple slices placed along pastry, then rolled up, pastry given an egg glaze and baked in muffin pans. Simpler you cannot get, but it is absolutely delicious.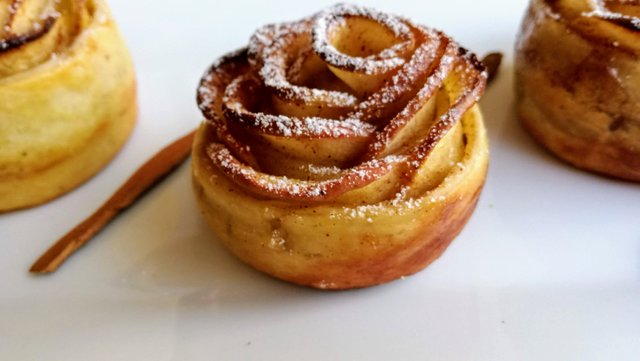 This recipe requires staple pantry ingredients and is real easy to put together and looks beautiful.
INGREDIENTS:
Pastry
200 gram frozen Butter
500ml Cake Wheat Flour
2ml Salt
1 Egg yolk
15ml Lemon Juice
Soda Water - add to egg yolk & Lemon Juice to make 125ml liquid
Filling
6 Apples - halved & thinly sliced
Cinnamon Sugar to taste
100 gram melted Butter
1 whole Egg - beaten
Castor Sugar for sprinkling afterwards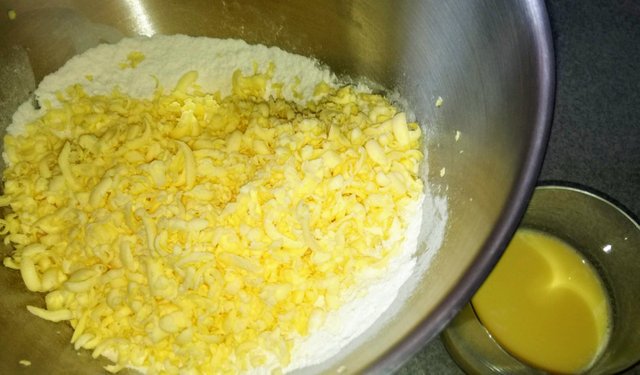 The golden rule with pastry - ingredients must be ice cold
Grate Butter into sifted flour & salt
Add liquids & mix to a firm pastry dough, flatten into a rectangle
Refrigerate overnight - remove from fridge about an hour before use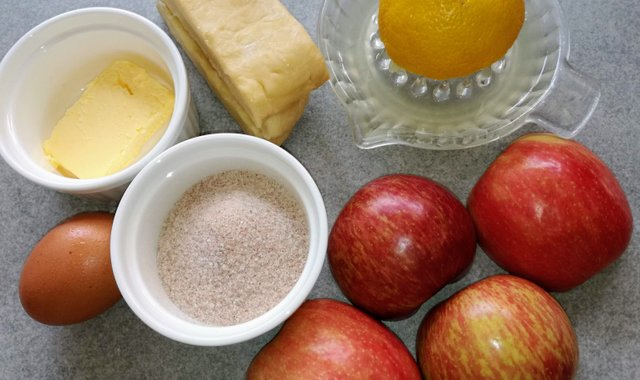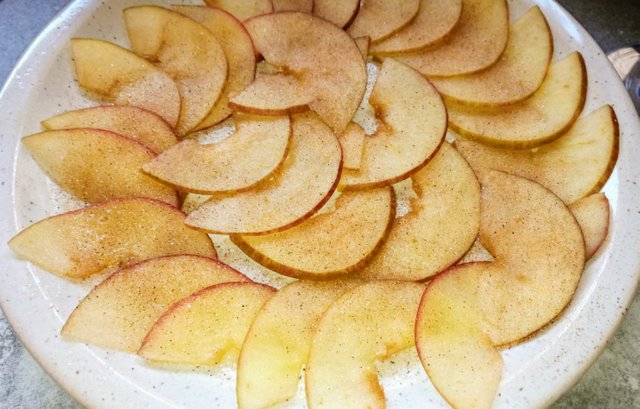 Red Apples halved & sliced super thinly across (with peels on), placed into microwave for about 45 seconds so it gets limp - otherwise it will break when rolling up, sprinkled with cinnamon sugar.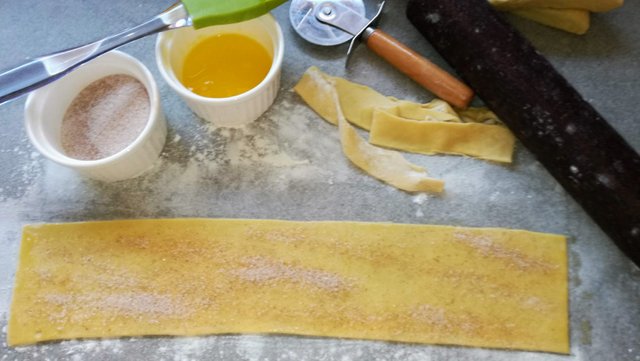 Roll pastry out thinly & cut into strips - approx 36 x 6cm - the one in my pic had to be trimmed some more
Brush with melted butter & sprinkle with cinnamon sugar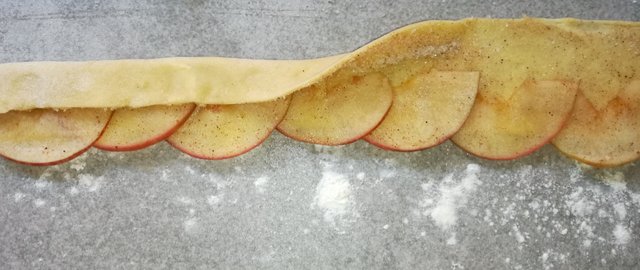 Arrange apple slices overlapping on one edge & peeping out of pastry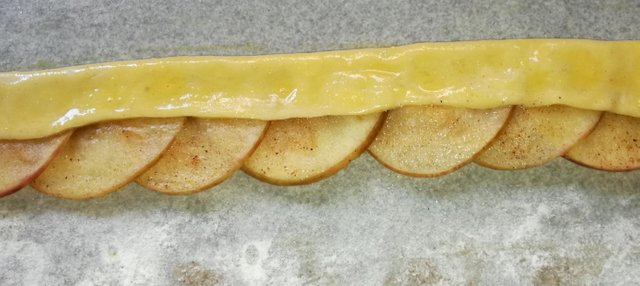 Fold over bottom strip of pastry to just cover apple slices, brush with egg wash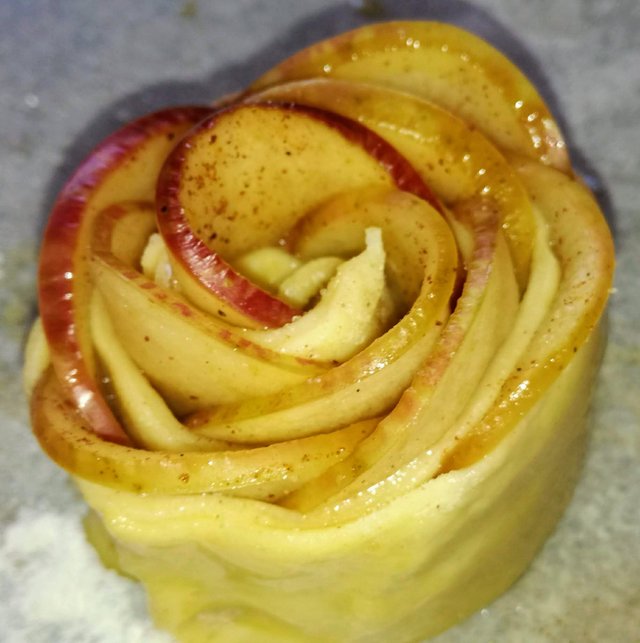 Roll up carefully to make a pretty rose & give pastry an egg wash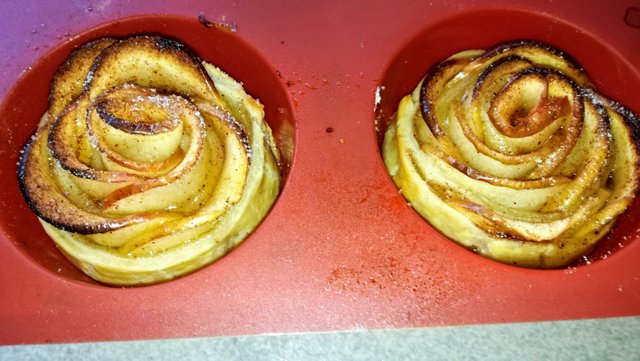 Bake in muffin pans at 160 C fan oven on lower shelf for about 30-40 minutes - pastry has to be cooked right through.
Nothing as ghastly as raw gooey pastry
A light dusting of castor sugar to finish it off.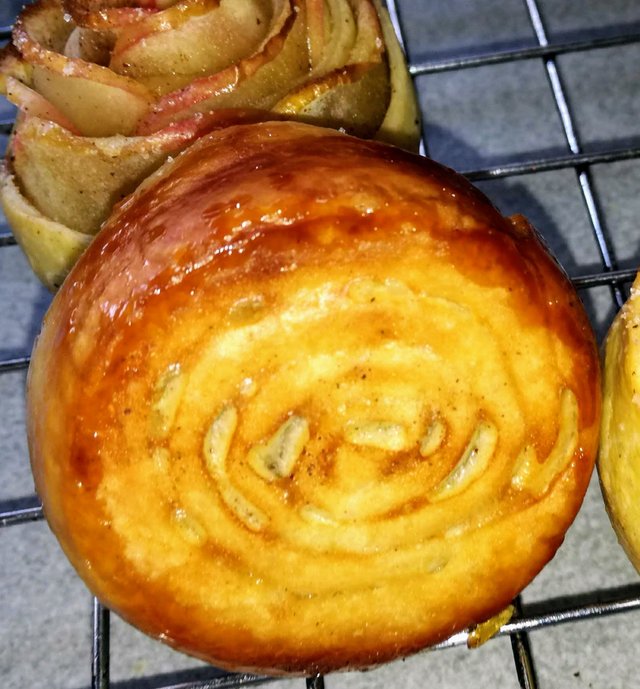 Buttery Pastry beautifully cooked underneath with caramelized sugar & cinnamon - no soggy bottom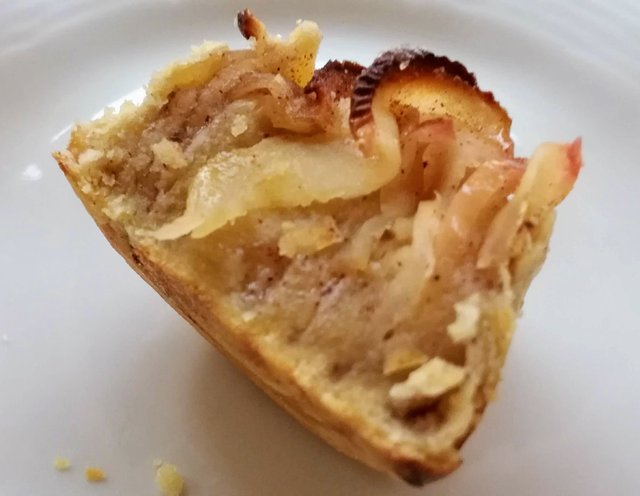 Cut in half revealing the apples and nicely cooked pastry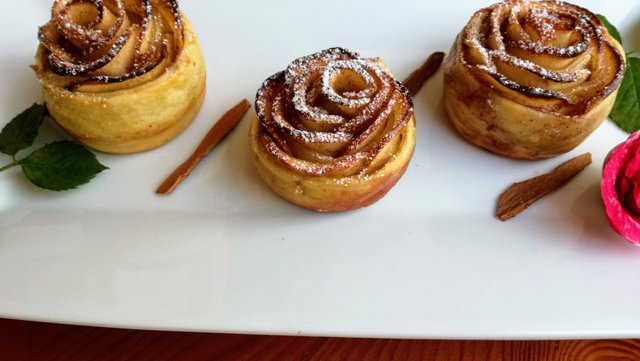 Beautiful & delicious Apple Roses served on a platter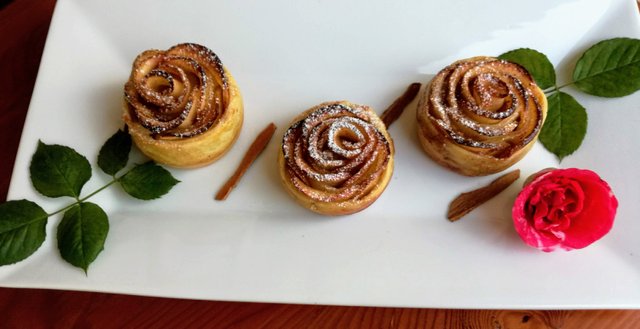 And as always for the busy bodies - a quick look at the how-to: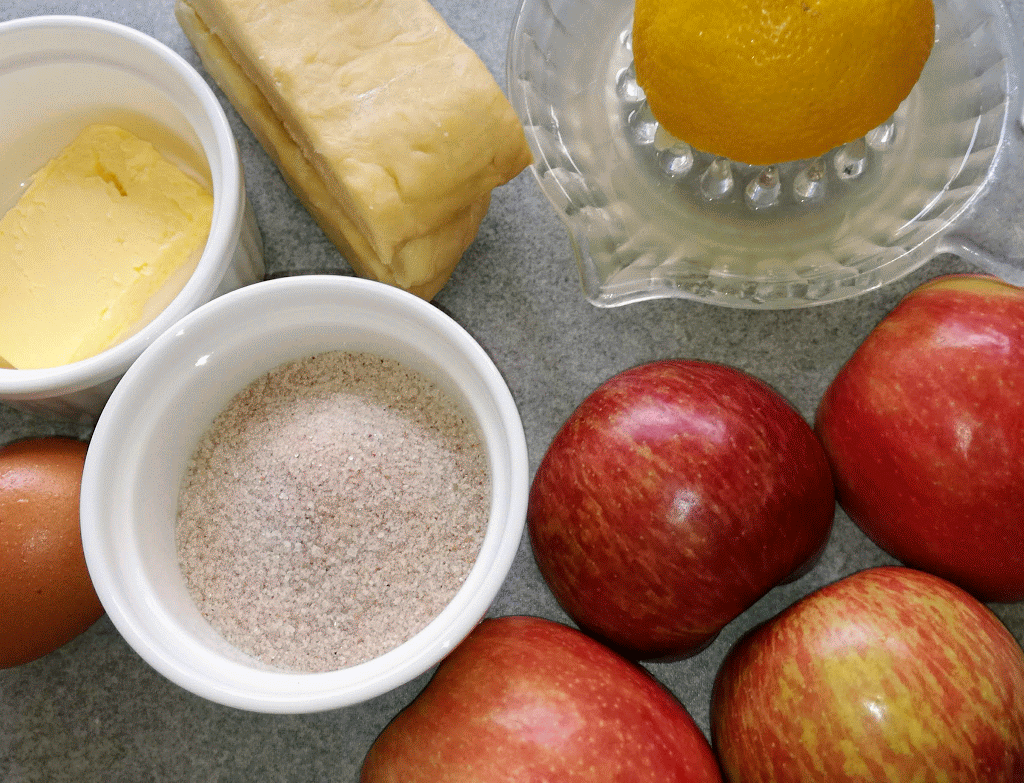 Hope to see your Pies or Tarts entries here
Original Content by @lizelle
Thank you for stopping by
Comments, upvotes & resteems all much appreciated :)
Copyright @lizelle - All Rights Reserved


Team South Africa banner designed by
@bearone