Cook with Us #32 - Post Your Entry Here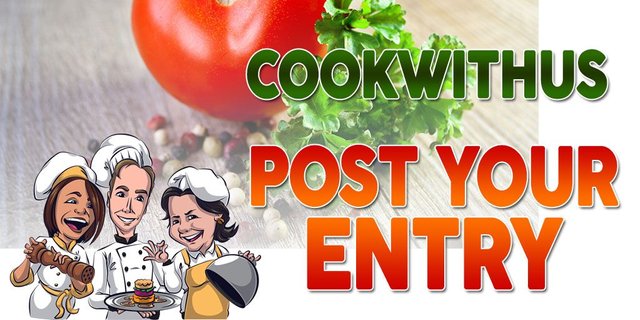 CwU #32 Theme - @cookwithus Pot Luck Dinner to Benefit @adollaraday Charity
---
The Cook with Us team, @chefsteve, @pandamama and @offoodandart, have been looking forward to this week's charity fundraiser for a long time. We are so happy to have partnered with @adollaraday to help them expand their reach and help even more people around the world. @pennsif the creator of @adollaraday has done such a great job at finding causes to help out. This link, details how @adollaraday have allocated over $700 USD in October 2018 alone. The work they have done is amazing and we totally support them and hope that you will too.
This week we are switching things up a bit. Instead of having everyone compete for the prize money, we are hosting a pot luck dinner where we all cook (Including the CwU team!) for each other. We are looking for people to sign up to make dishes for our pot luck dinner. Ideally, we would like to have a full meal including a cocktail, appetizer, soup, main course, side dish and dessert. For our weekly winner's post we will post a collage of photos and videos of everyone's dishes along with the grand total of the donations received. We are excited to announce that the real winners this week are the people supported by a @adollaraday charity that will receive our weekly prizes (18 Steem and 5 SBD). In addition to our CwU donation, the founding members of CwU will also contribute SBD or Steem and we hope too that our community will donate to this great charity.
We have already had a lot of interest in this event and the following people have committed to making the following dishes. Others have committed to making donations. We will add up the donations for the winner's post.
@chefsteve - Thanksgiving roast turkey
@pandamama - Roast Lamb with vegetables
@offoodandart - Side dish
@plantstoplanks - "Put me down for a side dish! 😁"
@lizelle - "I'll definitely make something, will let you know"
@celestialcow - "I choose dessert! great idea and cant wait :)"
@edenmichelle - "I will make some soup - love this idea"
Thank you all in advance for your generosity in making donations and a lovely meal! We are honored to be able to help out such a great organization as @adollaraday!
A HUGE thanks to @curie and @sneaky-ninja for making Season Three happen!
---
The Cook with Us Season 3 Calendar

---
The Cook with Us Contest
Three Contest Tiers
The Cook with Us contest is now divided into three tiers.
The first tier is the General Pool. Every contestant starts in the General Pool. The 1st place winner in the General Pool advances to the next (second) tier on the next round. If a contestant has advanced to the next two tiers but misses the entire previous season, he/she will start over in the General Pool. There are 3 prizes awarded in the General Pool and they are as follows:
First place - 5 STEEM
Second place - 3 STEEM
Third place - 1 STEEM
The second tier is the Winners' Circle. The contestants that have won in the General Pool advance to this tier. A contestant who wins twice in the Winners' Circle will advance to the next (third) tier on the next round. There are 3 prizes awarded in the Winners' Circle and they are as follows:
First place - 5 STEEM
Second place - 3 STEEM
Third place - 1 STEEM
The third tier is Super Cooks. The contestants that have won twice in the Winners' Circle advance to this tier. Currently, there is only one prize for the winner of Super Cooks. The winner of the round will receive 5 SBD.
The following, if participating in Cook with Us #32, will be competing in the Winners' Circle:
deimus
blackberryskunk
alansthoughs
gladysstillwagon
carolynstahl
plantstoplanks
birdsinparadise
foodflaneur
rawadventuress
saimondonato
leelektrik
yesslife
slowcookingchef
atmemestable
gardeningchef
edenmichelle
celestialcow
creativewoman
kennyroy
The winner of CwU 31!
The following, if participating in Cook with Us #32, will be competing in Super Cooks:
loveself
foodforsoul
alansthoughs
lizelle
---
Cook with Us Official Contest Rules
Please take some time to review the contest rules below. We understand that a lot of work is put into every post and we do not want to disqualify anyone for not following the rules. If you are unsure about any of them, just ask us for some clarification. We will be happy to help you.
Contest Entry Rules
The title of your post should look like this: Cook with Us #31 – Name of Dish. For example, Cook with Us #31 - Berry Ice.
The first tag on your entry must be: cookwithus.
Upvote and resteem this @cookwithus post that you are submitting an entry for.
The first time you enter this competition, submit a proof photo. This can be in the form of a handwritten note with your Steemit name, the name of the dish, and the date with your entry - or it can be a photograph of yourself with your dish. Thereafter, you will not need a proof photograph going forward as we will know who you are. Please do not use Photoshop for the proof photo.
Include a description of the dish. Some examples are the taste of the dish, its origin, or the story behind it.
Describe why your dish works. Give a brief description about why you put these ingredients together.
Post a link to your entry in the comments section of the weekly challenge. This is the post that announces the start of the week's contest.
You can only enter one dish per entry (a dish means a single version. Not one dish two or three ways). You may only enter one entry per week.
General Contest Rules
Contest ends every Monday 12:00 UTC.
Results will be published no later than Thursday 12:00 UTC, three days after the contest is closed.
Entries do not have to be original. However, if not original, please provide the source.
While the calendar may be showing future themes, entries can only be submitted for the current week's contest and only after the official post for the contest is made. Entries submitted before the official start date or after the deadline will not be considered valid entries.
The Cook with Us contest will cover many topics and disciplines. Make sure you check for weekly contest rules that may change due to the nature of the challenge.
By entering @cookwithus, the contestant agrees to their material being used by the organizers for any purposes and will not be compensated should the material be published. But you, the author/photographer, will be given written credit.
---
Cook with Us is on Discord

To join, please follow the steps below.
Create a Discord account if first time on Discord. It's best to use your Steemit username.
Download the Discord app which can be found here.
Click on this link to join the Cook with Us channel.
---
Above is a list of all the people we would like to say thank you to and many more who have supported our initiative over time
---