Greetings Everyone !
As always it's a pleasure to write to write to you for yet another wonderful contest. Tpot would like to invite you all to participate in our contest no. 24. I would like to thank you all for your continuous participation in the Tpot Contests and making it blockbuster across Steemit. Keep sending your entries and spreading the word and of course the beauty out there...
We are gonna be taking these contests to a whole new level. So, keep in touch for updates. It's going to be fun. Tpot appreciates all your efforts and participation in our contests. You deserve much more...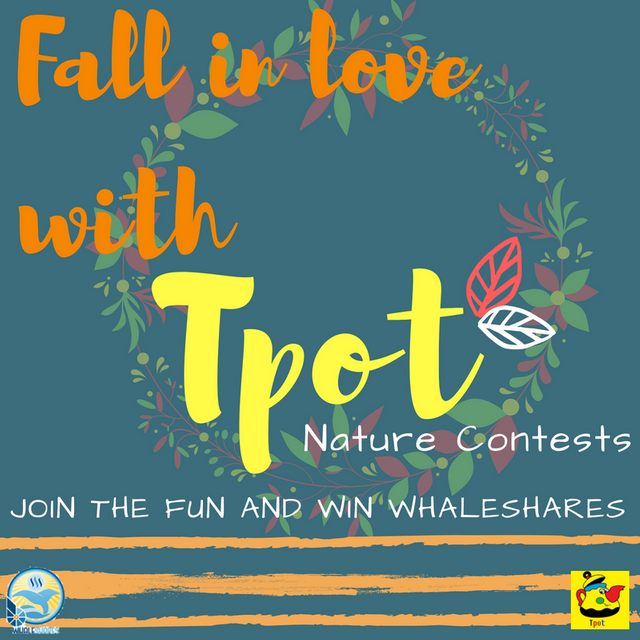 Did you know Tpot provides a Free Upvote Service via Discord? Please consider us for Delegations/Donations to help the initiative.
Click Here to Delegate 5 SP
Click Here to Delegate 10 SP
Click Here to Delegate 50 SP
Click Here to Delegate 100 SP

🏆 Contest No. 23 Results
Here are a few entries that we shortlisted and thought was quiet beautiful.
...onto the moment of truth 🌷
The winner of Contest no. 23 are;
Congratulations! All the rewards will be transferred to you soon after this post is published. Please check your Bitshares Account.
HOW TO PARTICIPATE IN CONTEST NO. 24
The theme of this week contest is once again "Greenery". Post any Plant(s), Tree(s), Grass, Garden, Forest Pictures that is GREEN. Make sure the picture looks Greener. Posting Flowers are not considered as valid entry.
Be innovative with your images, you can post a max of three images in a single post. The Greener it looks the higher are the chances to win...

💬 Rules
Pay attention to the following rules. Any of the "rule not followed" may disqualify you from the contest.
Please note that you are only allowed to use 3 images max and 1 Min in a single post.
Resteem and Upvote this post
Title of the post should contain, "Tpot Contest No. 24"
The post must contain at least 5 lines/rows of words (explaining when, where how you took the picture).
Provide the LINK to your post in the comments section to this post along with your Bitshares account. If you don't have a Bitshares account then register here.
Include the following Banner in your post.


Closing Date

The results will be announced after the Payout of this post. Tpot contests are held weekly. Which means that you have 7 days to participate in the contest.

Rewards

This week there will be three prizes. Three contestants will be selected and each will be awarded;

3 Winners > 25 Whaleshares/each

Whaleshares

Whaleshares are both a token and community. They are based on Bitshares platform and works as cross-chain tokens. You can summon a whale for Upvote with your Whaleshares.

Note: Please consider delegation to Tpot or our Free Discord Promotion Bot to help minnows and the project. Thanks