Quest In The Realms – an interactive Bananafish production! - Episode 38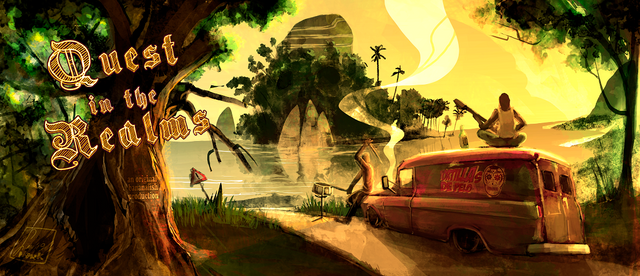 Look who's there, a wandering adventurer looking for the Bananafish treasure! This episode is part of the interactive story/treasure hunt called "Quest In The Realms". If you landed on this page because you're trying to solve the mystery, don't hesitate and keep delving in the story. If you came here through random loitering, what are you waiting for!?

38
The weird alien-looking device turns out to be an immense organ, complete with gnarly foot pedals and soaring pipes made out of solidified lava. The pipes are easily over a meter in diameter. Air blows out of one pipe, as if the organ is playing itself, but only muted sounds escape. They sound familiar, but you can't quite place them.
"Should we play it?" Machete asks. He reaches for the keys.
"Wait, no!" you shout. "How are you gonna aim the antimatter?"
"The anti-what now?" Machete asks.
"The antimatter," you explain, "You know, the waves that killed all the Baphomets when I played the experimental guitar?"
"Baphomets? You mean those creatures out there doing the dirty?" Tres asks, pointing to a throng of horny Baphomets you distinctly remember killing with an antimatter guitar.
"Huh…" you say, mortified by the profane acts the Baphomets are engaging in. You hope they don't come your way.
"You mean that guitar?" Machete asks. He's pointing at the antimatter guitar you thought you had grabbed, but now it's safely back inside its glass case. Instead, the circuits of the control panel are smoking, and the bottle of grog in your pocket is gone. You could have sworn you grabbed the guitar rather than pouring grog on the circuits. What could explain this?
"Guys," you say, "I think we've slipped into an alternate timeline… Maybe the antimatter guitar did it?"
As you're contemplating the reality of multiple timelines and alternate dimensions, you're interrupted by a faint chorus of voices blasting out of the nearby organ pipes.
"We're slipping out of Compton! Whoa-oh-oh!"
"Huh?" you say, raising an inquisitive eyebrow and pointing at the organ. "Did you guys hear that?"
"Hear what?" Tio asks.
"That singing," you say. The chorus echoes through the organ pipe again, traveling on a blast of salty air. "There! That!" you say. Your bandmates shake their heads.
"Never mind," you say, shaking your head, still stuck on this multiple timelines thing. "Maybe the antimatter waves ripped a hole in the fabric of space-time, and I slipped through to this timeline."
"Uh…" Tres says.
"Ugh…" You groan and try to explain. "When an antimatter particle collides with a corresponding particle of matter, the collision results in the mutual annihilation of both particles." You punch your fists together and then separate them, wiggling your fingers for an explosion effect. "That's what happened when I played the antimatter guitar, but because antimatter is literally the opposite of matter, it could have created enough energy for me to slip through a dimensional vortex and end up going backwards in time to before I even played the guitar."
"Whoa," Tres says. "Those were some big words."
"Or maybe you're actually the anti-Mendoza who traveled backwards in time," Tio speculates.
Before you can respond, Oddy sneaks up behind you, wielding the antimatter guitar he's broken out of the glass case. He gets too close, and you try to snatch it from him, but it falls to the ground and breaks. You see antimatter waves rippling out of it uncontrollably. Before it can kill you all, you grab your bandmates and, following the same dubious science and plot points of The Day after Tomorrow, outrun the antimatter particles like Jake Gyllenhaal outrunning the cold.
You sprint toward the suspicious organ pipe on a hunch and dive inside, dragging your bandmates with you. The band slip-and-slides through the pipe at high speed until you eventually fly out of the other end of the chute. You're back on the beach.
In the distance, you see Cpt. Murphy and the Smackpunch singing and loading heavy crates on their cargo ship. Thank Cthulhu, your hunch was right!
As the crew stumbles around the beach with their cargo, you notice one large, tarp-covered cage. It shakes, quivers, and jiggles. An enchanting baritone croons from within.
"A hunka hunka!" the baritone voice sings over and over. You really need to just escape this island, but that tarp-covered cage piques your curiosity.