Quest In The Realms – an interactive Bananafish production! - Episode 28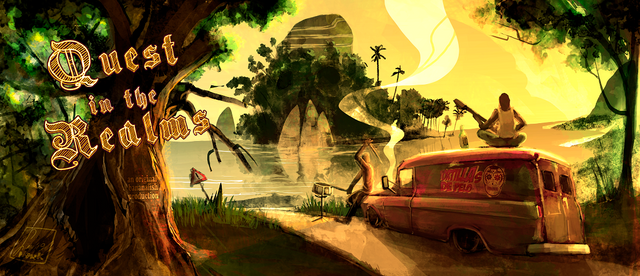 Look who's there, a wandering adventurer looking for the Bananafish treasure! This episode is part of the interactive story/treasure hunt called "Quest In The Realms". If you landed on this page because you're trying to solve the mystery, don't hesitate and keep delving in the story. If you came here through random loitering, what are you waiting for!?

28
Down in the volcano, you come to a sudden halt on a metal grate floor. Many strange creatures, no more than a meter tall, are running to and fro, collecting metals, dumping them into smelters, pouring the hot liquid into casts, hammering things, and just generally making a hot mess of everything they touch. More molten metal ends up on the floor or on the creatures than anywhere else.
All the creatures seem grumpy. They're nipping at each other, jabbing one another with the tiny horns poking out of their heads, and occasionally shoving one another into the smelter. The molten metal doesn't seem to bother them much, however. They yelp in pain and then come flying back out. The volcano forge is pure chaos.
"I want one!" Machete shouts and bolts for a group of the creatures crowded around a newly-forged bass guitar.
You notice a sign hanging over one of the smelters:
DON'T POKE THE BAPHOMETS
You make a mental note not to forget this advice. [Spoiler alert...well, you see where this is going...]
The creatures, these "Baphomets," see Machete charging them, and they disperse, running frantically in every direction. Except for one. For reasons that only make sense to that Baphomet and possibly to squirrels caught in the middle of the road as a car approaches, it runs right toward Machete. Machete's arms spread wide, and he swoops in to catch the Baphomet, narrowly missing it.
In the process, however, Machete topples into a random lever, and you hear the clanking sound of metal. A large gate has suddenly dropped through the floor, and behind it lies something you don't know how to make sense of. Fortunately, there's another sign:
ODDY'S SECRET CYBORG ARMY
Then, in smaller print:
YES, THE FORGE WAS JUST A FRONT
ALSO, PAPER GOES IN THE GREEN BIN, PLASTICS IN THE BLUE
SAVING THE ENVIRONMENT BEGINS WITH YOU!
"Guys!" Tres shouts. "The forge was just a front! Oddy's got a cyborg army!"
At first, you think Tres is just trying to be ironically funny like how hipsters used to do before they went extinct from starving to death on a diet made exclusively of avocado toast. Then you remember that you're the only reader out of the group. Tres really may not have been able to read the sign. You start to feel pity for his illiteracy, but you don't have time to dwell on that.
"Get them!" Oddy shouts from above.
The Baphomets close in and capture your bandmates. You barely escape from the dumb squirrel-like one (at least, you're pretty sure it's the same one) and hide behind some fancy control panel. It smells like butterscotch.
You need a plan!
You rummage in your pockets and find nothing except the last bottle of grog from Cpt. Murphy's cargo ship.
Nearby, there's a glass case containing an experimental-looking guitar. On the other side is a control desk full of circuits.