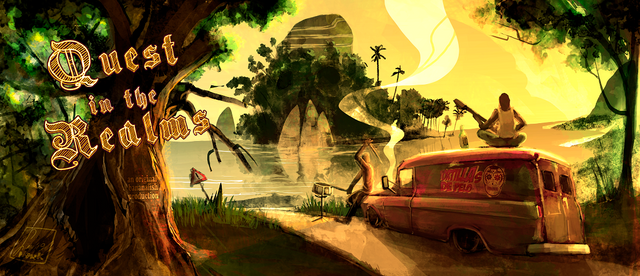 Look who's there, a wandering adventurer looking for the Bananafish treasure! This episode is part of the interactive story/treasure hunt called "Quest In The Realms". If you landed on this page because you're trying to solve the mystery, don't hesitate and keep delving in the story. If you came here through random loitering, what are you waiting for!?

19
You and your bandmates stand on one end of a large stage in the darkness.
On the other half of the stage are the Smackpunch band members. They're painted in different colored lights as they sound check their instruments.
Finally the lead singer, wearing traditional bagpipe attire, taps the microphone making a loud thud noise.
"How are you all doing tonight? Are you ready for some great music?" he asks the crowd in a thick Irish accent. They give him a raucous reply.
A loud chord sounds from the lead guitar, then the drums kick in. What you hear next happens to be the best rendition of * Drunken Sailor* you've ever heard, and you've heard this song played before.
You and the rest of Tortillas de Pelo know you are in trouble.
The Smackpunch band stop playing and the lights go out. The crowd of sailors in the hull of the old rust bucket ship are in a frenzy. You are transfixed by the energy.
Then lights illuminate you and your band. You dodge a beer bottle as you step to the mic. Hecklers berate you.
"Hello," is all you say before the feedback drowns out your voice.
"Let's play ' Teenage Dirtbag' ," Machete says, oblivious to the situation.
"Alright! Fuck off Cap'tin!" you yell into the mic, and the band picks it up as a chorus with an impromptu riff.
"Alright! Fuck off Cap'tin!" you begin to sing over and over with increasing meaning. The band playing along. The audience now hates you.
A trap door opens, and you and the band, fall into a pool of water with your instruments and mic still plugged in. This causes you to jolt as electricity surges through your body.
Your dying thought, * Ride the Lighting remains my favorite Metallica album of all time* .
Sinking into the water, while experiencing unbearable pain, you see a dark shadow rising toward where the stage floor had been.
There's a bright flash and you find yourself standing in a crypt alongside your bandmates. A zombie stands in front of you all in a sexy shepherdess costume.
"Are you Smiley Smyrus?" you ask, shocked by the resemblance even with rotting flesh.
"No. I'm the Yellow King," she replies, leaving you with more questions than answers.