Hey Steemians
So the cryptocurrency community is probably one of the most generous in the world am I right? We're always giving away crypto for some or other reason from airdrops to competitions with the steemit community being no different.
There's literally a giveaway of some kind every day and you can always find some way of earning a bit of crypto in fun and creative ways.
However, I feel we too often keep this practice within the confides of steemit and do not use it to attract new users. People outside steemit also love free internet money and this could be the catalyst to get them involved and inspired and bring in others along with them.
Having applications like @share2steem we can make the most of outreach. So if you do run regular competitions share it on Facebook, Twitter or Instagram and perhaps take advantage of some of the trending hashtags on those platforms to help improve your post reach.
Find out more about share2steem
---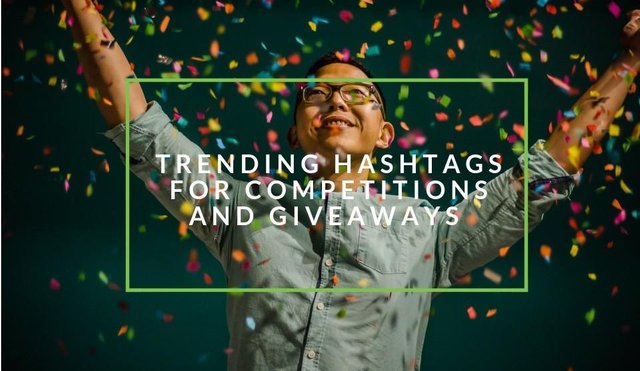 Social media is stocked full of content around competitions, giveaways and contests some are simple entries others require a little more creativity to take part but one thing is for sure there's no shortage of contests on social media. Giving away free stuff online is a great way to grab users attention, increase your following and your user engagement for any individual or business.
Businesses, influencers, brands and celebrities from all over the world are pumping out millions of posts per day around these topics and sticking out from the crowd continues to get harder each year. If you're planning to run competitions and want to run it on via your social media, you need to place this content in front of like-minded users. 
Creating a fan base online isn't easy and building a fan base of active and interested users is even harder but not impossible. You need to remain consistent in your posting, make sure your images and videos are entertaining and of high quality and that they make their way to users who enjoy this style of content.
In a bid to have more people enter competitions from posts, here are some of the most popular hashtags used in the world of contests. 
Increase your post visibility on social media with trending hashtags
The easiest way to get the most exposure and increase your engagement on Instagram, without paying a small fortune, is to:
Post Awesome Content
Use relevant popular and trending hashtags to increase your exposure.
Not only will this bring in the likes and the comments you are looking for, but this method has proven to increase the following of brands and personal accounts who have implemented it.
Giveaways are being broadcast all over social media sites like Facebook, Twitter and Instagram to create promotional posts and all employ the hashtag methodology to increase the visibility of their posts and to attract new fans.
Pro Tip: Learn the right way to use a hashtag here.
---
Giveaways, raffles & competition Hashtags
#[yourbrand]contest
#[yourbrand]sweepstakes
#[yourbrand]win
#[yourbrand]giveaway
---
Have anything to add?
If you would like to contribute towards the post or have another category you would like featured; comment below
Also in this Series:
---
Have your say
Do you promote your steemit contests on your other social media platforms? Do you think contests are a great way of encouraging new users to sign up?
Source:
Let's connect
If you liked this post sprinkle it with an upvote or resteem and if you don't already, consider following me @chekohler


---
Get Daily Upvotes With SmartVote

Trade Bitcoin, Ethereum, Litecoin, Doge or Dash for STEEM instantly
Check out blocktrades to quickly exchange popular cryptocurrencies for STEEM, STEEM power or STEEM Dollars or trade your STEEM, STEEM power or STEEM dollars for popular cryptocurrencies
---