Get Paid for Signups with the Steem Ninja Referral Program, Discord Bot & API for Developers
At the beginning of 2019, we released @Steem.Ninja providing an account creation service where anyone can buy an account for $2.50 using credit/debit cards directly. Please check our introduction post here. You can access the service here: https://account.steem.ninja/
We also provided increased security by enabling the keys/passwords to generate on the client side itself. You can access account recovery system so in case your keys or password were compromised or stolen: https://steem.ninja/account-recovery.html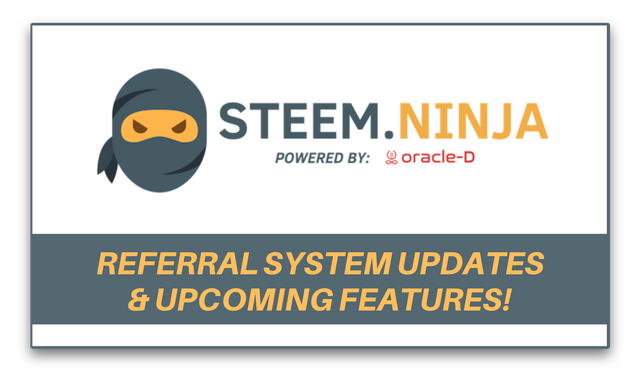 Steem.Ninja in a Nutshell
Steem ninja provides the following services as a complete turnkey package:
• Easily purchase instant Steem accounts for $2.50 (minimum) with card payment
• Each account automatically delegates 15 Steem Power to each new user for 90 days.
• Easy purchase of 90day Steem Power delegations in varying amounts with card payment
• Instant purchase of Steem using USD credit card payments (coming soon!)
• Referral program (anyone can earn money for selling Steem accounts)
• Account recovery in case your accounts get hacked
• API for easy implementation into any dapp / front end
• Easily sell Steem Power Delegations and earn percentage
Latest Update - Referral System
Go to https://account.steem.ninja/referral_programm to check your Referral Rewards and to get your referral link which can be shared over multiple social media & messaging services.
Users can now set the price they want to sell accounts and SP delegations for. The interface will then immediately show the estimated referral reward per sold account:


>

The rewards are send as STEEM to your wallet at the end of the month.
---
Steem.Ninja Discord Bot
To make it easy for Discord communities to integrate Steem.Ninja we provide an easy to use Discord bot.
This discord bot allows Discord users to directly buy an account through Discord. Administrators can use the $referrer command to set an account that receives referral rewards.
So for example $referrer wehmoen would send the referral rewards for each sold account to @wehmoen.
Users have the ability to use the following commands to interact with the bot:
$help - Prints a help message and explains the other commands.
$price - Shows the current price for a steem account.
$buy account_name - Replace account_name with the account you want to buy. If the account name is available the bot will respond with a brief summary of your order:

If the account name is not valid or already taken the bot will inform you about that:


To let Steem.Ninja join your Discord server you may use this link (and you also get referral rewards if you sell accounts through discord):
https://discordapp.com/api/oauth2/authorize?client_id=531272806776963072&permissions=18432&scope=bot
---
Steem.Ninja API
Steem.Ninja now offer various ways for websites to sell Steem accounts. One of the first projects using this new technique is @steempeak: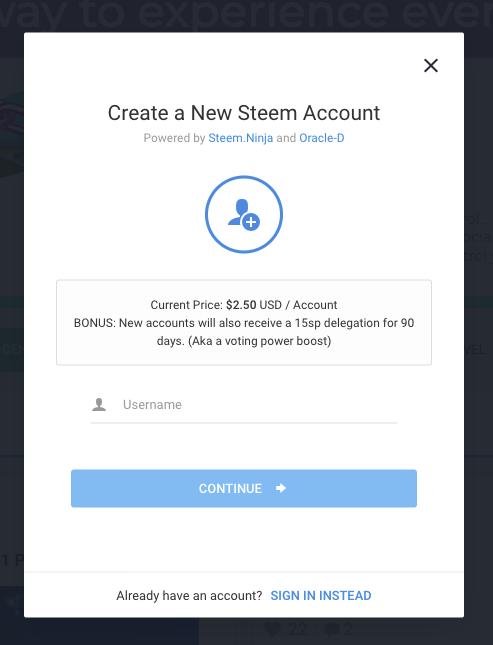 If you are interested in integrating Steem.Ninja into your website/app/dapp or project please contact [email protected] or join our Discord: https://discord.me/steemninja
---
Please check out the
Introductory Steem.Ninja post for more information!
---
---
If you like what we do please vote for us as a witness: https://steemconnect.com/sign/account-witness-vote?witness=oracle-d&approve=1
---
For any issues or queries please contact us on: [email protected]
STEEM NINJA is powered by @Oracle-D.