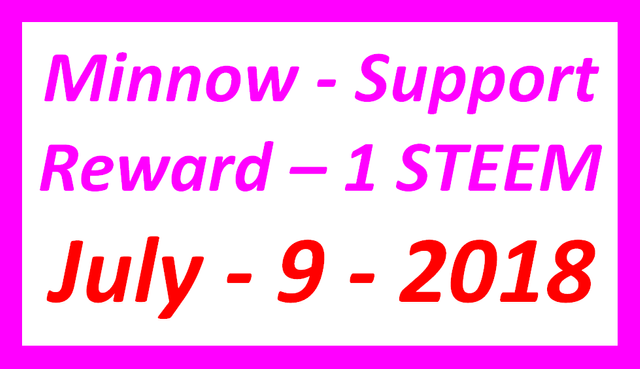 The purpose of this contest is to help minnow accounts and encourage Community growth on this site.
HOW TO PLAY:
Leave a comment with your post (link your post in the comment) and you will have a chance to get 1 STEEM.
I will read every single post then pick one.
RULES:
Required: your estimated value account must be less than $100.
If you are the winner, you must use this 1 steem to POWER UP your account.
Your post must be less than 7 days old.
Only one comment post entry per account to be eligible.
Can use the same post for the next entry except the previous winning post.
Comments must be submitted before 10:00AM EST (same day as the post mentioned above) to be eligible.
Single photo, violence, self-harm, gore, politics & political opinion, religion, nsfw, drugs, scams, plagiarism, other contest posts and other illegal substances are not allowed.
You must write in your own words or record with your own video. Copying from other that would not get any rewards.
HOW & WHEN TO GET THE REWARD:
I will check to see if your entry meets my requirements then will give 1 STEEM to the winner within 24 hours.
Congratulations! Here is the winner from yesterday's post:
Good luck!
@angelinafx (Angelina)
Please read the description before joining the contest!