$75 Up for Grabs ~ Love them or Hate Them ~ Clowns & Scarecrows CONTEST 2018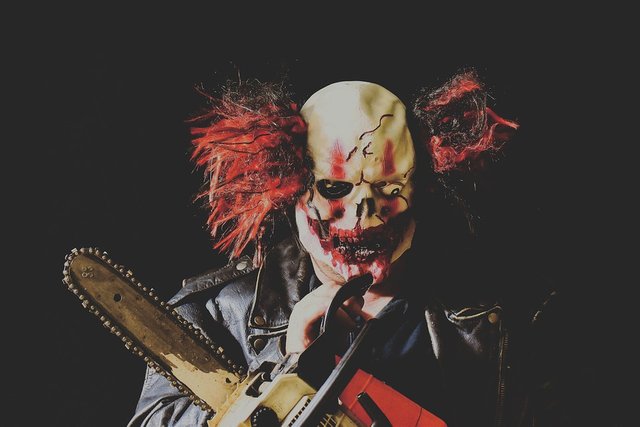 With the abundance of artistic talent that is on the Steemit site, this contest is my favorite of the year.
No matter who I talk to there always seems to be an opinion about clowns and scarecrows. Some people hate clowns, some people like myself find them very intriguing. Likewise, some people have the same feelings about scarecrows in general.
This is the second annual hosting of this contest, here is the link to last years. I hope many of the users who are still here from last year return to try and take the prize.
https://steemit.com/photocontest/@erodedthoughts/love-them-or-hate-them-clowns-and-scarecrows
I love dark and macabre type stuff for Halloween. As a family with many kids, our Halloween tends to be anything but macabre. Like the plans for this year are Charlie Brown characters. I luck out since I am fat and old and I get to be "The Great Pumpkin".
So this contest is a way for me to enjoy a little more of the Halloween that I personally enjoy while the family does things more for the kids in the house.
Like last year this will be a 3 part contest.
Round 1 of the contest starts as of the posting of this blog entry.
1.) Round 1 ends midnight of October 8th.
2.) 10 entries will be selected October 8st ~ 5 based on the most upvotes and 5 based on my personal choice.
3.) Only those who enter round 1 may enter round 2
4.) Only users who create their own post and link their entry to this post will be eligible to win.
5.) This post must be resteemed if you enter
The rules for round two will be revealed on October 8th along with the round one winners.
Prizes are as follows for 1st, 2nd and 3rd:
$35, $25 and $15 paid in USD in any of the three following ways.
1.) Steem Dollars
2.) Steem
or
3.) Paid via PayPal Friends and Family.
Please have fun, enter as often as you like and may the best art win.
In the event there are not 10 entries, this contest will be void but I will still reward those who enter.