"Read a Damn Book – 122: 21st Century Tank Girl"
After a 20 year hiatus, (in which he helped make the band, Gorillaz, a household name), Jamie Hewlett reunited with Alan Martin to take another crack at the character they created back in the late 1980s and who made her first appearance in DEADLINE magazine (a British publication) in 1988---TANK GIRL! Gathering a gang of other artists together, Martin and Hewlett created this very strange book…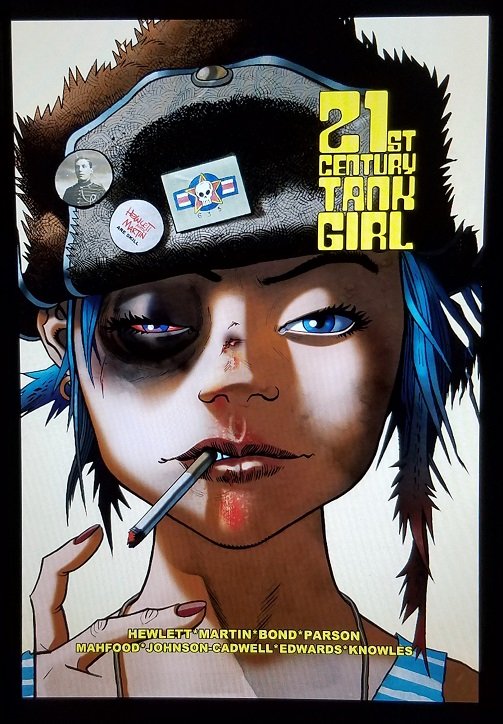 [The photos for this post were taken by me of the actual digital comic I read for this review. The photos are for review purposes only.]
Alan Martin and several others – 21st Century Tank Girl (2015)
I hate to admit it, but I had never read a TANK GIRL book before this one. In fact, my only exposure to TANK GIRL, previous to reading this book, came from the 1995 film with Lori Petty, Malcolm McDowell, and Naomi Watts, (directed by Rachel Talalay.) I enjoyed the movie, but films don't always do justice to the source material, and as such I had always intended to actually read a few of the books and see what all the fuss was about---but I had kids right about then, and then went back to college, and subsequently I didn't have any extra money for a long, long time… Now, my kids are older and have jobs of their own, and I can finally, occasionally, spend a few bucks on luxuries, like comics, again. In fact, one of the kids (I have two daughters, both in their 20s) bought me a gift card for my birthday with which I was able to purchase a half-dozen digital comics for my e-reader, and, as I spotted that this book was on sale for a steal of a price, I jumped at the opportunity to finally sink my teeth into Hewlett and Martin's creation.
So now that I've actually read a TANK GIRL book, what did I think??? Honestly, the book wasn't what I expected, but after absorbing it, I really did find it enjoyable. I assumed, when I bought it, that the book was going to be a science fiction themed graphic novel with a sly sense of humor---a continuous story from beginning to end (I should have read the description more closely---but I'm glad that I didn't because I might not have bought the book if I'd realized it wasn't a standard graphic novel.) What 21ST CENTURY TANK GIRL really is is a wild anthology---perhaps it would better be described as a collage, a freaky compilation of humorous, violent, offensive, sexually suggestive, bloody, drug soaked, disturbing short bits---comics and short stories and jokes and religious parodies and pin-up pages, etc., which were created by nearly a dozen artists. Alan Martin is listed as the writer for the entire book, but the artists (not counting letterers or colorists) include Jamie Hewlett, Brett Parson, Warwick Johnson-Cadwell, Jonathan Edwards, Jim Mahfood, Craig Knowles, and Philip Bond. The styles vary wildly, from Jim Mahfood's super-scratchy, Ralph Steadman influenced, indie work, to Craig Knowles's super-slick, almost Cartoon Network looking style, to several weird homages to classic trading cards and underground art styles, like the Ed Roth / Weird Wheels sticker-card parody, which I absolutely loved---because I used to collect Weird Wheels cards. I can't tell who drew this image from the signature, maybe Brett Parson? Regardless, it's a near perfect parody: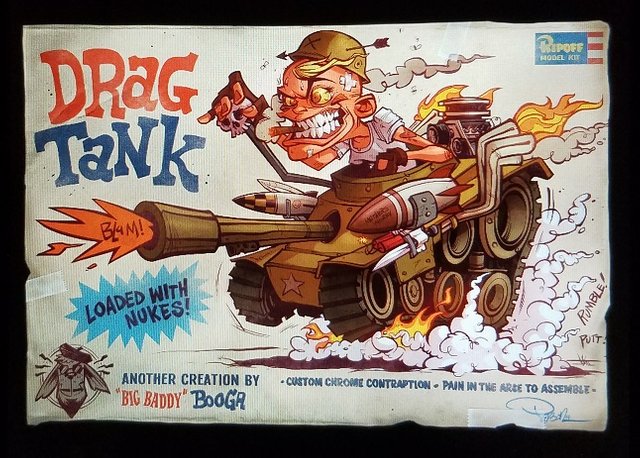 Anyway, with touches like this and the pin-ups and the pages of bad jokes, I did find the book to be incredibly fun, as well as a very quick read. More than anything else, 21ST CENTURY TANK GIRL most reminds me of a particularly beefy issue of MAD MAGAZINE. Although, I should remind folks, this book is far more explicit than any issue of MAD that I've ever encountered. Hewlett's contribution, the first tale in the book, is particularly naughty, with overt phallic symbols and other genitalia from the first panel to the last. In fact, if you're bothered by blood, immorality, backstabbing, cannibalism, drug use, criminal activity, sexual innuendo, bestiality, religion-bashing, or the "male-gaze," you're probably going to want to leave this book alone. However, if you have a sick sense of humor, like post-apocalyptic satire and freaky action adventures, and enjoy a healthy dose of nonsense, then I would recommend giving 21ST CENTURY TANK GIRL a look. I enjoyed it enough that I'm going to seek out some of the other TANK GIRL books---maybe even look for the first collection of stories, so I can see how the character started and evolves as her adventures are told and retold.
(As a bit of a side note, if you haven't listened to any of the music of the Gorillaz, or more specifically, if you haven't seen the videos, which have Jamie Hewlett's fingerprints all over them, I HIGHLY recommend going to the video playing page of your choice and watching all of the Gorillaz's videos. Start with "Clint Eastwood," and work you're way up to today. Always brilliant…)
---Richard F. Yates
(Primitive Thoughtician and Supreme Bunny Lord of The P.E.W.)
SUPPORT INDEPENDENT FOLKS WHO ARE JUST MAKING STUFF BECAUSE THEY LOVE IT!!!
https://primitiveentertainment.com/
https://primitiveentertainment.com/read-a-damn-book-list/
https://primitiveentertainment.com/support/