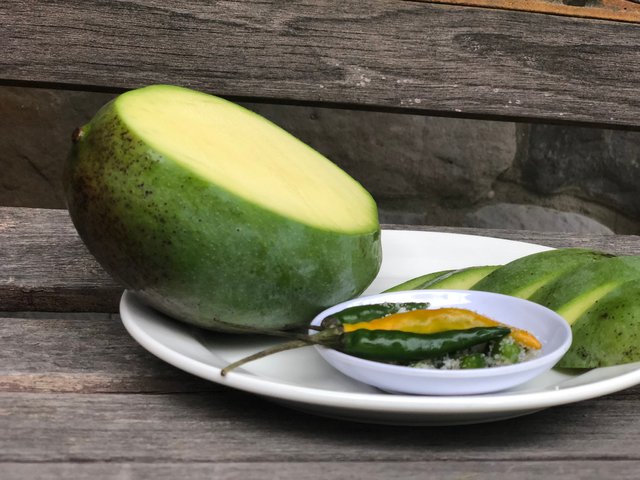 When I lived in Vietnam, Malaysia, and the Philippines, I would love to go pick fresh tropical fruits off the tree and eat them at every opportunity that I had. They were abundant and everywhere in the countryside. One of the favorite fruits was the green mangoes, which is my entry into the #colorchallenge #photography for #ThursdayGreen. Once you try green mangoes, you will be addicted to it. I can guaranteed you that.

Raw, green mangoes are extremely pungent, tarty, crispy, and sour so they're best eaten with an accompanying condiment or dipping sauce. The simplest condiment is salt and hot chili peppers. Take one or two chili peppers and crush them up with a spoon until finely grounded or cut them up with a pair of scissors into tiny pieces. Add one to two tablespoons of salt. Some people like to add shrimp salt; I personally dislike that smell. And there you have it, a dipping condiment to pair with your mango or another fruit that you want to enhance the flavors to.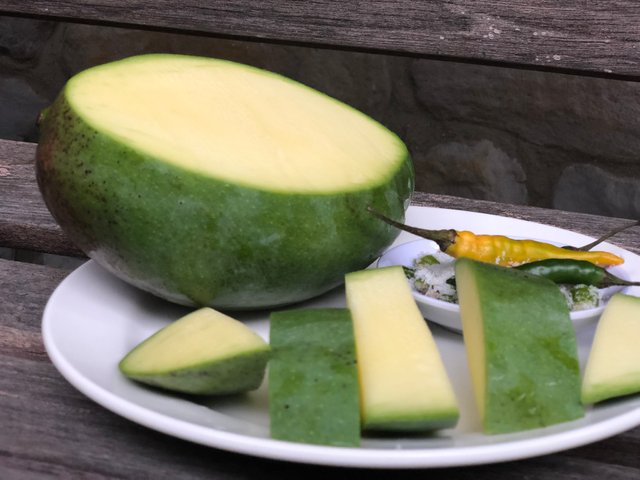 Finding the right mangoes that can be eaten raw is not as simple as it seems. Certain mangoes taste great when eaten raw, others are just too sour. The one in this photograph is called Xoài tượng in Vietnamese. You do have to be on the lookout for them at the Asian grocery stores if you want to give them a try. Sometimes you would see them in the supermarket with the green skin, however upon closer observation, they are going through the ripening process. That is not what you want. Otherwise when you cut open the mango, it would be slightly yellow and swishy and not as crispy. The texture and color that you're looking for is a white crispy one. Cost ranges from $1.50-$3.00 per pound.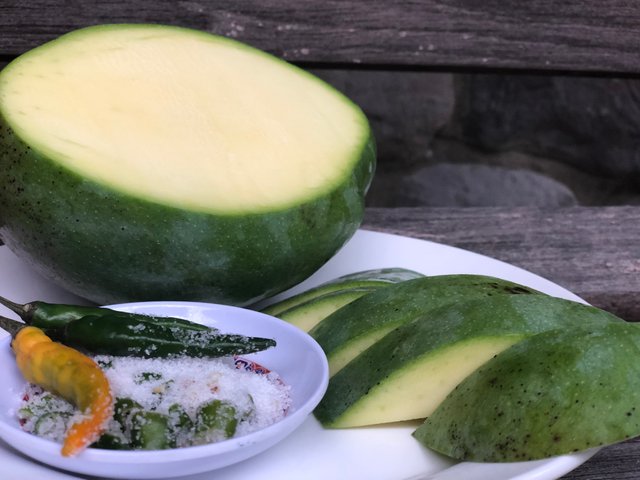 As I sat here taking pictures and writing about the mangoes, my mouth is salivating like Pavlov's dog. I have many fond memories with this fruit, that for sure. I remember when I was living in an American refugee camp based out of the Philippines, there were mango trees everywhere. But because we didn't have enough to eat in the camp, everyone picked off all of the fruits before they ripened. Except for the mango trees at the Buddhist temple in region 7. I never saw anyone pick the mangoes from there and the fruits just hang there temping me. To this day, I still don't understand why people didn't pick off the mangoes at the temple because every day, I would see the monks sweeping the ones that dropped on the ground and put them in thetrash. Mangoes that have dropped on the ground tasted just fine as well. But again, no one ever touched those mangoes. Hopefully I will find out the answer in the future.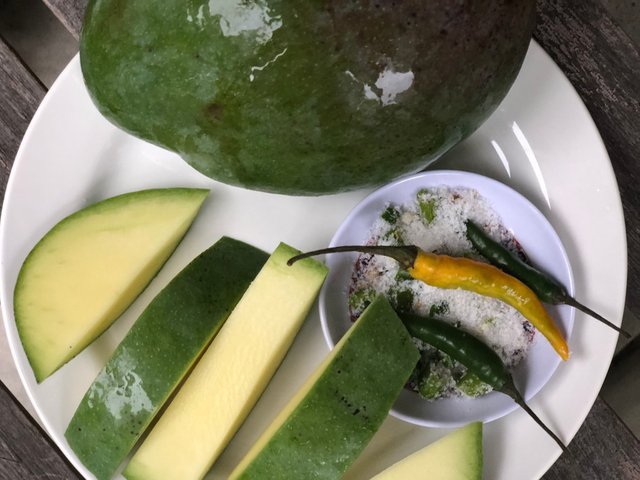 Photos taken with iPhone X.