600K SP has been broken through, APY of Nutbox delegation pool is 51.3%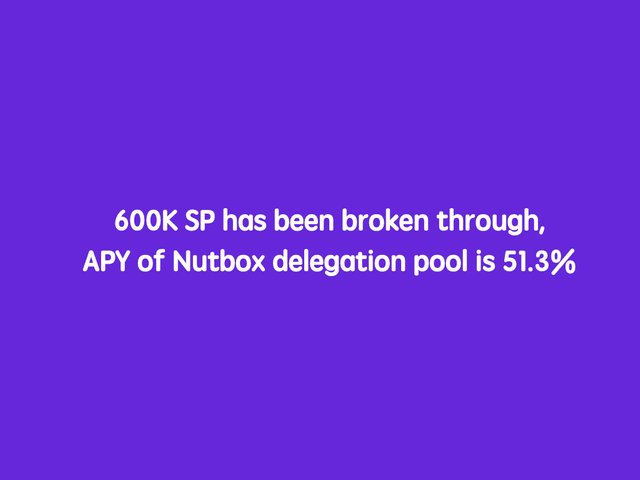 We are glade to inform you that Nutbox has gotten more than 600K SP delegation in 8 days after Nutbox.io launched. The annual percentage yield of SP in Nutbox delegation pool is now over 51.3%.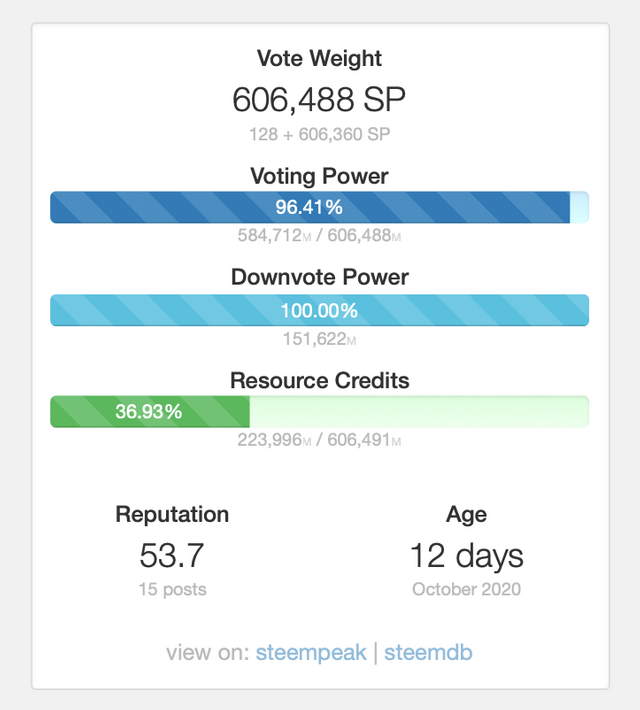 PNUT/TRX trade pair has been added on JustSwap. Pnut could be traded on JustSwap, or can earn a trade fee when providing liquidity to the PNUT/TRX trade pair.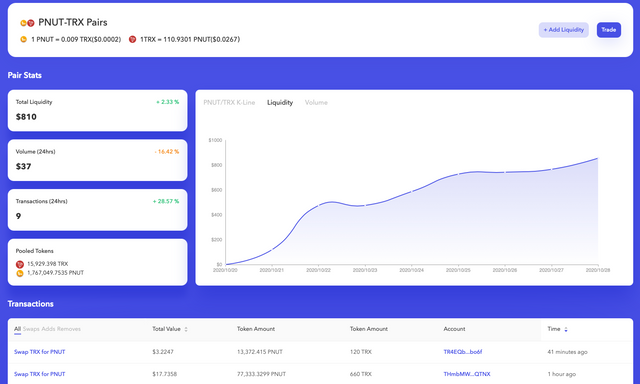 Nutbox is a No pre-mining, No pre-funding project, which totally belongs to the community. Nutbox can be considered as a sort of Yield Farming. However, Nutbox is committed to becoming a Dapp Incubator of Steem.
If you are interested in the Nutbox project, some documents links listed below may be helpful.
Project introduction:
CN | https://steem.buzz/cn/@nutboxs/nutbox--y-combinator-of-steem-blockchain-20201016t055718157z
EN |  https://steemit.com/cn/@wherein/nutbox--y-combinator-of-steem--will-coming-soon-20201017t190449041z
KR | https://steemit.com/hive-196917/@ayogom/steem-nutbox-y-combinator
Spain | https://steemit.com/hive-151446/@sampraise/nutbox-llego-para-agregar-valor-a-steem
Nutbox whitepaper:https://docs.nutbox.io
Steem:https://steemit.com/@nutbox
Discord:https://discord.gg/zPkMuGY
Telegram:https://t.me/joinchat/PrBejBh_Grp6lFZEGArDpA
Please vote for our witness smt-wherein:
https://steemconnect.wherein.mobi/sign/account-witness-vote?witness=smt-wherein&approve=1
Or https://steemit.com/~witnesses type in smt-wherein and click VOTE
我们很高兴地告诉您,在nutbox.io上线第八天,Nutbox获得超过600K SP代理。目前在nutbox.io上代理SP,挖矿PNUT代币的年化收益率达到50%。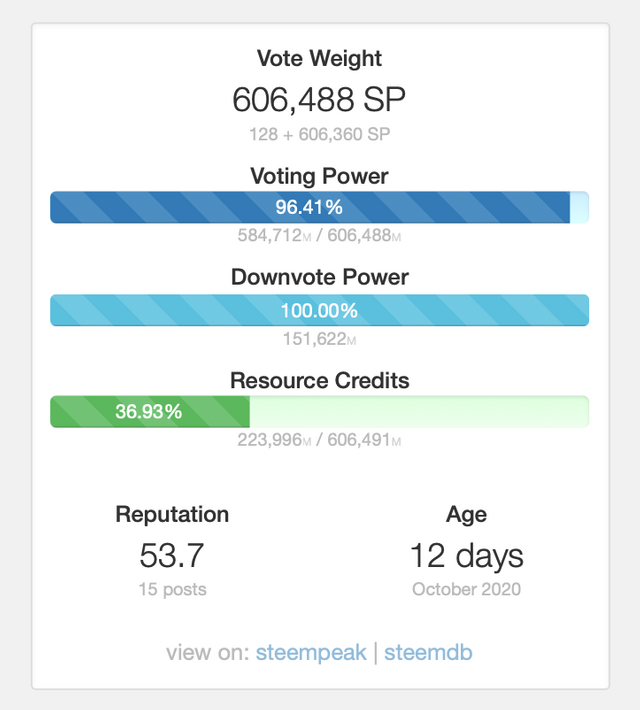 目前JustSwap已上线 PNUT/TRX交易对,可在justswap自由交易PNUT,或者成为做市商为 PNUT/TRX交易对提供流动性,赚取交易对手续费。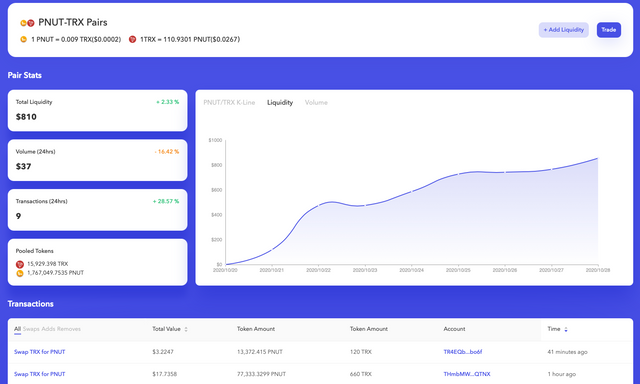 Nutbox是一个无预挖、无募资,完全属于社区的项目。您可以将nutbox看做是 Yield Farming,但nutbox真正想做的是Dapp Incubator of Steem。以下资料有助于您了解nutbox:
项目资料:
CN | https://steem.buzz/cn/@nutboxs/nutbox--y-combinator-of-steem-blockchain-20201016t055718157z
EN |  https://steemit.com/cn/@wherein/nutbox--y-combinator-of-steem--will-coming-soon-20201017t190449041z
KR | https://steemit.com/hive-196917/@ayogom/steem-nutbox-y-combinator
Spain | https://steemit.com/hive-151446/@sampraise/nutbox-llego-para-agregar-valor-a-steem
Nutbox 文档:https://docs.nutbox.io
Steem:https://steemit.com/@nutbox
Discord:https://discord.gg/zPkMuGY
Telegram:https://t.me/joinchat/PrBejBh_Grp6lFZEGArDpA
请为我们的见证人smt-wherein投票:
https://steemconnect.wherein.mobi/sign/account-witness-vote?witness=smt-wherein&approve=1
---
本文使用 Nutbox 发布;原文来自 : http://wherein.mobi/2020/10/29/600k-sp-has-been-broken-through-apy-of-nutbox-delegation-pool-is-51-3/
---