Finalising a programme for Sligo Baroque Festival.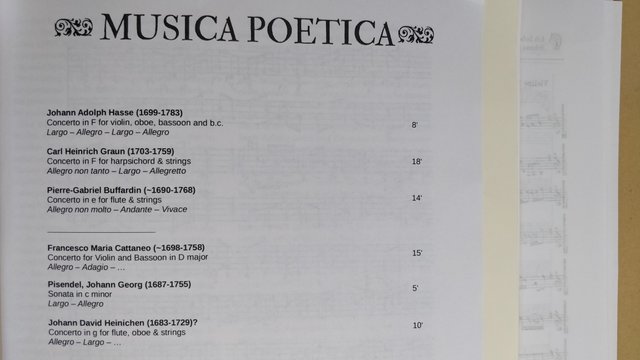 At any point in time, we have certain set programmes that we have current and can easily bring to performance level in a relatively short time. These are programmes that we have performed before and that we know work well, both with the performers and the audience reception. Normally, we have a few of these programmes of varying length, ensemble size and musical focus. Naturally, the longer the programme or the more musicians that are used, the more expensive the programme is for the concert organiser. As we aim to target a large variety of concert venues of diverse funding, we have to be able to present a concert menu that might have something of interest for podiums of all sizes and tastes.
Sometimes, a concert organiser would like to tweak one of our set concerts. This is normally not a difficult task if the number and types of musicians doesn't change. However, if the makeup of the ensemble changes drastically, then it can be a much trickier proposition, as often the concert organiser would like the same price that was offered for the non-altered programme.
Other times, we work together with the concert organiser to produce a completely new and interesting (hopefully!) programme that is tailor made for the festival. There will be a request for certain themes or instrumentation, and we will do our best to research and discover works that fit the requests. This research can often be quite time consuming, both in time and potentially travel (to libraries that hold manuscripts throughout Europe), in addition, there will be a great deal of "back and forth" emails and phone calls to make sure that every last piece is just right for the concert (both for us, and the the concert organiser!).



Earlier in the year (or was it last year!), we were invited to give the opening concert for the Sligo Festival of Baroque Music. There was a special request for a concert that included winds that focused upon music that would have been performed in mid-18th century Dublin and Dresden. It was a pretty interesting request, and these sorts of things are catnip to our Artistic Leader, the thought of being able to research and discover interesting connections and compositions that linked Dublin and Dresden was quite enticing.
In the 18th century, Dresden was a hotbed of musicians (and composers, the two professions were the same at that time). Famous performers such as Hasse, Graun, Heinichen and Pisendel made their home there and contributed enormously to the production and performance of music in the famous city. To this day, there is still an important archive of music in Dresden that has survived the ravages of time (although, much of it was lost in the World Wars of the 20th century).
So, with the research and discovery phase well underway, there was also the problem of logistics. Our group normally has a core of mostly string players and some singers/actors, and so a wind programme (with strings) would require additional players to be brought on board whilst staying withing the budget that was available. To minimise the travel/accomdation costs, we settled on a solution of having the bulk of our rehearsals with wind musicians that were local to us, and then having a short rehearsal period in Sligo with a string section that was augmented with local string players (local to Sligo).
... and so, that is where we stand now for a concert later this year. The behind the scenes planning of the programme and logistics has taken around a year, for a concert that will be about an hour long! This is the side of the performances that the audience will never get to see!
Running an ensemble is a rewarding but time consuming job. Chasing after grants and sponsorship is the often overlooked but important aspect of a musician's life. If our post has passed the reward period, please consider a donation. We also accept tokens of support at the following addresses:
BTC
1Mwe6XaDcREa7o5RSLGoWfk9wSwGs6LkSA
LTC
LPcEtTsxMJykDeK713jsj3e2BsdVf32ix7
ETH
0x1bb1d830f66bdb74de45685a851c42b790587a52
Doge
DMJNS7jbNCgPdFdxgeFdEummFMmSQvAoK2
Musicoin
0x9c1fc741f0869115f8c683dc6967131ab1c40ebc
Thanks for you support!
---
Posted from my blog with SteemPress : http://www.musicapoetica.info/?p=1315
---