Prepare - Uncover - Outwit - Find - WIN!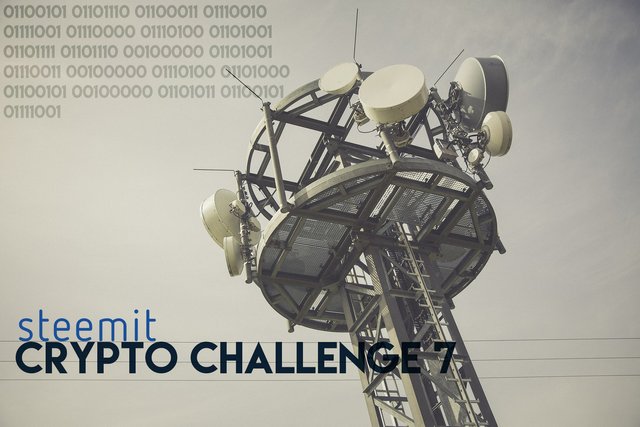 Welcome to the Steemit Crypto Challenge. You may know this series of puzzles or not. Let me give you a quick introduction. You are looking to find a solution. Anything can be a hint. You will start with two hints given and need to seek the right path. So you think you are good with riddles? Are you a big master of crypto puzzles? Find the answer. Sometimes the hints are hidden, not visible to the eye. But they are here.
Can you follow your intuition and stay on the right track? The first to reveal a hint will win a prize. The first to attain understanding with the right answer will receive their bigger reward.
---
Here is your first hint

Hint Nr.2
encipher.it
---
Rules, Terms and Conditions
You will need to employ all of your skills to solve this crypto-puzzle. This isn't for the weak-hearted.
Don't limit your creativity, look forward and look behind the curtain!
Take advantage of:
Image (and reverse) searches
Steemit
Wikis or Encyclopedias
Filesharing Sites
Sound, video, and image recording manipulation
You will receive hints from time to time.
Stay frosty

Don't be limited to the list above, get creative! Think you got in the bag? How hard could it be? Surely, your Code Solvers and Image Manipulation Translators are up to date, piece of cake! All submissions are due by Saturday October, 16th @ 6pm (UTC -4) The First Prize reward is 150 Steem. Additional: 10SBD per new hint uncovered. (This challenge is not impossible, but you'll feel like it is). Special thanks goes to @blocktrades who sponsors this challenge.
P.s.: Did you hear about the SteemFest 1 in Amsterdam in November this year? @roelandp is hosting this first of its kind event and I recommend you to come to be part of this groundbreaking experience. I am happy to announce that @prufarchy and I are working on the Steemit Crypto Challenge: Amsterdam Madness. Those who will visit the SteemFest will have the chance to participate in the extra edition of the Crypto Challenge and win 1000 Steem Power. We will hide hints and quests around the Steem Fest and will announce the winner on Sunday, the 13th of November live. A detailed challenge description will follow in the coming weeks.Teamwork is what Steemit is all about, don't be afraid to work together.

The first winner of our SteemFest ticket giveaway is @beanz. Congratulations! Your SteemFest ticket is on the way. Did you miss the first part of love.exe? The second part follows in the next days. We will giveaway another SteemFest ticket. So if you or a friend of yours need a ticket: it's your chance!

Happy hunting,
Tim Said