Vánoce a rovnováha
Letos nemůžu říct, že bych měl v plánu psát sváteční zdravici ještě před Štědrým dnem. Na psaní teď nějak nezbývá čas a síla... Jsem rád, že stihnu #cesky pročíst a to většinou až zpětně za dva až tři dny.
Popřát bych ale chtěl a začal jsem přemýšlet, jak na to. A začátek postu jsem již měl v hlavě sestaven, když v tom jsem zažil jakési déjà vu. Našel jsem si tedy přání, které jsem tu zveřejnil přesně před rokem a zjistil jsem, že prvním odstavcem bych se opakoval. Na jednu stranu je dobré cítit jakousi stálost a kontinuitu, ale je potřeba čtenáře zaujmout něčím novým, že ano. ;) Ale tohle má být pouze přání, než nějaké hlubokomyslné filozofování.
Posledních několik týdnů bylo opravdu hektických a ač bych toho potřeboval stihnout ještě víc, prostě to nešlo. A nyní je potřeba vypnout, odpočívat a uvést život opět do jakési rovnováhy.
Kdyby ty letošní Vánoce byly jenom proto, abychom s moji milovanou ženou mohli zajít na kávu, tak jako včera, s dětmi na procházku jako dneska a posedět u krbu se sklenkou Gold of Mauritius (na kterou se už těším), tak jako zítra, budou stát za to.
Tak ať máte co nejvíc té rovnováhy, klidu a pohody s vašimi blízkými.
Klidné vánoční svátky a hodně splněných přání vám všem!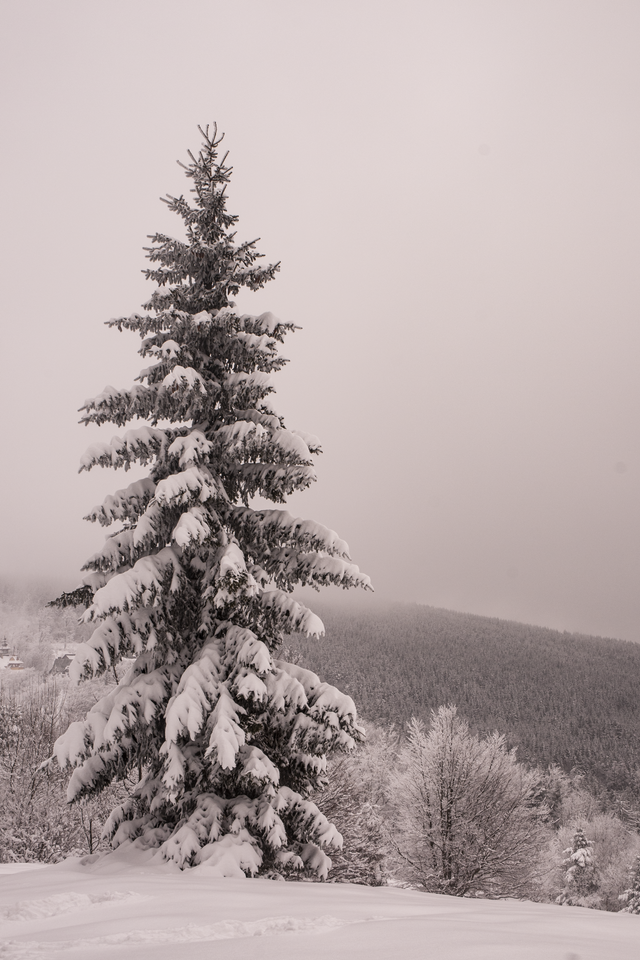 PS: Smrk ozdoben sněhem je opět z loňských Beskyd. Dnes jem fotil rozkvetlý keř a ten se k vánoční zdravici moc nehodí ;)