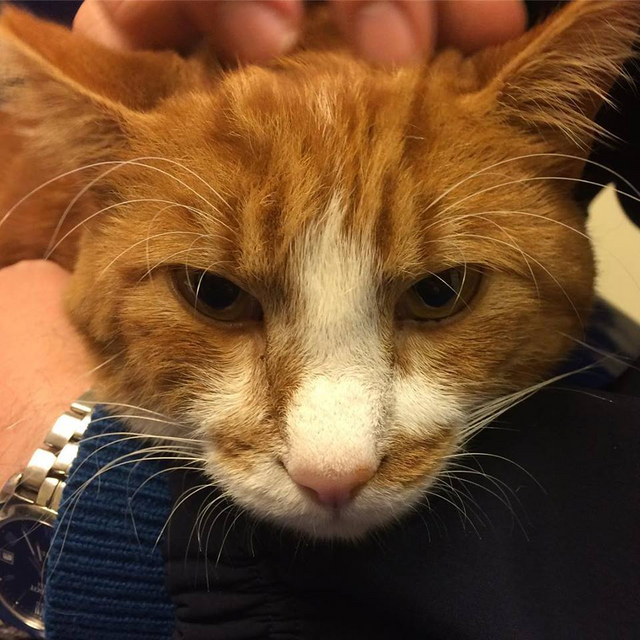 "Not impressed, Mom. Not impressed."
This little grumpy-gills went for his last acupuncture session with his vet on Thursday. He was not in the mood for any of it and when I picked him up to put him in the carrier he proceeded to have the longest wee in recorded history while I was holding him. Luckily there was an empty box and a towel nearby. This cat can pee for a minute straight!
He's bitten his foot again; this time there's a chunk missing from his foot pad. The vet said to just keep an eye on it. Keep it open so that it can dry out. Cats heal super fast which is why they so easily get infections from wounds. The skin closes up over bacteria and causes an infection.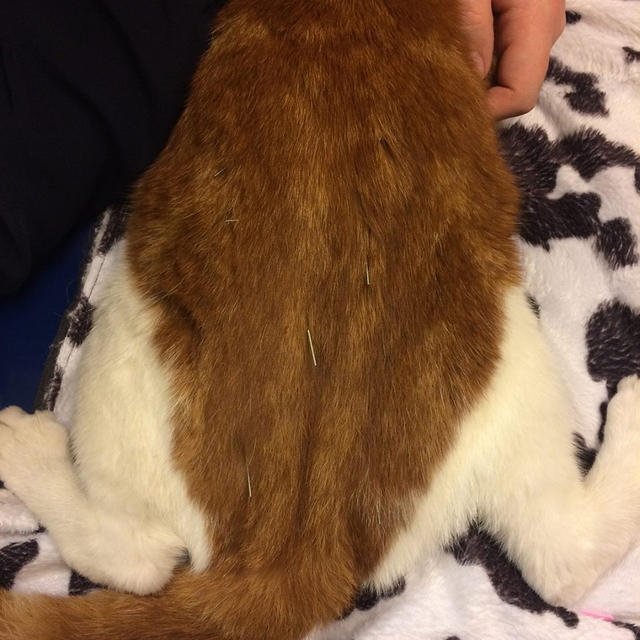 Acupuncture helps keep his back spasms under control. We've also noticed that fleas make it a lot worse. His lower back is quite sensitive from the nerve damage of his back injury and having small creatures biting that area makes it so much worse. The rainy , cold weather (although very welcome) also exacerbates his condition.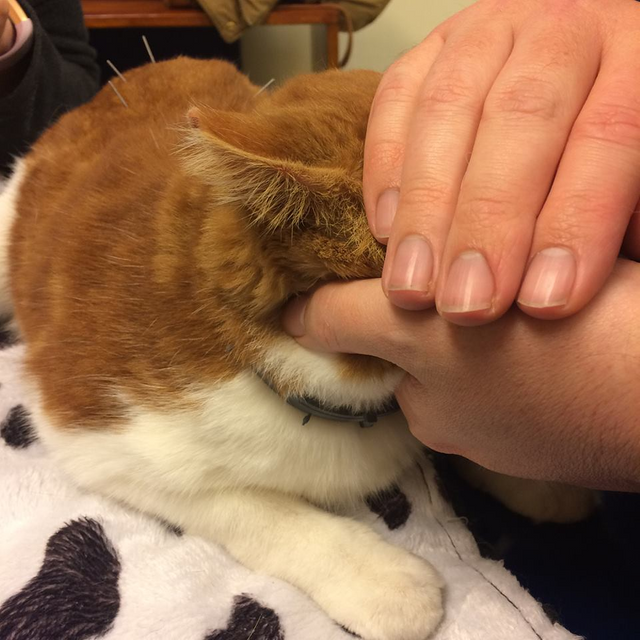 @moderndragon making a 'safety cave'. I just made that up but it seems to be the best description. :) If Teddy can hide his face he feels safer.
Unfortunately the vet was unable to source the beads to do the Permanent Acupuncture treatment that she had suggested.
Future:
We got confirmation that his and Flash's first Rabies blood tests have come back clear from the State Vet in Onderstepoort. They now need to have their second test done in July and sent away again and then will be cleared to fly around the end of August.
Some of you know that we are in the process of moving to Mauritius and the cats are coming along. We will be leaving SA at the end of June but the cats can only join us later.
Frequently asked questions include:
Q: How long are you going for?
A: 18 months but possibly longer. We'll see.
Q: But isn't that expensive to fly the cats over?
A: Yes. Yes it is. Pray the crypto's climb :)
Q: Will they have to be in Quarantine?
A: Yes, they have to be in Quarantine on the Mauritius side for 30 days. We can visit them every day and I will definitely try to. It is apparently a 40 minute drive though.
Q: Where will they stay here?
A: They will be staying in a lovely cattery in Tableview until they are cleared to fly sometime after 23 August.
Q: Why don't they stay with someone else?
A: Because of Teddy's disability he is not an easy cat to pass off to someone else. While it isn't a huge deal for some, other people will freak out at him:
-climbing their beds and couches,
-pooping on the bathroom floor because he fell out of the litterbox,
-Peeing in his sleep because you forgot to check his bladder in the morning and before bed at night.
The cattery we chose also has no way for the cats to escape. I saw too many catteries with "Lost pet" signs on their FB pages. "The cat got out while their cage was being cleaned" is not something you want to deal with from 4000 km away.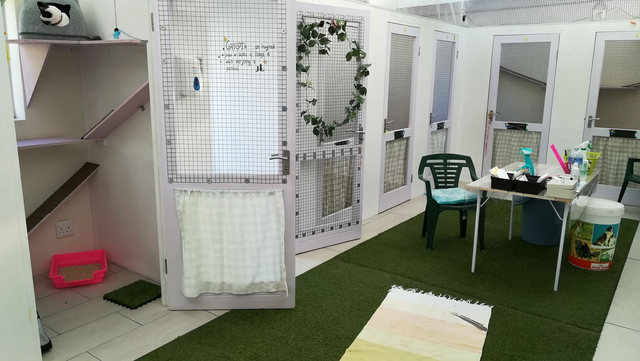 Photo credit Catopia Cattery
There are 3 more doors before you get to this enclosure.
The owner is a retired Vet Tech and will be able to judge how Teddy is doing, if he needs medication, if he needs a checkup etc. The cats get an allotted hour playtime every day and can go to an enclosed outside play area.
So ya, that's our upcoming adventure.
Thanks for reading if you've gotten this far.
Hope you have a good day
Lizelle


To find out more about Teddy, Have a look at his user manual :)
Teddy's User Manual: the guide to life with a special needs cat.
Teddy's User Manual: 2 handed head scratches