Walking The Dog Cat / The Walkabouts
I had learned of this other Trucking kitty named "LAVA" on an Episode of Animal Planets - Cats 101. The episode with the Bombay breed. There are many more videos of him online. DuckDuckGo Search LAVA the cat
(Coming Soon Chapter 10 / LAVA Needs Rescued) R.I.P.
Here is a Photo of LAVA when we picked Him up on our Rescue Mission. Samantha was PISSED.....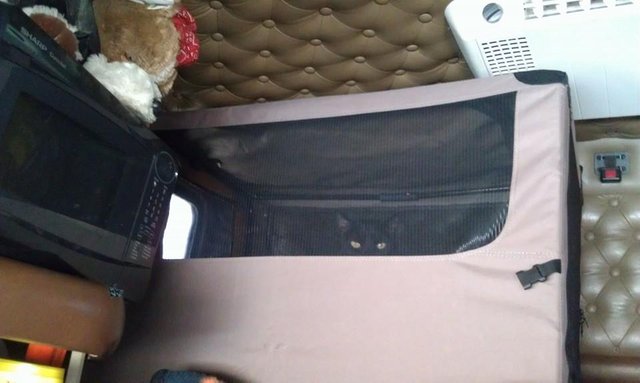 Little did I know that our paths would cross with LAVA later in life. But as you can guess from the upcoming chapters title, that it will be about him, and our paths were destined to cross. He was also the inspiration for "The Leash"
The Video link below is for the Bit Tube sites Russian Version of the Animal Planets Cats 101 episode with Lava the trucking cat in it. Google and it's "You Boobs Tube" with the out of control bias & censorship is HORRIBLE!! They removed the American LAVA full length version. Yet all other episodes are available? Please do not traffic GhoulGhoul sites. Or any other biased, censored, socialist, social media sites.
https://bit.tube/play?hash=KmR4CjPTOmA&channel=UCqm9LnMXGws_QZlXBqaUeNg&isyt=true
At the 1:48 mark LAVA shows us what an AWESOME trucking cat He is. If your not up to speed on your Russian, just turn the sound down. The American edited version only has a minute or so of LAVA
THE LEASH & HARNESS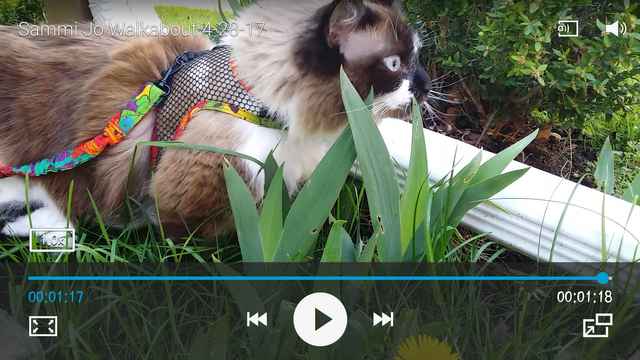 These 2 things are just not usually in the same sentence as the word "CAT." But after seeing this amazing LAVA, the trucking cat, on television, we just had to try it. Putting a harness on Sammi Jo would be a dangerous task to say the least. Samantha fought it all the way, We planned ahead and trimmed her claws before attempting this suicide mission. Of course I put it on backwards the first time. With the help of my wife Kelly, and Sammi Jo being nearly 4 years old and slightly less aggressive after Her spay operation. We got the harness on. She just sat there, it was as if the harness robbed her of the ability to walk.
DISGUSTED / CONFUSED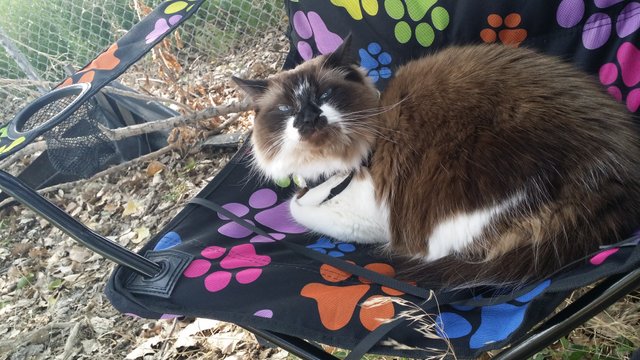 She just sat there with a disgusted / confused look on her furry little face. It took Sam Sam nearly 20 minutes to realize that She could stand up and walk. Even then it was robotic and slow. She was NOT happy about this new harness. We had never even put a collar on her.
The harness was actually made for a rabbit. But it fit her very well and had plenty of adjustment to it as well as elastic to stretch and fit snug, but not too tight. We left it on her for an hour or so. When we took it off her, it was like a jail break. She ran from one end of the house to the other.
PURR-FECT WALKABOUT CONDITIONS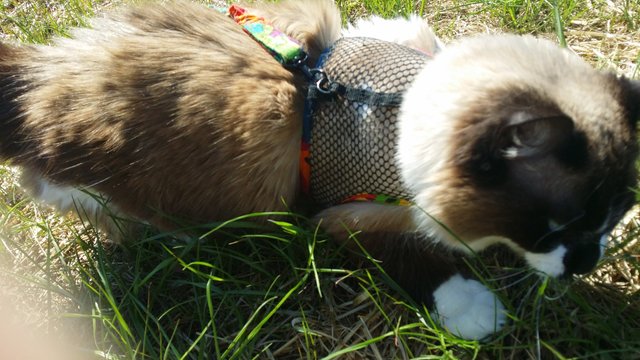 We have gone on many Walkabouts over the years. I have photos of 7 or so, times that were great. There were several that were near disasters. I learned really quickly that the conditions have to be just right. There needs to be very little noise. Calm weather with little to no wind. No other pets nearby. No trains, planes & automobiles (trucks / airbrakes) These conditions are very hard to find out here in this madness that is life on the road. Now that Jessi Tux has joined us out here on the road since 2016. Samantha seems to be happy just to stay in the truck. They keep each other feeling safe. And there is so much out here on the road to scare them, and me.
(Chapter xx - Sammi & Jessi / A Love Story)
THE BUNNY HARNESS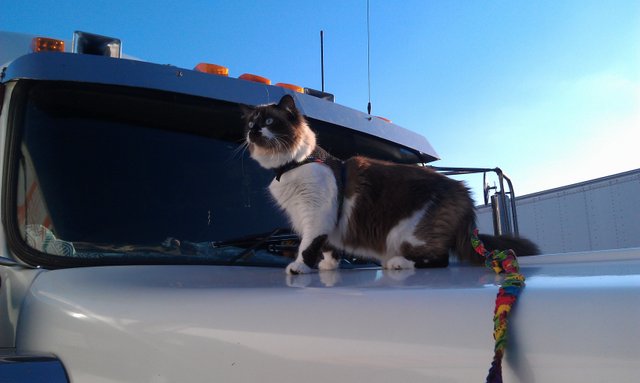 The "bunny harness" just did not seem strong enough, and I knew if Sammi Jo wanted to, or got spooked. She could break right free of it. So I doubled down. I started putting a second harness over top of the "Bunny Harness."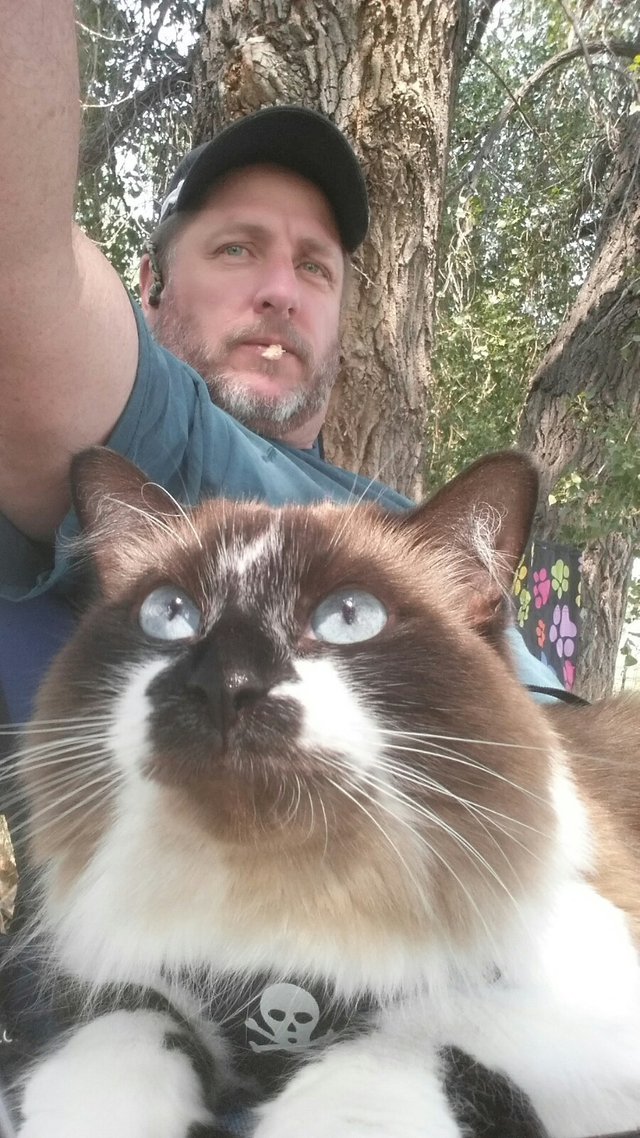 I could not even imagine trying to do 2 cats at once on a walkabout. My Aunt Susan Butler has done this with Her 2 Boys Loki & Jasper. It brings to mind that "Herding Cats Commercial" that was shown during the super bowl 10 years back. WOW..!! Has it really been that long? One of our all time fave commercials.