Cards & Tokens Update Feb-2019
This is a pretty sloppy post because I simply want to tell the followers of this project what the situation is and what events have happened since my last publication. I clarify in advance that for each subject I will be doing a specific POST in the future to explain it more in details.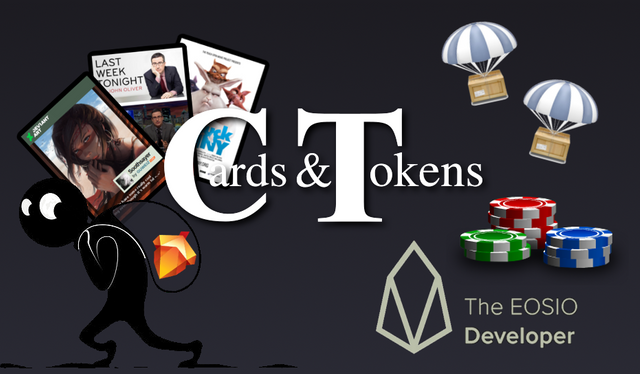 I've been robbed :(
Yes, unfortunately someone stole all the TLOS Tokens (more than 23K TLOS). I was saving them to acquire the necessary resources for the Dapp Cards & Tokens. Then I will give you more details but I tell you that it was an oversight on my part. I had my tokens in my personal account on the Telos blockchain in liquid format (instead of having them staked). I also had my private key in a txt file (plain text, not encrypted) in a personal folder under the "/home/viter" directory (Ubuntu 16).
My mistake was to underestimate the capabilities of hackers because clearly those are not serious security measures. Anyway, I took the relevant actions, changed all the private keys of all my accounts and now I keep the new private keys printed on paper while I finish buying a physical device for digital signature (Nano Ledger).
CNT Token Airdrop will be this month (February)
I have been working hard with the smart contracts that will be part of the Cards & Tokens system. In particular I am working on an improved version of token.eosio that will include new features. Among them the possibility of users claiming their airdrop without deadlines, as well as a security system that automatically stakes the liquid funds of the accounts that has no activity for a prolonged period of time. This last characteristic came out as a result of the incident that I suffered and I told you before.
The original idea of this Airdrop was to be able to do it without incurring in RAM costs, consulting the snapshot from within the blockchain itself. However, it is not possible to modify the logic of the command that queries the balance of an account (because it accesses directly to what is stored in the tables, which are initially empty). That completely changed the course of development and I ended up implementing a "CLAIM" action that does everything together: check the snapshot and then assign the corresponding balance to the user who invokes it.
I learned a lot about EOSIO technology
Since I started developing smart contracts I have learned a lot about the capabilities and limitations of this technology (I'm still learning). I have taken the time to write down each feature that I found interesting to share and I intend to write a POST detailing my experience to share with future developers of this technology. For that I'm going to finish learning a couple of things that have still not been solved and for which I still do not know a solution (at least not an elegant solution, I'm very demanding with the quality of my work).
Worker proposal for RAM
Since I no longer have the money (Tokens TLOS) to buy the necessary RAM so that Cards & Tokens can run with sufficient resources, I will need to ask the Telos community to help me obtain the necessary funds through a worker proposal. The only objective will be to buy enough RAM so that users do not have to worry about that cost and thus facilitate adoption. The CPU and Bandwidth costs will be covered in a delegated manner (thanks to the tool "good grants" provided by "Good Blocks").
For now what I will do is buy (with my money) the basic memory to be able to place the code of the contracts on the blockchain.
Contest of Steemit OpenMic Trading Cards
Last year, prior to the development of intelligent contracts, I was organizing a contest of cards made with the best winning auditions of the Steemit OpenMic contest, which you can check in the functional prototype of Cards & Tokens. Once the CNT token smart contract is online and the Airdrop has been made, I will proceed to reward the best trading cards as a way of thanking the beautiful community that has given me much encouragement.
Thanks
Thank you very much to those who have sent me their support and to those who follow me in steemit. Also to the whole community of Telos who have received and encouraged me from the beginning. Thank you all!! I will not let you down!!
GO TELOS !!!!