New STEEM... It's not like OLD STEEM
As many of you know I am not a huge fan of the EIP economic changes. However, I am a fan of Steem and the change IS marketable.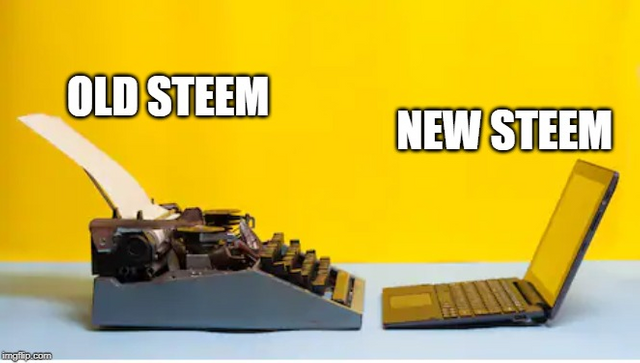 CALLING FOR A COMMUNITY WIDE MARKETING CAMPAIGN
People think Steem is dead the last they heard from us was the Layoffs.
OLD STEEM was dead, sad and lonely.... Filled with Geeks who want to talk about MATH
NEW STEEM is Fresh and new and exciting. It is filled with humans who want to engage, contribute and help grow and develop Steem. Everyone is onboard on NEW STEEM
We are not making changes because we are sad and scared.
We are making changes because the changes are awesome and FRESH.
I am calling for a full relaunch and Marketing Campaign.
OLD STEEM vs. NEW STEEM
NEW STEEM
New community funding -SPS
New Community Tools - Scot tokens and sites
New Scalability - Mira
New Economic Model - EIP
New Leadership in SteemIt Inc one of our funding and development companies
MOST IMPORTANT
New Attitude - Thriving
OLD STEEM
Rude, Scammy, Bad Economics, Too much GEEK.
---
We need to package the idea of New, Exciting and Alive Steem.
Please help. It can be done in memes, stories, community-wide and outside.
Once we get some graphics, Posts, Blogs... and yes Memes...
We will start a full community-wide Marketing Campaign.
Personally I don't think the Math matters it is our actions and attitudes that matter.
Time to stop fighting and GET ON BOARD
OLD STEEM is DUMB, NEW STEEM is great.
Outreach ideas so far. (mostly small, need more...)
NathanMars
Theycallmedan
PALNET
Steemit Inc
What else can we do without a budget? Please brainstorm.
OLD STEEM: Didn't work
NEW STEEM: Works.
It's a great campaign designed after old coke and new coke, those of you who tell me you liked old coke better are missing the point, because the campaign is still talked about today!
Write up or Mock up your Ideas and let's build a Community Marketing Effort! We do not have a budget and we need your help and your support!
Use the tag #newsteem
We may never have this many changes at once again, at the beginning of a new bullrun. Let's not miss this opportunity!