Steem Basic Income
Steem Basic Income is a social experiment to bring a basic income to as many Steemians as possible. Members join by sponsoring others into the program. Steem Basic Income is delivered through providing regular upvotes to member content.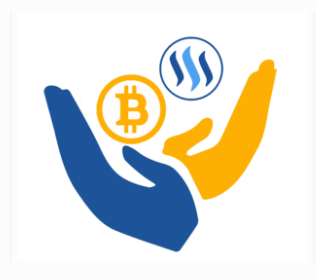 Many of our members use the
#steembasicincome
tag for their contests, so check there for contests that we might not have included in our listings!
Still Going Strong
We are up to nine pools, so your upvotes could come from @steembasicincome, @sbi2, @sbi3, @sbi4, @sbi5, @sbi6, @sbi7, @sbi8, or @sbi9. We currently have 3548 members that have posted within the last 28 days, and many more members that have not. Unfortunately, members that are not posting are not receiving upvotes. There are currently 33922 'shares' in the program, and it grows every day.
Support from Members
Thank you all for your support! Upvotes that we receive from members are an essential component to help us keep delivering a sustainable basic income!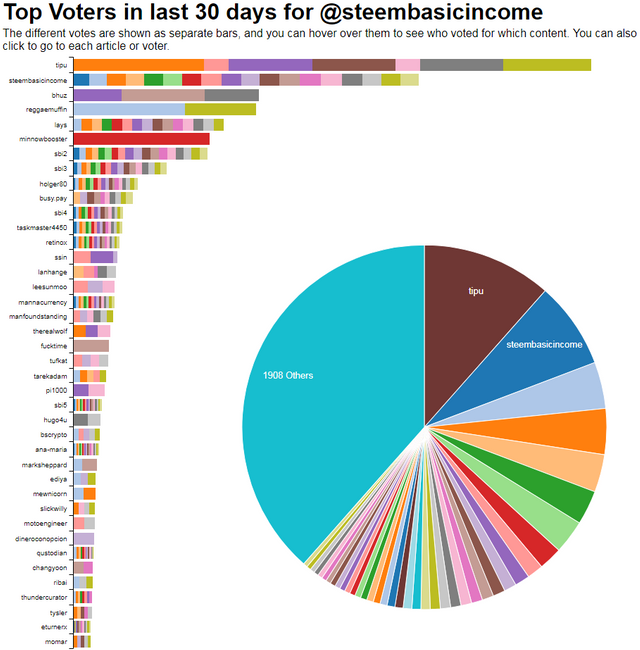 img source: http://www.steemreports.com/top-voters/@steembasicincome
All members that upvote consistently are rewarded with a bonus increase in their voting weight. This is based on upvotes in the previous 28 days. If you have just started auto-voting our updates, it may take a full month before you see your full bonus take effect. To get the best benefit, we recommend using @steemvoter or @steemauto.
We have improved the targeting so that members get full bonus if they upvote each update, even if we miss a few days. In the last 28 days, we have posted only 12 updates, so a full upvote bonus is currently based on providing 17 full upvotes (or equivalent- some members provide partial upvotes but also upvote comments from @steembasicincome). We do not currently include upvotes on comments from pool accounts toward your bonus, but those upvotes still improve sustainability.
We use some of the fixed-return upvoting services (a la @minnowbooster), and you can see their impact in the chart. They help boost long-term sustainability, as you can see in our 28-day SP rewards, which has distinct spikes when our updates payout:



@steemsql DB, with visualization in Power BI
Self-voting Updates
The average upvoting bonus is 32.48% and our weekly update income is only 17.9% of the amount that we pay out in upvotes each week, with full upvotes from each of our pool accounts.
Our weekly sustainability goal is for the average upvoting bonus to be roughly 40%, and for our update income to be 40% of what we pay out in upvotes each week. Beginning June 3rd, we resumed self-voting each update. Since most programs on Steem charge a 15 or 25% management fee, we believe that a 10% self-voting target on top of 5% management shares is reasonable.
Enrollment
If you want to get involved, or to increase the share of basic income that you receive, enrollment is pretty straightforward:
Just send 1 STEEM to @steembasicincome. Include the name of a Steemian to sponsor in the transaction memo (preceded by @). You and the person you sponsor will each receive 1 share in the program. You can sponsor any active Steemian, it does not have to be a current member.
If you're unclear, please check out our full transaction memo guidelines and then let us know if you have any questions.
https://steemit.com/basicincome/@steembasicincome/steem-basic-income-new-transaction-memo-guidelines
The official currency for enrollment is STEEM. We are not currently accept SBD for enrollments. Please allow up to 7 days for your enrollment to be processed.
Upcoming Steem Creators Conference!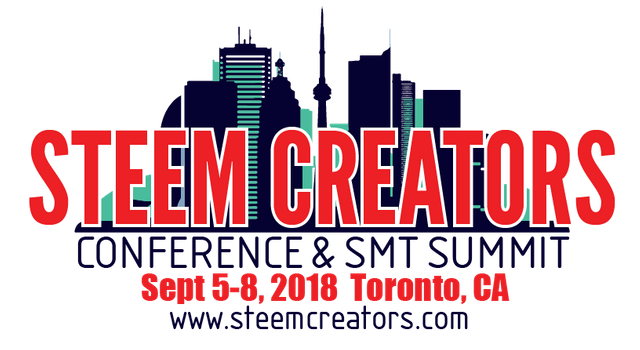 Come meet us and many other talented Steemians in Toronto this Fall!


We had a great experience at the #steemcreators conference in April and we are excited for what is in store this September! This is a fantastic opportunity to network with other Steemians and learn skills to improve your Steem performance.
Purchase your conference tickets Here and don't forget to book your place for the Steem Creator's Concert after-hours event featuring @wolfnworbeikood and many other amazing creators!!!
We would love to see you there!


Here is @josephsavage's presentation on Steem Basic Income from the last conference:
Questions?
Please read our recently published FAQ. Most questions are addressed in our FAQ or in the additional resources that it suggests. If you still have questions, ask in the comments section or join us in our discord channel. To review your share counts, we recently introduced our new SBI Member Lookup Tool.